Some weeks the lists of what people will and won't eat just get a bit much and I'm ready to tell them all to take a hike. I don't, of course, except maybe here and there, politely. This last week's four dinners combined had 27 different dietary requests, and that's just from the people who I said yes to. I turned down a couple of gluten free folk. I turned down a couple of vegans. I turned down the "no seafood whatsoever, not even at the table while I'm there" person. I told the "no raw tomatoes and no onions" person that they were just going to have to deal with it if they wanted to come – they did, and dealt with it – ate everything and had a good time, props to them! And then I had to come up with a menu that fit the majority of the rest of the folk, with a substitution here and there as needed. I'm starting to think though that I might go back to just posting the menus in advance and saying, "this is it – no substitutions, no special requests." It'll never work, but it's a thought.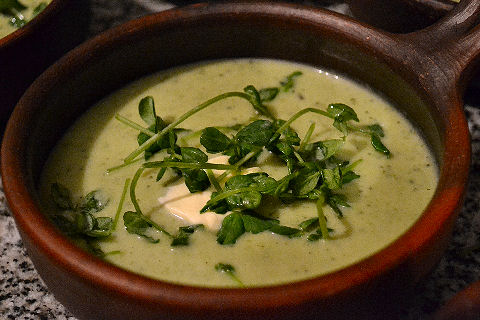 We started off with a chilled green bean soup – my favorite dish of the eve. Sweat leeks in butter. Add potatoes and vegetable stock and cook until the potatoes are soft. Separately blanch and shock green beans. Puree all of it together with some mint, salt, white pepper and clove. Splash of cream but not too much, and you could leave it out if you want to keep this dairy free or lighter. Chill well. Drizzle with sour cream and top with fresh pea sprouts.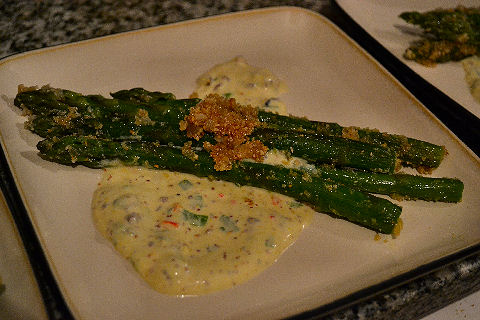 You've seen this before if you've been with me awhile – deviled egg dressing, blanched and shocked asparagus that are then griddled with farofa. Left out the prosciutto crumb because there were just too many "no red meat" and "no pork" requests.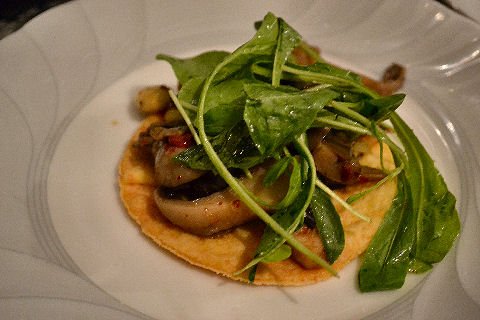 I have to admit, it surprised me how many people told me this was their favorite course. I liked it, but I'd say it was my least favorite of the eve – what do I know? A saute of mixed mushrooms – oyster mushrooms, king oyster mushrooms, baby portobellos, button mushrooms – sauteed with green olives, red bell pepper, almonds, and merquén (smoked Chilean pepper). Served atop a polenta and manchego round and topped with radichetta dressed lightly with olive oil and salt and a couple of drops of truffle oil.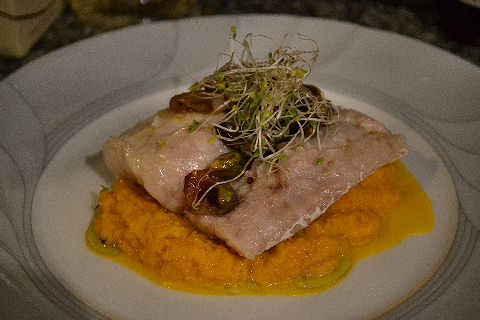 Olive oil poached cod served over a carrot puree that's spiced with cardamom, coriander, cumin and white pepper and pureed with olive oil, peach and orange juices. Topped with caramelized shallots and pistachios. Some broccoli sprouts to garnish. Same treatment with a thick slice of cauliflower for the vegetarians – though in that case, wrapped it in foil with olive oil inside and baked it in the oven.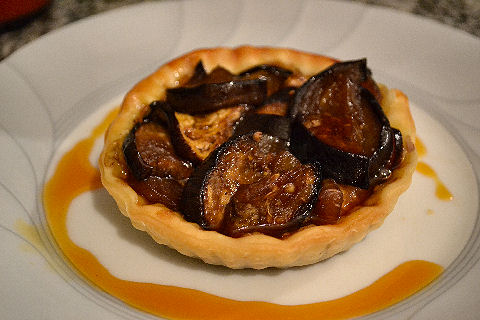 A reworking of the eggplant tarte tatin that I've made a few times. This time as a regular, right-side-up tartlet with a rough puff pastry crust, the eggplant caramelized in brown sugar, butter, Chinese five-spice, a pinch of salt, and some orange juice. Baked to order and then drizzled with an orange juice caramel. Everyone seemed to love it except the one woman who sort of gave me a "no baby, no" response when looking at it, dumped the eggplant out on her plate and then just ate the crust. Her loss for not at least trying it. I'd bet if I hadn't told her it was eggplant she'd have eaten it.