Awhile back I attended a coffee seminar here in BA and, while a bit too heavy on the marketing angle of things, I enjoyed it, and also discovered interesting little tidbits, like there sort of really is a Juan Valdez, the face of Colombian coffee, although there have been three different people who have taken on the role over the years. And, while I can get Colombian coffee here in the 'hood, from my favorite cafe group, Establecemiento General de Café, I generally don't, as they have a really dark roasted Costa Rican coffee that I'm fonder of. About a year ago when I visited and wrote up El Galpón, our city's big organic market, I mentioned meeting Victoria Angarita, one of the owners of Full City Coffee – and while I knew that she and her partner Alan Jordan had opened up a small cafe in Chacarita, at Jorge Newberry 3663, I hadn't made it out there until this week.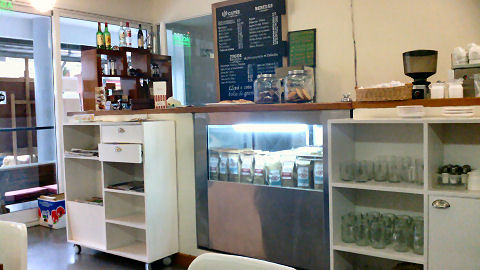 I met up for lunch with Frank of Sugar & Spice on one of our rare outings – we do have to do that more often Frank, you know? The place is sleek and modern, and reminds me of a typical Greenwich Village cafe in New York. No criticism of the space itself, but the design is such that both the front door and the rear one to the patio are sliding doors, and we did notice, particularly because of the recent cold snap, that many customers wandering through one or the other simply leave them open – a critique of their etiquette, not the place. When we arrived there were only a couple of solo "diners", and a couple, all Americans or Brits. All seemed to have long finished their coffees and were just hanging out – common practice here in BA. A few other folk wandered in over lunch, and just before we left a group of ten locals popped in for a quick bite.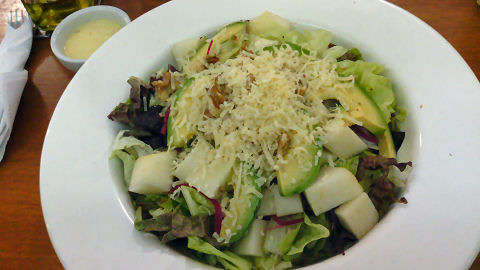 I was trying to eat a bit lighter, and while I know that they're noted for their sandwiches, and particularly their hamburger, I was thinking vegetarian. Lo and behold, a "falafel burger" – just the ticket. Only they don't actually have it – our waitress said, "they just don't make them, no one orders them" – and, it's notably not on their online menu (then again, the online menu has less than half the items on the print menu). Okay, let's see, no other sandwiches without meat, and all the salads but one have meat – I'm sure I could have ordered one of the others and just had the ham or prosciutto or chicken left off – but I ordered the one that was designed without, pears and parmesan over mixed lettuces – not bad, though a bit lacking in the other parts of the salad, like the red onions, walnuts, and avocado. Very good dressing, perhaps a little bit more of it – again, I'm sure I could have asked, but we were chatting and eating and the salad was gone in short order.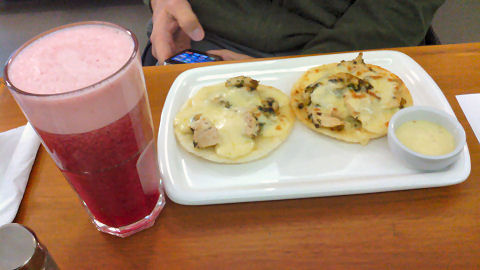 Frank went for one of the arepas selections. Arepas a are a corn flatbread that's common to Venezuela and Colombia. Interestingly, the other Colombian restaurants I've been to here in BA have always made sort of small, silver dollar sized, and fairly thick arepas (or here). This is the first time I've seen them rolled out really thin like tortillas. But I guess that's necessary if you want to make a decent open-faced sandwich out of them. Frank liked them, though we both agreed they seemed a bit skimpy for the price tag going on 30 pesos.
We did both really like the fruit drinks – a nice selection of different tropical and other fruits, presumably made from frozen fruit purees, since most of them aren't available here any other way. I had a lulo, he had a blackberry.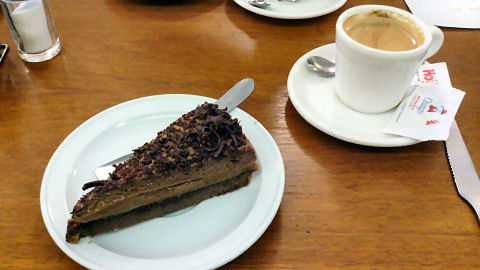 We finished off with the brownie tart – the brownie decent, the layer of dulce de leche a bit too thick and overpowering – I'd go for just the brownies next time. The coffee, good, actually it's probably great Colombian coffee, but for me it's too light of a roast, I like something more like a dark Italian espresso, and this is more of a medium roast.
Overall, recommended. It's not particularly convenient to my neck of the woods, and I'm not about to run out there when I have a good cafe a few blocks away. But, it's only a couple of blocks from the Chacarita Cemetery and the Parque del Ejercito de los Andes, if you're out that way – I get there now and again, though food-wise I might opt for Le Blé, just a couple of blocks away. Have to go back and try the burger at Full City, perhaps they'll even make that falafel burger one day….