"I am trying to make my accent so it won't bother anyone, but I am not going to drive myself crazy trying to pretend I am an American girl when I am from Colombia."

– Shakira, Pop Singer
Buenos Aires – A few months ago I mentioned getting a link to an article on the GlamOut website from Grant over at What's Up Buenos Aires? (who has just relaunched the site with a new design, and on which, as of the moment, I have a column on the history of the Mercado del Progreso, which I imagine will gradually scroll off as new News takes its place. At that point, a friend and I had dropped in to one of the three recently opened Colombian restaurants and had ourselves a nice little casual lunch. Over the last couple of weeks, Henry and I along with friends have headed out for Sunday brunches at the other two spots, and although we varied a bit of what we ate, we pretty much tried to check out some of the classic dishes offered up at both spots – and that gives me a chance to do a side-by-side comparison.
First, the basics – Antojito Colombiano, Avenida Córdoba 3883, in Palermo, 4867-6312. This is definitely a casual little place, tables and chairs like any luncheonette anywhere, lots of bright colors, Colombian souveniers on the walls (including ponchos touting Colombian coffee with pictures of the ever present Juan Valdez…), and blaring cumbia music from a stereo and television mounted up on a corner in the back. The kitchen was staffed by a couple of women I'd guess to be in their late 40s busily cooking away, the "dining room" by a couple of youngsters who I'd guess might be their teenage/young adult kids, just from the interactions. Service was friendly and at least reasonably attentive, the kitchen, at least on the day we were there, incredibly slow – with only a dozen people in the room, appetizers took over half an hour and main courses an hour after that (and all the tables came out at once, even though we didn't all come in together, as if they'd simply first decided to make everyone's appetizers and send them out, and then move on to start working on the main courses). The food – very homestyle. Tasty, not fancy, and a little hit and miss. Nice plus for really good homemade hot sauce, with an actual kick to it, available on request. Inexpensive – brunch for three with a couple of rounds of fresh juices, ran 60-some pesos. [This place has closed.]
Gabo Colombian Resto Bar, Honduras 5719, Palermo, 4778-1293, is pretty much the opposite end of the spectrum. Sleek, modern, all black and white and chrome, echoed in black and white photos of various spots around Colombia, a large flatscreen wall-mounted television showing Colombian music videos, fairly loudly, but not overly so. A setup in the corner for a live music group, presumeably in the evenings. Kitchen out of sight. Scruffy bartender busilly mixing away glowing neon cocktails. Waitresses in cowgirl sort of getups. Friendly and quite efficient. Way too hesitant to make recommendations – our waitress even said that she didn't want to feel responsible if we didn't like something. Get over it. A bit of a Gabriel García Márquez theme going on, for no apparent reason other than him being Colombian. Food prettily presented, a few too many deconstructions with little side dishes that force you to put it all back together yourself. All quite good. Tried the hot sauce request here too, as the food, while good, was dumbed down for local palates – the only thing they had was a chopped tomato and onion mixture. Major lost points there… Moderately expensive, brunch for three, with one round of non-alcohol cocktails ran 125 pesos. [This place has closed.]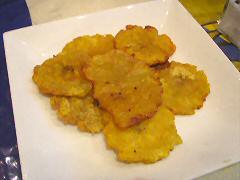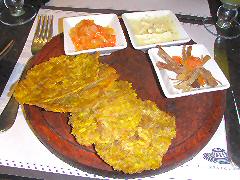 On the left, patacones – fried and flattened plantains – from Antojito Colombiano, on the right, the same from Gabo. roughly the same overall quantity. A bit more… fleshy… in that they weren't completely flattened and crispy, as the Gabo ones were. Served with a simple semi-sweet tomato and onion sauce, but that really good hot sauce dished up on request. Gabo's came with a tomato sauce, a bechamel sauce with bits of chicken in it, and some dried beef jerky to scoop up.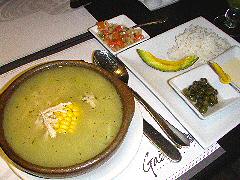 Ajiaco – chicken soup with corn, rice, sour cream and capers – the Antojito version coming all stewed together and then topped at last minute with the cream and capers – which the waiter actually asked if I wanted added… but of course, I mean, what's ajiaco without capers and sour cream? Everyone knows that… It's actually really good – nice and hearty, almost more a stew here than a soup. At Gabo, I was less than thrilled – nice broth with a few desultory pieces of chicken and potatoes in it and a piece of corn. The rest – sour cream, capers, and, bluntly, old dried out rice, were served on the side to be added to taste. Little seasoning, and even with everything put in was pretty much just broth with stuff floating in it. We left most of the liquid behind after fishing out the chicken and vegetables.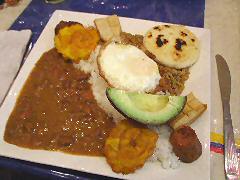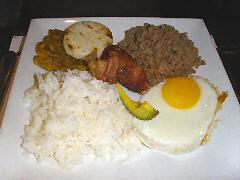 Bandeja Paisa – literally, "the platter of Paisa", a person from the Antioquia region in Colombia, where the capital is, this is certainly the mainstay regional dish, and some consider it to be practically the country's national dish (though personally, I think those "some" are misinterpreting "paisa" as something to do with "national"). The word also refers to a person from the countryside – sort of like "paisano" to the Italians, and "country platter" certainly fits the bill for this dish. The dish is, as far as I know, practically set in stone – rice, beans, fried plantains, ground beef, chorizo sausage, chicharrones, fried egg, avocado, and an arepa (white corn pancake). At Antojito, nice spicy black beans, decently spiced ground beef and a good chorizo, though both a bit overcooked, as was the rice, which was nearly a paste, and an avocado heading down the wrong side of ripeness and turning brown. At Gabo, everything cooked really nicely, and all fresh, but absolutely no seasoning on anything, not even salt – and the chorizo was deep-fried, making it completely crunchy, very strange. Mixing that little tomato and onion "hot sauce" and a good dose of salt with the rice, beans, and ground beef helped, but not a lot.
So, overall – Antojito – nice use of spices, fun, casual atmosphere, decent if slow service, but cutting some corners on freshness of ingredients, and they need to work on the rice in particular. At Gabo, completely bland food, if well cooked, more of a semi-upscale atmosphere, good service, but a bit pricey for what you get, especially given the need for some flavor. I'd be more likely to hit Antojito again.