"We may lay in a stock of pleasures, as we would lay in a stock of wine; but if we defer tasting them too long, we shall find that both are soured by age."

– Charles Caleb Colton, Sportsman, Writer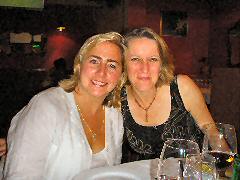 My friend Maureen was in from San Francisco for a couple of days, after a whirlwind visit through vineyards near to Santiago, Chile, followed by more mucking about in the fields in Mendoza. She was with her friend Terry, from Denver, both of them have relatively recently successfully completed their Diploma exams from the Institute of Masters of Wine, and are now looking to move on to get their MWs. So, lots of winery visits, much research, and, to my benefit, lots of tasting! Beyond whatever we tried out and about in restaurants, they anted up for a dozen of fairly pricey wines (at least by local standards) to work their way through in flights over their visit, along with a trio of wines picked somewhat at random.
Salta Torrontés
Bodega Banfi Cinco Tierras Torrontés 2006, Cafayate (Salta), 13.8% alcohol – gooseberry and/or white currant, touch of wildflowers, upfront high alcohol, great acidity, clay, very dry; finish slightly metallic and short. Okay.
Bodega Felix Lavaque Quara Torrontés Reserva 2005, Cafayate (Salta), 14% alcohol, barrique aged – hint of petrol, honeysuckle, and canned pineapple, good acidity, great length, medium bodied, well integrated oak, white pepper on the finish. Easily the best Torrontés I've tasted to date. Highly recommended
Bodega Colomé Torrontés 2006, Calchaquí (Salta), 13.5% alcohol – first vintage of this wine, a new introduction from Donald Hess' Salta winery – play-do, apricot, rose petals, cayenne pepper, underripe pear; okay acidity – almost fat, hot finish, and blatant residual sugar. Okay.
Cabernet Franc
Bodega Trapiche Fond de Cave Cabernet Franc Reserva 2004, Maipú (Mendoza), 14% alcohol, 15 months barrique aging – herbal, forward fruit, red plum, light spice, touch of fatback, not clearly Cabernet Franc, a little too indistinct, good acidity, slightly high alcohol. Good.
Bodega Humberto Canale Marcus Cabernet Franc Gran Reserva 2003, Rio Negro (Patagonia), 13.5% alcohol, 9 months barrique aging, mixed French and American oak, unfiltered – dry tobacco, black olive, dried cherry, relatively short, bitter finish – while easily identifiable as Cabernet Franc, I initially found this to be uninteresting and dried out – however, after sitting open for several hours, the fruit came forward as bright cherry flavor, with a nice touch of black olives and herbs, clearly the wine needs breathing time and/or decanting. Recommended
Bodega Benegas Lynch Cabernet Franc Libertad Vineyard 2004, Maipú (Mendoza), 15.5% alcohol, 18 months new French oak aging, 80+ year old vines – very high alcohol, candle wax, black plum, bitter chocolate, green peppercorn, obvious and not well integrated oak – an over the top heavily oaked monster, not surprising given that it's a Michel Rolland creation, and for those who like that sort of wine, this is a great example; with time it will probably integrate better. Okay.
Syrah
XumeK Sol Huarpe Syrah 2004, Valle de Zonda (San Juan), 14.8% alcohol – plum skin, black raspberry, black pepper, wet slate, juicy acidity, somewhat hot finish, medium bodied, soft tannins. Recommended
Bodega La Rural Rutini Syrah 2003, Mendoza, 13.3% alcohol – bay biscuits, black cherry, sarsaparilla (root beer), soft, dry tannins, moderate acidity, medium bodied, slightly cloying finish. Good.
Bodega Benegas Syrah Libertad Vineyard 2004, Mendoza, 12 months French oak, 14.7% alcohol – graham crackers, sweet ripe plums, almost like cooked jam, cocoa powder, fairly well integrated oak, slightly short finish – a bit of a fruit bomb, but not as over the top as the reserve Cab Franc above. Recommended
Regional Malbec
Bodega Colomé Malbec 2005, Calchaquí (Salta), 14.5% alcohol, 85% Malbec, 15% Cabernet Sauvignon & Tannat, 80-150 year old vines – black plum, clove, oak, blueberry, tar, good acidity; finish tasting of road tar. Not recommended
Bodega Trapiche Gran Medalla 2004, Mendoza, 14.5% alcohol, 100% Malbec – classic Mendoza Malbec – black plum, nutmeg, candied violets, juicy acidity, soft tannins, vanilla, well integrated oak. Recommended.
Bodega Noemia A Lisa 2005, Rio Negro (Patagonia) – 14.5% alcohol, 91% Malbec, 9% Merlot – milk chocolate, very high alcohol, black plums, black cherries, cayenne pappers, good acidity – for me, too extracted and hot. Okay.
Random Malbec blends
Bodega Benegas Don Tiburcio 2004, Maipú (Mendoza), 14.5% alcohol, 32% Malbec, 12% Cabernet Sauvignon, 20% Cabernet Franc, 20% Petite Verdot, and 16% Merlot, 18 months barrique aging – indistinct red and black fruit, smoke, tar, moderate acidity, dry tannins, stale vanilla wafers on the finish. Okay.
Bodega Ave Malbec 2006, Mendoza, 90 days with oak staves – red plum, moreno cherry, white pepper, good acidity, slightly hot finish; given that it's relatively inexpensive – Good.
Bodega Catena Zapata Saint Felicien Malbec 1996, Mendoza, 13% alcohol, 12 months in 90% French (30% new) and 10% American oak – tasted specifically to see how a good Malbec ages – initially, very closed, clay, plum pudding, mace, dry tannins, however, after several hours the fruit came out strongly – chocolate covered cherries, elderberry, roast coffee notes added in, fairly complex, though it also started to oxidize relatively soon after that. Needs breathing time and/or decanting, but not more than a few hours. Recommended.