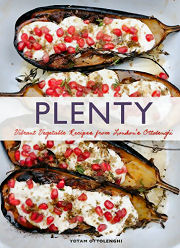 For those of you who like your vegetables, if you haven't discovered London's star chef Yotam Ottolenghi's recipes floating around the 'net, it's about time you do. For awhile, from December of 2008 on, he wrote a column for The Guardian, called "The New Vegetarian", and some of the recipes that appeared each week were pretty spectacular. The column hasn't been updated since September of last year, and even that was seven months post the previous recipe, so it looks to be a defunct source of weekly inspiration. [Edit: Contacted by tweet from the restaurant, the column still exists just under the chef's name, and is no longer just vegetarian but a mix of his recipes.] But not to worry – Ottolenghi's just published his new book Plenty: Vibrant Recipes from London's Ottolenghi (he's got two other recently released books, Ottolenghi: The Cookbook and Jerusalem: A Cookbook, that don't focus on his vegetarian cuisine) that collects together in a convenient hardcover or, yes, ebook, not only all or most of the recipes from his column, but many more to boot.
One of the things I particularly like about the book is that it's not preachy. First off, Ottolenghi is an unapologetic omnivore. Actually, who knows, that may be part of what ended the column, he makes a point that he and the newspaper received a lot of what amounts to hate mail from the hardcore vegetarian set, decrying everything from his lack of commitment to his unabashed use of dairy, eggs, and flavorful ingredients – you know, making things taste good. I suppose that particular subset of humanity will never get that they're not going to attract more people to a vegetarian or vegan lifestyle by being, well, dicks. I just had a similar experience – I was trying to setup some classes with a noted raw food vegan chef while I'm going to be in NYC in May, wanting to increase my knowledge of the subject and add some variety to our diet – after finding out I wasn't committed to an all out conversion of my eating and cooking habits he got pretty abrasive on the phone and I haven't heard from him since even though I followed up. Yeah, that just gets me all excited to learn more.
So back to the book – I have the ebook version, and it's laid out beautifully, with great color photographs of the majority of the dishes. The recipes are easy to follow, and pretty enticing. I'd already tried a few of them in the past from reading his column and finding recipes online in other spots, and jumped right in.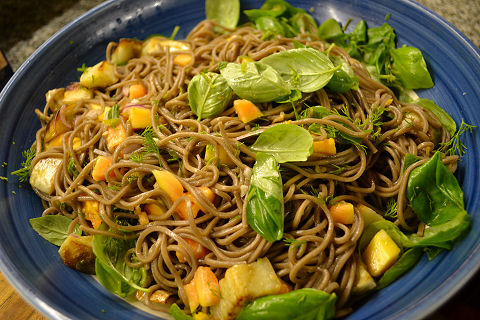 I spotted this one,
Soba noodles with aubergine and mango
, almost immediately flipping through the pages. I had a packet of buckwheat soba noodles out already, planning to use them for something the other evening, so this looked perfect. I even had most of the ingredients, though two quick substitutions – I had a papaya in the fridge instead of a mango, and oddly, no cilantro in house, but some fresh dill, which sounded like it would work just fine. It did, the dish is a wonderful blend of eggplant, the fruit, a medium spicy dressing, and fresh herbs. He doesn't mention what kind of soba noodles, though most of the folk out there posting about the recipe seem to be using the white wheat ones, I liked the nuttiness of the buckwheat version.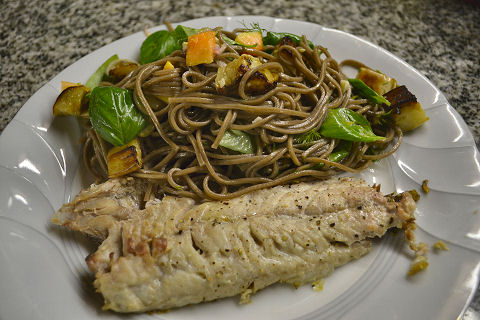 And, probably in keeping with his omnivorous philosophy with a vegetable rather than vegetarian focus, I already had fresh anchovy fillets lined up for the griddle (I wasn't going to fire up the parrilla for two fish fillets). I loved the whole thing and had plenty of the salad left for me since Henry decided he couldn't eat a savory salad that had fruit in it. Sometimes….
Overall a great book, I love that it's organized by vegetable rather than by cooking technique or type of dish – it's a delightful way to look at one particular ingredient and then have several ways to prepare it featured right in a row.
If you're into vegetables, pick this one up.