By request, another couple of classes from our Color Palate of Italy series. A couple of young women from South Africa taking a quick break here before heading on to their first jobs as cooks – one on a small yacht in the Caribbean, cooking for half a dozen people on week-long cruises, the other headed to the Mediterranean where she'll be the crew cook for a crew of twenty-some folk manning a huge yacht that can handle 70 or so people, for a mere bag of shells – $650,000 per week rental. Small change, no?
They wanted to start from the basics, our core ingredients class, and then a second class of the things they felt least comfortable with – beef and pork dishes. So we began the day with a series of tastings and discussions – different olive oils, garlic prepared in different manners, herbs, and cheeses – including our first little recipe, we made our own ricotta to include in the tasting and a later recipe.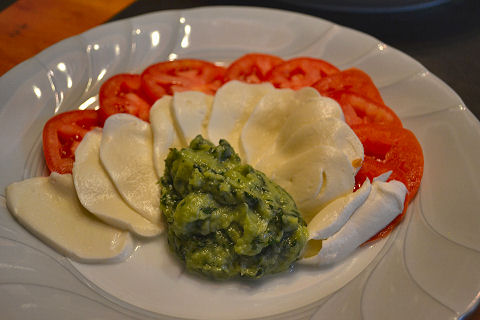 A minor twist on a caprese salad with fresh tomatoes and buffalo mozzarella and a hand pounded pesto using a mix of poached and roasted garlic.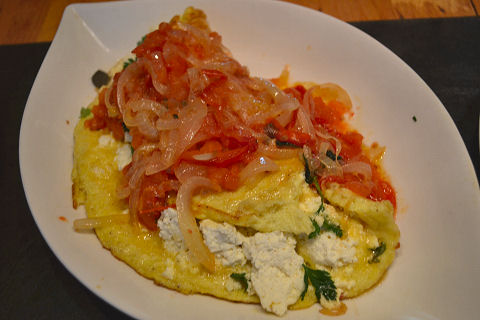 Using the ricotta we made, a simple fritatta, an Italian omelette, with a mix of fresh herbs and then topped with a quick tomato, onion and basil sauce.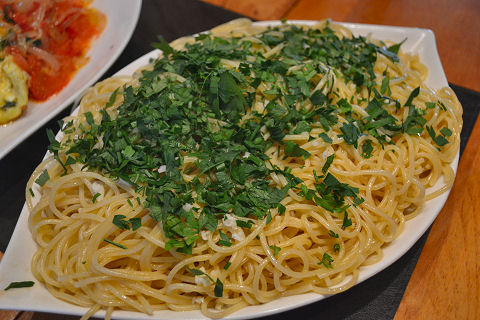 And, as classic as you can get, a spaghetti aglio e olio.
Later in the day, on to the beef and pork class, for which I didn't take photos – but no doubt we'll be doing it again soon.