It's been interesting seeing what classes get requested over the last couple of months while I've been only scheduling them by request. Even more interesting is that it seems as soon as I post up a class on our schedule that someone's asked for, I immediately get one or two more people who want to join in. I had a couple of reasons for switching to this – one, I've just been super busy with Casa S and a lot of writing, and two, it seemed that the classes I was posting weren't garnering students. Whether it was just seasonal, or a commentary from the universe on my selections, it's hard to tell. I do plan to go back to a schedule starting towards the end of May, after returning from my annual trip up to the Big Apple (friends who are there, clear your calendars for mid-May, and hey, maybe a couch where I can crash?).
I got a request from a young woman visiting from Germany who is down here for a few weeks for tango – she wanted to take a couple of Italian classes, but keep them basically if not totally vegetarian. She informed me that while she's taken cooking classes in the past, they've all been Asian cuisine (she's Chinese, working in Germany), and this would be her first foray into a class and/or cooking "Western food". So we scheduled two successive days, and went with our vegetable side dish and pasta classes from the ten session Italian cooking intro series. For some reason I didn't take photos of the pasta class, ahh well. A long time local student who has taken most of my Asian vegetarian classes joined in for the first, and a visiting couple from New York jumped at the chance for the second.
I Contorni – literally, "the contours" – in the context of gastronomy, the things on the side, the edges, that which provides a shape to the main course… side dishes. Most of them, in Italian tradition, are vegetable dishes, both hot and cold, though commonly just served at room temperature, and often several will accompany the main course, or be laid out on the table beforehand as antipasti – something to nibble on during the course of the meal. Of course, a decent number of them could be a meal unto themselves.
Most contorni are fairly simple, fresh flavors, though some can be complicated. Typical examples might be a multi-bean salad flavored with fresh herbs, slightly charred brussels sprouts tossed in grated parmigiano and breadcrumbs, baked cauliflower with anchovies, roasted peppers, caponata, beets with goat cheese, roasted carrots in orange and cumin, grilled portobello mushrooms, sauteed greens, roasted or fried potatoes, polenta, or even something as basic as a bowl of mixed olives.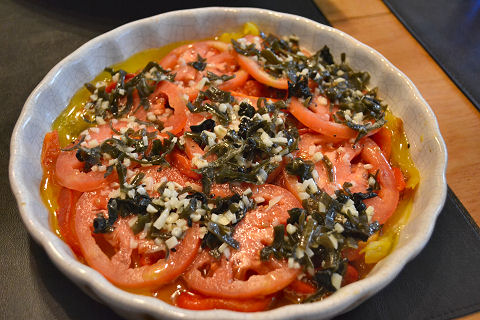 One of my favorites of the i contorni genre would be the Bagna Cauda – more or less the fondue of Italy, specifically Piemonte – where fresh vegetables are dipped into the "hot bath", as the name means, of butter, olive oil, garlic, anchovies, and, if in season, truffles. A simple version is a mix of those, kept hot and bubbling. But it's not really a dish to be presented – for that, a favorite is peperoni alla bagna cauda – strips of roasted peppers and sliced plum tomatoes, over which the bagna cauda is poured. Given the request for vegetarian, instead of anchovies we used kombu seaweed that had been rehydrated and then steeped in the butter and oil mixture, and truffles being out of the question here, a dried black mushroom got the same treatment for a touch of earthiness in the dish.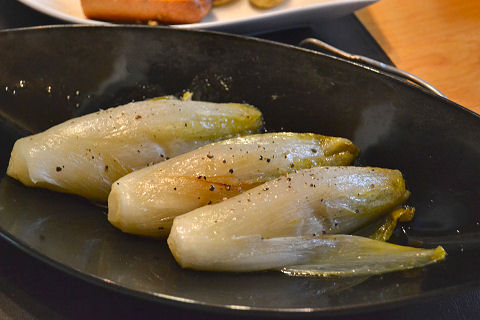 I love this dish, it's so simple, and a great use of endives – no one uses them for anything other than salads or as "boats" to serve hors d'oeuvres on, and that's a mistake, they're delicious cooked. These are indivie intere a crudo – endives that are basically steamed in their own liquid, a little olive oil, salt, pepper, and either basil or mint.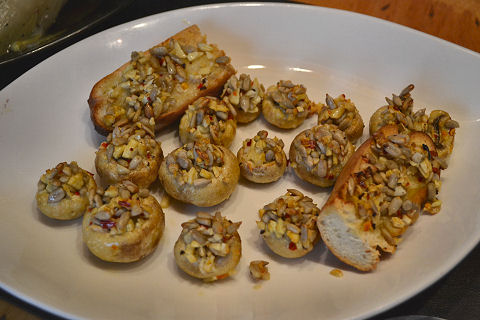 Funghi arrosto – roasted mushroom caps filled with a mix of the chopped stems, sunflower seeds (replacing the traditional pinenuts which are a tough find here, particularly for good ones), red pepper flakes, garlic, lemon and olive oil. A little extra filling made a nice topping for a baguette end that was sitting around.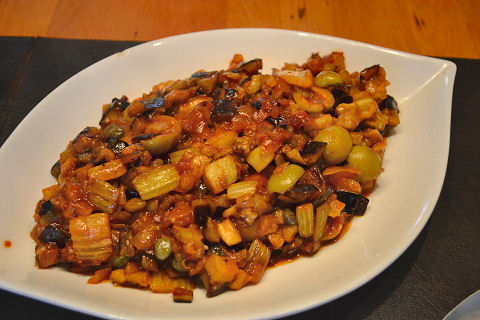 And the Pièce de résistance of the day, a classic take on caponata – a vinegary and sweet eggplant, olive and celery "relish".
For our pasta class on the next day we made pici, the Sienese version of strozzapretti, or "priest stranglers", coated in breadcrumbs, garlic and chilies; baked agnolotti filled with local cuartirolo cheese and olives and served with a spicy tomato sauce; and langanelli, a trapezoid shaped whole wheat pasta tossed with a saute of onions, celery and chickpeas.