"A diplomat who says yes means maybe", a diplomat who says maybe" means no, and a diplomat who says no is no diplomat."

– Charles Maurice de Talleyrand-Périgord, French diplomat
Although I've gone away from using themes for the dinners on a regular basis, and definitely not posting them in advance, I'm still going to occasionally use them as an inspiration behind the scenes and let folk know when they're here what that influence is. So, this past weekend, Greeks everywhere (?) celebrated Οχι Day, or Ochi Day, or, in English, No Day – commemorating, basically, when the Greek government and/or people told Mussolini to take a hike and not set foot in Greece. After all, they wanted to preserve retsina, ouzo, and gyros for themselves and not share with any of those pasta-eating folk to the west. So what did I do? I went and played around with all those classic Greek flavors and muddled them up with other cuisines from around the world. Go figure.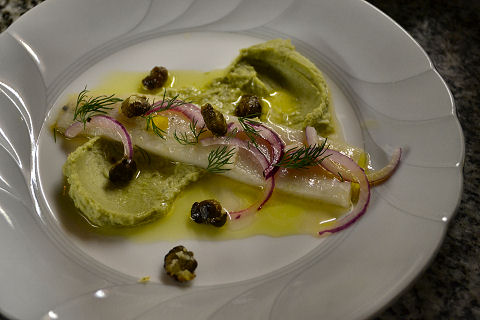 Pejerrey (Silverside) / Orange / Caper / Rocoto Chili
Alambrado Extra Brut
Thinking about a simple, light cured fish appetizer, I decided to mesh a bit of Peruvian style with some Greek flavors. Fresh fillets of pejerrey cured ceviche style in a mix of orange and lime juices, salt, pepper, rocoto peppers and garlic. Some red onion, dill, fried capers to garnish, and served the whole thing over a creamy fava bean puree, added a drizzle of olive oil around the plate, and, Greek tiradito is born.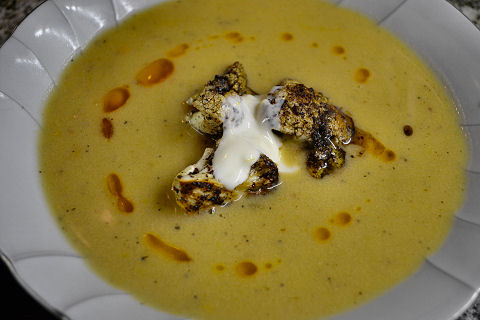 Tahini / Chickpea / Cauliflower / Sumac
Emilia Chardonnay-viognier 2010
I've made various versions of tahini soup before and it's always been missing something – I've tried fried chickpeas floating about, falafel, various other additions. I think I finally got it. First, the soup – chickpeas, tahini, potato, lemon zest, salt and smoky ufer biber pepper all simmered together and then pureed. Added more chickpeas to serve. Fried cauliflower florets in olive oil with salt, cinnamon and sumac (delicious, by the way, on its own) and added those to the soup bowl. A drizzle of smoked paprika oil and some yogurt with lemon zest and salt around and we're golden.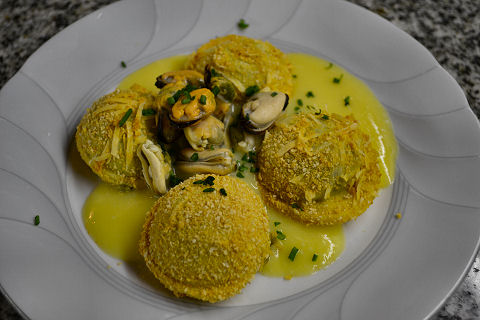 Mussel / Spinach / Feta / Lemon
Algodon Wine Estates Rosé 2009
I know, I know, I even let some Italian influence sneak over the border. And those don't look like any spanakopita I've ever seen either. But the filling of the ravioli is the same I'd use for the dish – spinach, onion, feta cheese, salt, pepper and nutmeg – besides, the Italians pretty much use the same filling in pasqualina, right? But rather than boiling them up, they're dipped in egg and then in a mix of breadcrumbs and pecorino, and baked until toasty and golden. Served with some fresh mussels and a scoop of a simple egg-lemon sauce (stock, lemon, egg and cornstarch brought just to a bare simmer to thicken, seasoned with salt and white pepper).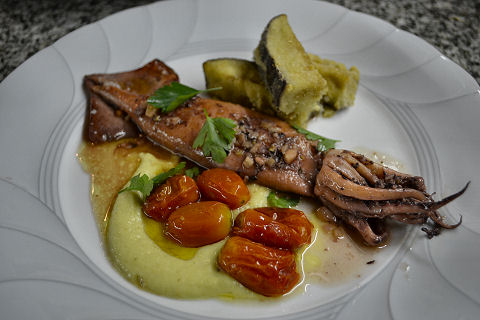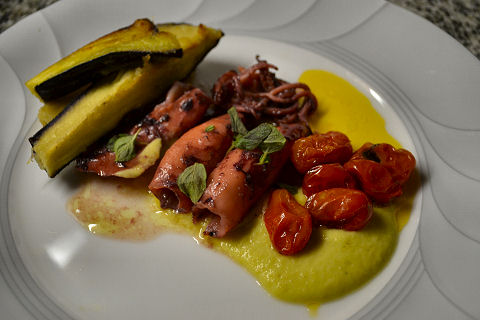 Squid / Zucchini / Eggplant / Garlic
Barrandica Pinot Noir 2010
There are over 500 species of squid out there, each a little different from the other. While the first two nights I found nice medium sized calamares, the last night my fish supplier only had huge ones in stock (each weighted in at a bit over 400 grams, nearly a pound), so I decided on fresh chipirones, another species with a slightly more delicate flavor. Cleaned and then roasted in olive oil and garlic, served up with, well, deconstructed moussaka… sort of… or maybe just inspiration… a zucchini puree flavored with garlic, onion, cumin, coriander, cinnamon, salt, white wine, stock and cream. Cherry tomatoes roasted in olive oil and salt. Eggplant batons soaked in ice water for a few hours, then dried, coated in olive oil, rolled in a mix of rice flour, salt and garlic powder and baked until lightly browned. And, the reduced juices of the baked squids spooned around the whole thing.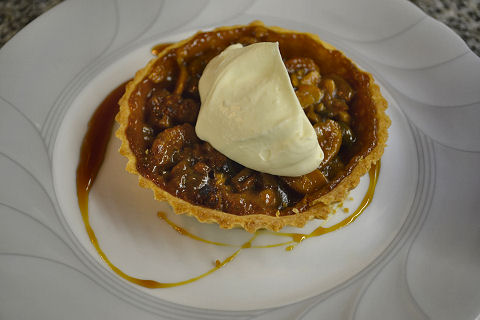 Nuts / Orange Blossom / Yogurt / Moscato
Putruele Tardío de Abríl 2010
And, finally, what's a Greek inflected dinner without some bakhlava inspiration? Caramelized sugar, added in pistachios, almonds and walnuts, honey, yogurt and orange blossom water. Into little tart shells, baked. Served with a drizzle of reduced Moscato wine and topped with whipped cream with a touch more orange blossom flavor.
In the end, other than one person who came who simply didn't eat seafood (didn't want to be a bother, so she hadn't let me know), no one said οχι, they said ναι!