"Architecture is the art of how to waste space."

– Philip Johnson, architect
Next up on the Museum Mile walk that I started in the last post is the Museo de Arquitectura y Diseño de la Sociedad Central de Arquitectos…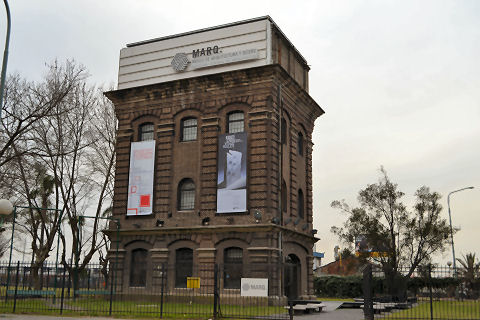 It's a strange little building, standing alone in a field next to Carlos Thays Park. When I came up to the front door there was a young man inside mopping the floor, he came over and unlocked the door to let me in. Apparently, either there aren't really any museum docents or guides or anything (not that it's big enough to really need one), just a sort of all purpose human… he was not only the cashier, but the janitor, handyman, and even gave me a little talk about what I could expect to find in the museum. The ground floor has a little mockup of a part of the city with notes about where there are current major architectural projects going on – and on the walls, more info on those projects – not so much details of the architecture as all the legal stuff about who owns the properties, who's doing the design and contracting work, etc.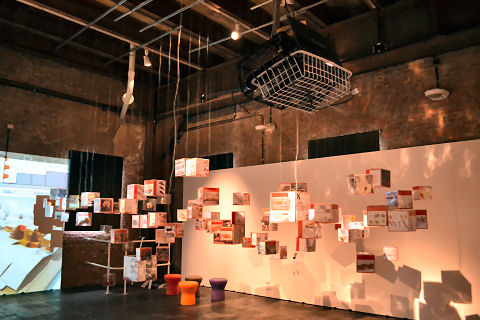 He told me that the next floor up was closed because the lock was broken and they couldn't open it, and in fact, a little later, when I was headed out the door, he was busily trying to break open the lock with hammer and chisel…. So I headed on up to the next floor where there was an "interactive exhibit" of various student projects from one of the local architecture programs. The interactivity seemed to be that if you stood in front of a camera sensor near to one of the hanging cubes, it would change the slide show projected on the wall. It didn't seem to be working, the slide show just kept going in sequence.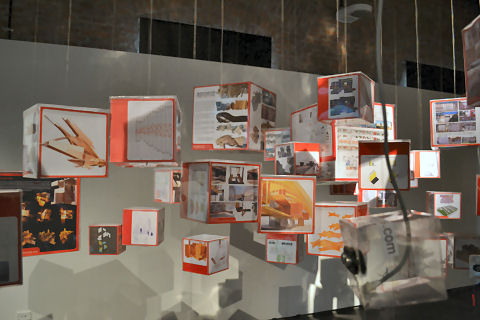 The hanging cubes themselves were basically photos of different models of student projects, only a few of them with any more information than the student name, so it was pretty much impossible in many of the instances to even know what the photos were of, since much of it was simply closeup details.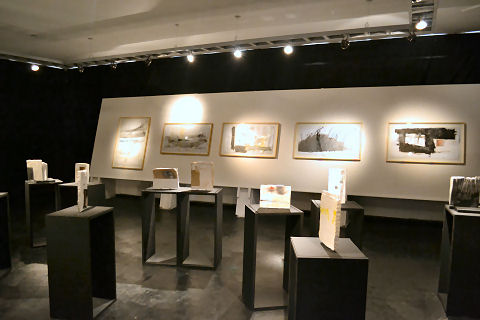 The top floor's relevance to architecture seemed to be that it was an exposition of paintings and sculptures done by a local architect as a hobby. Then again, it is the architecture and design museum, so maybe this was considered… design.
All told spent only about half an hour here, one other person came in, a student of architecture… he looked around, shrugged, and left. Kind of a yawn overall, and not really worth the five peso entry charge. Next on the list, the Palais de Glace, which I've mentioned before, primarily a display of historical photography and painting, but I've not written up. Proximamente, as is said here….