"The tango is a feeling that is danced. That's why it is not choreographed, though it can have sequences, like all feelings. You can dance love, rage, happiness, pleasure, every mood. The tango is not a dance to demonstrate ability but rather an interpretation of feeling. It is not just moving your feet and posturing. The tango is Argentine, but it belongs to all those who understand its feelings and its codes."

– Cacho Dante, tango instructor
A group of tango aficionados from Tucson along with one from Australia and a couple of locals… No tomatoes, squash, chicken, pineapple, peanuts… Yes vegetables and fish… Yes beef and pork but only if it's not feedlot raised therefore Argentine is fine (umm, historically yes, but today, not so much, sorry guys – and no labeling to know which is which)… Generally South American in theme… All that's pretty much in our bailiwick, we can do that.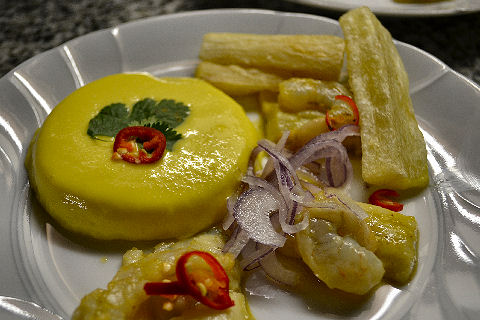 A tiradito is a type of ceviche. Literally, a "tira" is a strip, a long thin cut, essentially, the way that sushi is cut albeit generally a bit thinner and narrower for this dish. Although there's no requirement that the ceviche cure be different from a classic one, it generally is, often including some kind of oil, or a puree of herbs or something else that gives a slightly creamy texture to it. And, it's often presented in a more elegant fashion – a nod to that same sushi tradition – rather than mounded on lettuce leaves.
I thought Henry was going to have a stroke when I started putting this together – he loves it when I experiment with food and create fusion dishes, as long as I don't do it to Peruvian ones. Those, of course, are sacrosanct and not to be tampered with. Of course, when he tries them, whether mine or when we go out, he almost always likes the result, he just rails against the bastardization of his culture.
So here, a mix of cured strips of pejerrey, the freshwater fish that I've written a bit about recently, cured in a creamy puree of ají amarillo, lemon and lime juice, salt, garlic, ginger and celery. Atop each strip, a small prawn cured in the same mixture with the addition of a handful of cilantro pureed into it, just for a difference in color and flavor. These are laid around a corn custard, replacing the usual rounds of corn or toasted corn kernels – a simple blend of cooked grated corn, butter, milk infused with the corncobs, and gelatin, set into a wobbly, creamy, silky smooth pudding, and then for textural contrast, to the side, crispy yuca fries. The presentation needs a little work, though mostly I think it just needed to be centered on a bigger plate that would have left some white space….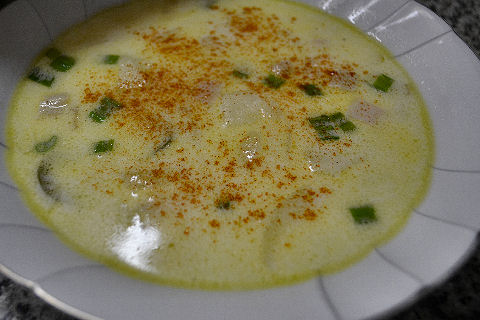 A relatively classic caldillo, though more my version that incorporates elements of a chowder into it. The no tomato ruling took that out of the mix, so I finished the soup with a little lime juice just before serving to give it a touch of acidity. The fish, abadejo, or pollack, and also some berberechos, cockles.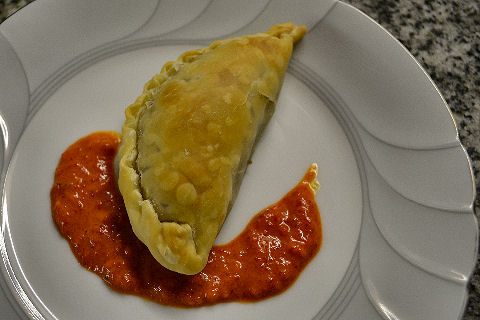 We couldn't have a South American style dinner and not get an empanada into the mix – here filled with a puree of charred, smoked eggplant, mint, garlic, and peperoncino, and served with a swath of pureed piquillo peppers, garlic and olive oil.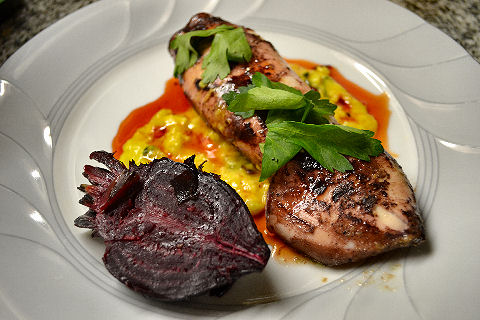 This one came together out of a combination of a favorite Italian dish, a plate of duck at local restaurant Nectarine, and a dish from a dinner a couple of weeks ago. I decided on a whole oven-roasted squid in olive oil, garlic and parsley, a very simple classic preparation. Then there was that duck dish. I had been intrigued, though disappointed in the balance, with the combination of the salt-crusted beets and the overly sweet humita – I could see what the chef was going for, it was just surprising at a restaurant of that caliber to not have the balance… but, of course, I've talked many a time about the Argentine sweet-tooth, and it's not uncommon to be missing a picante and even sometimes salt element in order to cater to local palates. So here, the humita is made with no added sweetness and a good amount of green onion plus a touch of fresh Thai chilies. The beets, left, as he did, skin on, though the root removed, and well scrubbed to rid them of any grit, and sprinkled with salt after roasting. And then drizzled over the whole thing the salt-sweet-sour-spicy combination of the pomegranate caramel I'd used for the calamarette in that previous dinner. All together, it worked out really well, I was very happy with this dish.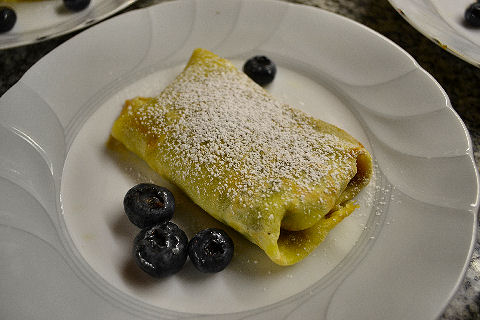 And, we finished up with my take on a classic local fave, the panqueque de dulce de leche – lovely little crepes filled with dulce de leche, coconut, dried blueberries and walnuts, served warm and gooey with some powdered sugar and fresh blueberries.
I do believe the group tangoed out the door very happy.