"To exist is to change, to change is to mature, to mature is to go on creating oneself endlessly."

– Henri Bergson, philosopher
My how time flies. It was four years ago, pretty much to the day, since I'd first set foot in Sucre, Sucre 676, 4782-9082, in Belgrano. Not that I hadn't set foot in there in the meantime, but only once more, and here I was, back, with another review in mind (still working on a series for a guide book – about a dozen more to go) and an invitation from the executive chef and owner to plop myself down, meet with the chef de cuisine and chat about the restaurant (unfortunately, he ended up taking the night off, but fortunately, his sous chef turned out to be completely charming and fully capable of conversation as well), and sample through some food.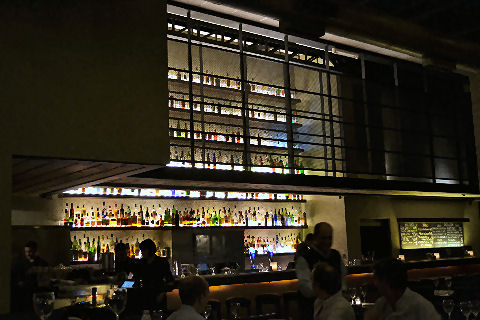 I've just gone back and read that first review as I didn't want to just sit here and repeat whatever I'd said back then. The room is unchanged. Surprisingly, at a bit after 9pm in the evening, the place was dead empty when I arrived, though, it was a Monday. In relatively short order business picked up, but nothing like the crowds that were there either of the other two times – maybe 25 people or so in total. The menu isn't setup the same anymore – no tapas section – it's now appetizers, parrilla (meat and fish), and other dishes that consist mostly of pastas and risottos.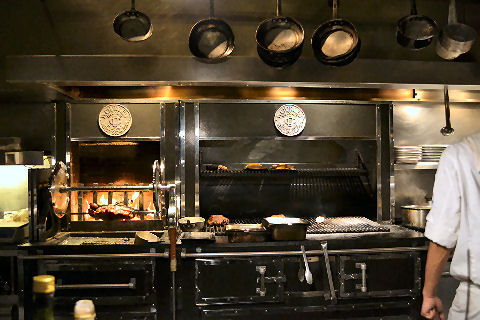 I asked the host if he minded if I sat at one of the high tables that are directly in front of the kitchen and despite them being for six people, he had no problem with it given how few people were there, and I offered that if he needed it, I was happy to share the table with someone else should they want to sit there as well. Interestingly, in short order he returned with two young gents who turned out to be a couple of visiting chefs from Madrid, in town for an event at the Spanish embassy, Dario Bario of DassaBassa and José Luis Mataix, until recently the chef at Lágrimas Negras in the Hotel Puerta América de Madrid. Introductions all around and we all got busy with some food and wine. [Unfortunately, Dario passed away in mid-2014, an accident while base jumping.]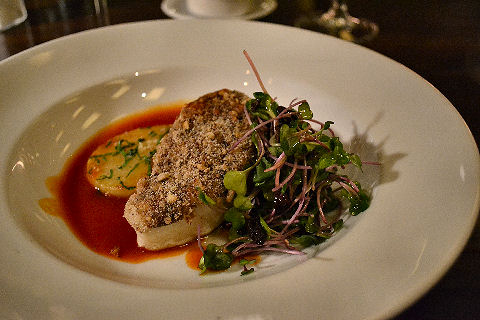 For my part, I decided to leave things completely up to sous chef Javier and just see what he chose to send, though specifying that I did want things that were on the menu, not things made up specifically for me to taste. The other two (actually arrived about the time I was eating this) ordered a few things that sounded interesting to them. First up for me, a grilled steak of mahi-mahi, a fish I've not seen here in Buenos Aires before and which apparently one of their fish suppliers is thinking about bringing in, so they're "testing" it out as a special for a few days. I hope it stays, this was a great dish (plus I'd like to get my hands on some) – perfectly grilled fish topped with a broiled almond crust, served over a potato pancake of sorts and a smoked bell pepper broth.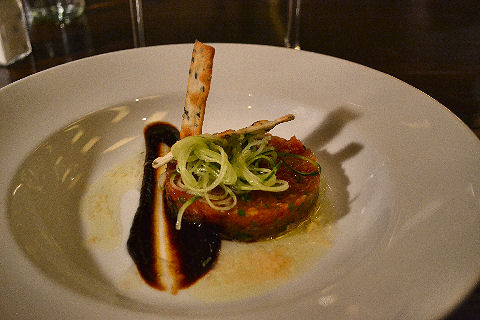 The "signature" tuna tartare was up next. Good, fresh, delicious flavors, and a treat to have some tuna for a change. I do sort of wonder at having it after the grilled fish dish, but other than the order of things, completely happy with it. Not a wow tuna tartare, but really good.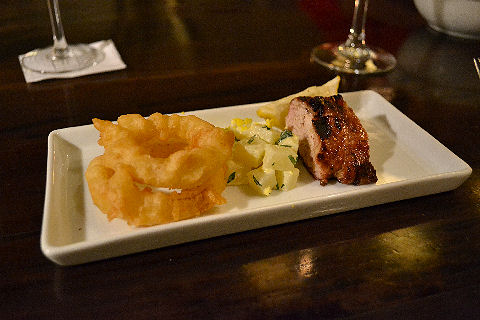 A playful presentation of mollejas de ternera, veal sweetbreads – this, just a tasting portion. Sort of take on an American picnic – the sweetbread treated like a piece of fried chicken, and served with a decent potato salad (a touch more complexity needed and the potatoes were slightly undercooked), and really good onion rings. Kind of a cool idea that I might just play with – though I'd go for a real battered and fried style… you think Yum Inc. would mind if I introduced the KFS (Kentucky Fried Sweetbread)?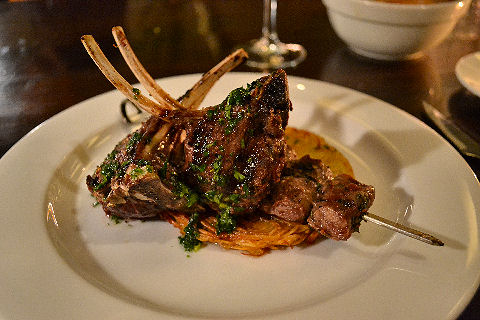 I'd kind of hoped that he'd continue in the tasting portion vein and I could try a couple of different things off the meat side of the parrilla. Instead, a full portion of the lamb dish was brought, and what a portion – two double lamb chops, roughly half an entire lamb loin, and a potato rösti. The chops – exquisite, really, exquisite – seasoned beautifully, caramelized fat, juicy, medium rare. The loin, a bit salty for my tastes and the kebab style of cooking left the nuggets fairly chewy and cooked almost to well done – I think someone left them on the parrilla just a couple of minutes too long. I shared half this plate with the other chefs, they reciprocated with a glass of their Punto Final Malbec Reserva.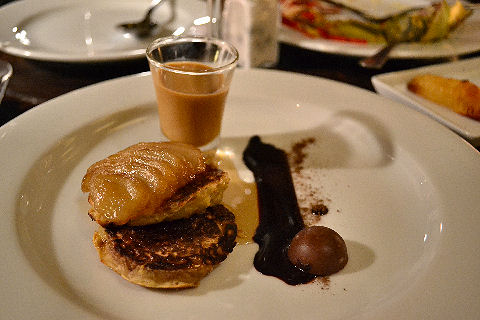 And, the last course, the "pear and pancakes" – not "panqueques" my waiter was quick to inform me, which I could see, those being more like crepes – but "real American pancakes". Well, almost. They look kind of like a typical silver dollar pancake, but a bit thicker and they were really dense rather than light and fluffy. The poached pear atop was good, the caramel sauce as well, but, overall didn't excite me. What did, was the delicious little shot-glass of butterscotch pudding which was creamy, rich, and just plain yummy.
So let's see, what would I say from my three visits to Sucre over four years? It's grown up, matured. Particularly in service which I found friendly but clueless on the first visit, a bit better the second, and completely professional this time (and it wasn't just the three of us, I was watching the waiters in the room – they all seemed attentive and efficient versus those previous visits). No question prices have increased, like everywhere – main courses were in the mid to high 20 peso region that first time, they're now in the 60s and 70s. And the menu's been redirected and pared down, far more of it seems oriented around the parrilla, be it meat or fish – I saw very little cooking of anything that didn't at some point involve the grills. I didn't see anything on any plates that were put together that involved the touches of molecular gastronomy that I'd seen that first time, so that seems to have gone by the wayside. I'd say that the food has gone from gangly adolescent trying things out and seeing if they work to much more focused flavors, fewer components on the plates, and just plain great cooking. It may not be quite as "cutting edge" as it used to be, but it's better food and service.