"Bureaucracy defends the status quo long past the time when the quo has lost its status."

– Dr. Laurence J. Peter, educator and writer
The first Peruvian restaurant I set foot in in Buenos Aires was Status, Virrey Ceballos 178 just off the Plaza del Congreso. We've been back on and off, but not often as it simply has never been one of our favorites, and, given the home cooking level of food and the neighborhood it's in, it's pretty pricey by contrast to many of the other spots that we like better. But, it is one of the restaurants on a list that I'm writing reviews for a publication, so we popped off to there the other night. One note, the chef who had been there early on left to be the chef at Chan-Chan when it opened.
The place looks like a cheap cafe. The couple of waiters who were there seemed more interested in remaining at the table they were seated at, chatting and drinking, than actually getting up to come over and talk to us. And, the whopping other two customers at the height of dinner hour speaks volumes – even though likely it is busier at lunchtime just given the area. When we finally got some attention, we ordered up a bunch of plates to try – far more food than we should have, but we brought the leftovers home for next day consumption.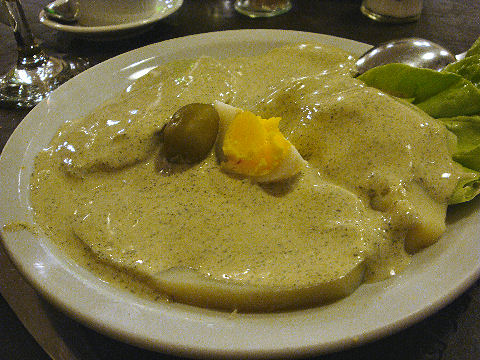 Often one of our favorite dishes, ocopa, a chilled potato dish topped with a cheese based sauce flavored with huacatay, ají amarillo and walnuts. Status' menu claims that there's also contains shrimp, which first would be odd for this dish, and which it turns out not to anyway, unless they've been pureed into the sauce. It's also basically insipid – unseasoned, little if any chili flavor, and just kind of oily. Adding a bit of the standard green chili sauce on the table at least gave them some flavor.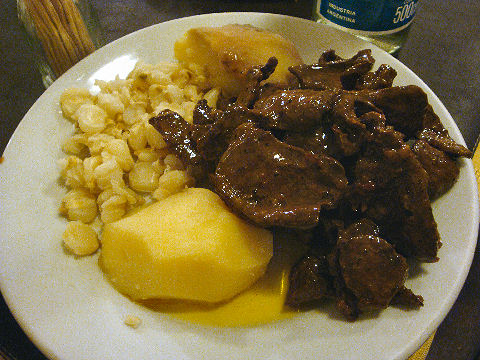 The anticuchos are tough and chewy, and outside of way too much salt and a hint of heat, there's little to recommend them. These too were perked up by the addition of the chili sauce on the table.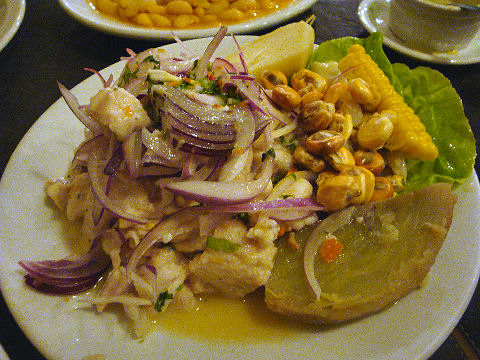 The ceviche wasn't bad, though again completely lacking in picante spice – perhaps it's just a choice given the 'hood to tame all the spices down to dull – unusual for a Peruvian restaurant here, but then, this one's not in the usual neighborhood. We asked if there was something spicier than the table sauce and got a bowl of delicious chopped fresh rocotos in vinegar, so nice to see that that's available. Actually made the ceviche pretty good with that addition.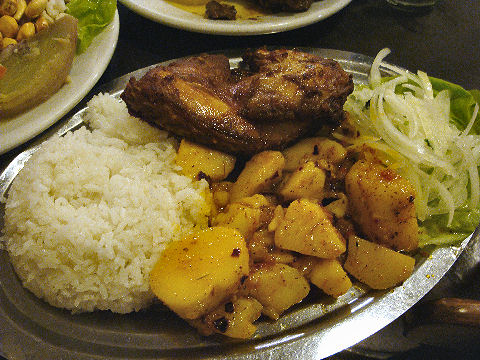 Rabbit dishes are not common in Buenos Aires, so I'll often order one when I do see one. Actually, I had wanted to order one of their two duck dishes, but they didn't have any duck. The ajiaco del conejo was the best thing on the table – lots of garlic and even a decent amount of chili heat – though we still tossed on a little more of the rocoto sauce. The potatoes with the combination of the two sauces were fantastic. We also had a plate of rice and white beans on the table, the beans cooked perfectly and delicious.
So, in the end, sucky ambiance and service. Food, fresh, but just lacking in heat, though the two hot sauces available are a nice touch. Still, in the end, I think I'm downgrading Status from recommended to just okay – there are too many other good places like Mamaní and Contigo Perú at a better value to recommend.