Random dining that I'm not going to detail, but who knows, perhaps an inspiration for a spot to go to….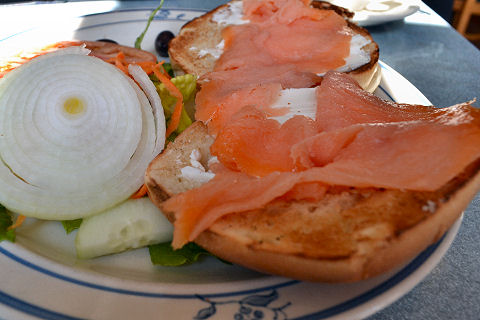 A bagel with the works at
Odessa
in Alphabet City… not exactly a packed bagel, nor my favorite since they only have plain bagels, but a little of everything brightens it up.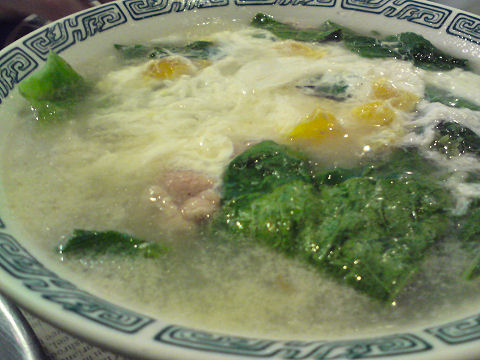 A visit in Chinatown to
Nice Green Bo
, 66 Bayard (formerly New Green Bo, but I guess after about 15 years the "new" made little sense). Not as good as it used to be – the original chef prepared not only Shanghai dishes, but also Chiuchao cusiine from the northeastern part of Guangdong province, where he was from. I was introduced to the place by someone I was dating who was also from there, it was the only place he could get a taste of home. Now, it's extraordinarily touristy, and service, while not rude, is a bit pushy and hurried as they try to pack in more tourists and turn tables. Still, the scallion pancakes are among my longtime favorites, the soup dumplings are good, and the sliced pork and salty egg soup is decent (though needing a bit more of the "salty"). Sesame chicken and cashew chicken were both exactly what you'd expect at most cheap spots. Prices are easy on the wallet, but still not going to rush back.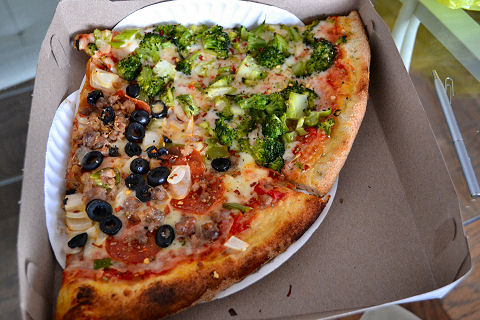 A coupla' slices from the pizza place down the block, Picasso. NY pizza is not my favorite style, but there's always good variety, it's cheap, fast, filling and almost always available by the slice. Here, a broccoli slice and an olive, onion and pepperoni slice.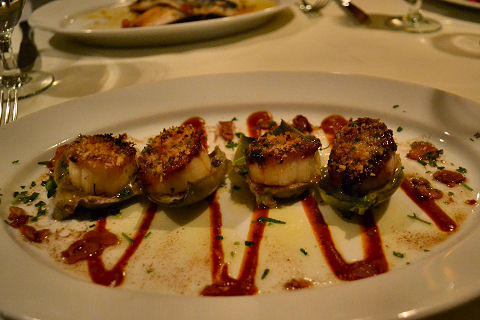 Met up with a couple of friends for dinner at
Beacon
, 25 West 56th St., a place I haven't been in probably 10 years. Not sure why, I really like the food and the space, and chef Waldy Malouf is at least a casual friend since his days at Hudson River Place. The hearty, somewhat rustic American fare specializing in local ingredients is just plain delicious comfort food – and virtually everything is cooked in a wood fired oven. We tucked into a roasted mushroom pizza, amazingly good oysters with shallots and verjus (so good we ordered another plate after our main courses), branzino over ramps, salmon with horseradish and watercress, and these lovely scallops with crushed almonds and chipotle sauce. 
[Closed]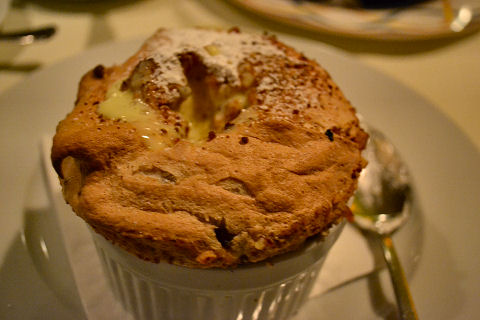 I'm not usually a dessert person out at restaurants, but, a bourbon-pecan souffle sounded, and turned out to be, divine, if I may use that word. Roasted strawberries with cheesecake ice cream weren't far behind. I also got to try a glass of the Hudson Manhattan Rye, a locally produced whiskey that I've not tried before – aromas of Cracker Jacks and toasted hazelnuts, and smooth as silk. Although, I'm a little miffed at the restaurant, which, while its food prices are pretty reasonable for what you get, is charging more for one shot of this whiskey than the bottle costs retail…retail, not wholesale – that's an outrageous markup! On the other hand, they didn't charge us corkage on our own wine (they normally do, $25/bottle, but hey, it was us).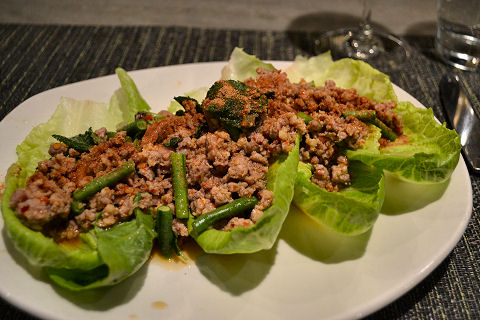 Funny that after not having encountered a duck laap at a Thai restaurant before, it's always been chicken, pork or beef, after trying that completely soul satisfying version at Chao Thai earlier in the week, I saw a note from one critic or another about their pleasure in trying one at
Kin Shop
, 469 6th Avenue, one of Harold Dieterle's two restaurants (he was the winner of the first season of Top Chef). The version here is not quite as spicy, nor quite as rich, instead being a reworking of the dish that lightens it up considerably. It's quite good, though perhaps just a shade saltier than I'd like, and I wouldn't hesitate to have it again, however it doesn't have the complexity nor depth of the other. 
[Closed]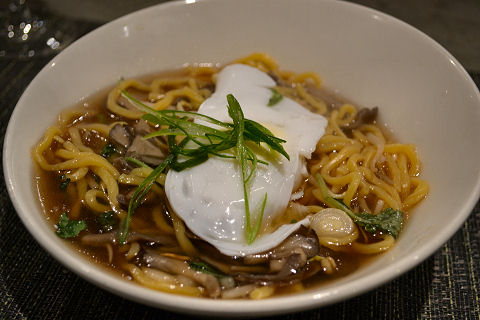 A sort of Thai-ish take on ramen noodles, with an excellent maitake mushroom (a.k.a. hen of the woods) broth, sauteed maitakes, slurpable noodles, and a just poached duck egg. (It was raining, and therefore duck weather….) Though not at all spicy, it was delicious and comforting on a cold and wet day. A glass of Bassermann-Jordan Riesling 2009 was a great match with both dishes – bright and zippy, apricots, a little spice.