We all know I like me some sushi. Even if it's in a hallway at an airport. As long as it's good. And fresh. And I like everything from the very classic and simple to the modern and avant-garde. So it's not surprising that friends, particularly in the restaurant biz, always have new recommendations for places to check out when I'm in town. Although several were tossed my way this time, it is likely that the only new spot (it's actually 3½ years old, but I'd never heard of it) to get a try this round is Soto, 375 6th Avenue. [Closed]
The space is unassuming – it's not quite hidden away, but it's unmarked by anything but the address – a simple white building with frosted glass windows and a number above the door. Inside, more white and frosted glass, a few touches of red, but just as simple. It's not a large place, a dozen seats at a sushi bar along one side and maybe twenty seats at small tables along the opposite wall. Even the attention is very background – there are no cries of Irasshaimase! from the sushi chef or his minions, the waiters more or less glide up and direct you to a table, signalling for a number of people in your party with raised fingers rather than asking out loud. All in all, it's very subdued, though diners at the tables are certainly not carrying on hushed conversations – it's not quite church. On to the food (phone camera, sorry) and then a summary….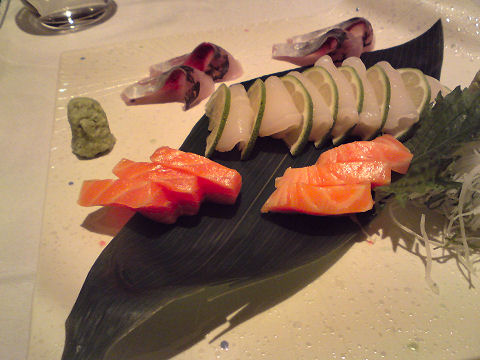 Pristinely fresh sashimi. Pink sea trout, horse mackerel, Maine scallops with lime. Delicate, small pieces. A trifle skimpy in size given the prices of between $5-6 apiece. Not thrilled that sashimi has to be ordered in 3 piece batches either, when the nigiri sushi, with identical sized pieces of fish, can be ordered by the piece. It just doesn't make a lot of sense. I could see a 3 piece minimum, but why 3 of each? I would have rathered one or two slices of each of the items on the list to share.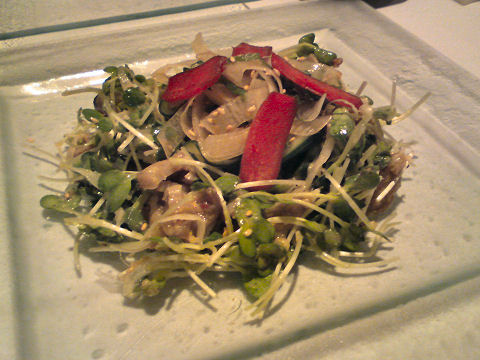 A geoduck clam salad. The salad itself, bright and fresh, with an assertive vinaigrette. Unfortunately we thought that the geoduck was sort of lost in the mix – not only were there only maybe half a dozen thin strips of the clam amongst the spicy radish sprouts and toasted sesame seeds, but they didn't stand up to the flavors in the salad. And the quartet of red lozenges atop were a true mistake. They are
bottarga
, salted, pressed and dried red mullet roe – a delicious ingredient when used right – grated or shaved thinly over a dish, raw, to provide an accent of flavor – these were not only individually sufficient for 2-3 plates of food, and may as well have been replaced by chunks of salt, but they were baked, which turned the delicate roe into a chalky, unpleasant experience. We pushed them to the side after tasting them and ate the rest of the salad. Overall though, this dish was a miss.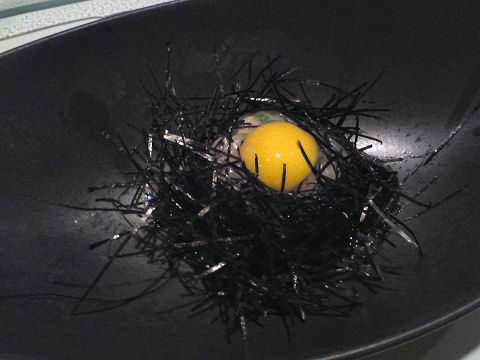 This, on the other hand, was brilliant, and, if what I've read about the chef, Sotohiro Kosugi, is accurate, one of his signature sea urchin dishes. Thin strips of toasted nori seaweed form a nest around sea urchin roe, each piece of which is wrapped in a delicate, near paper-thin covering of raw squid. An egg yolk atop, which you break and then mix into the dish, adds a rich, unctuous texture to the whole thing. Did I mention brilliant?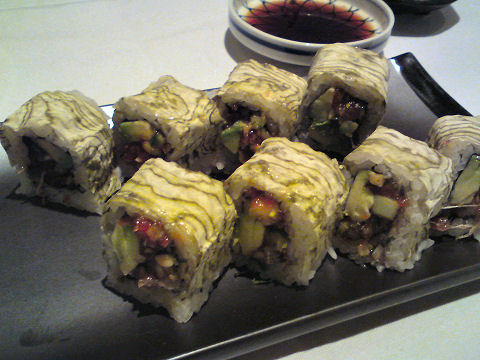 The menu lists a daily special roll, in this case another winner. Tuna tartare, avocado, vegetables and pinenuts, wrapped inside of rice, and then the whole thing packaged in a very thin layer of bean curd skin that is streaked with, if memory serves me correctly, shiso leaf. The roll itself, absolutely amazing. The dipping sauce it came with, a concentrated broth of some sort that tasted of nothing other than salt at eye-crossing levels. After one piece each with the sauce, we left it naked for the remaining pieces.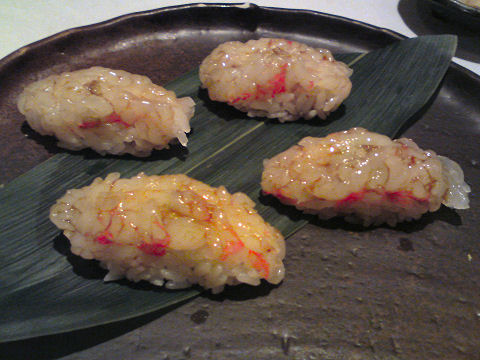 A quartet of pieces of
botan ebi
, or spotted prawn – little, teensy, eensy baby shrimp all packed together. Sweet, savory, tasty, absolutely on target.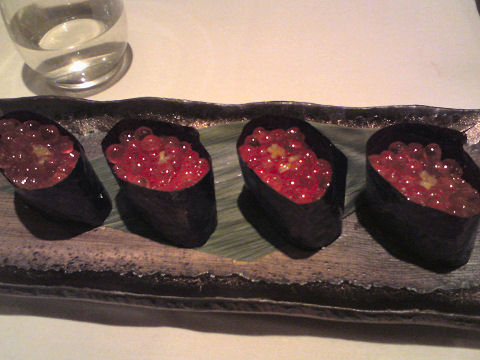 Likewise the ikura, or salmon roe, were just what they should be, and some of the freshest I've had in a very long time. Back to the first round of sashimi however, a bit skimpy – there's a bare single layer of roe atop the rice inside the nori wrap, as opposed to the usual generous spoonful or two that most sushi bars offer.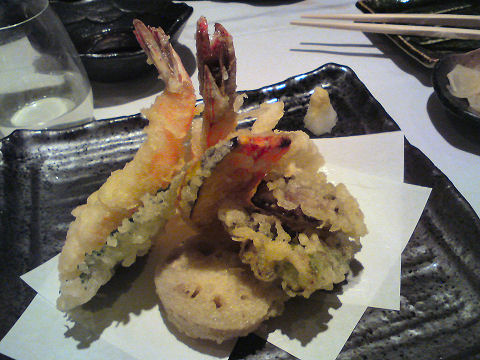 Finally, an excellent tempura. The batter thin, crispy, not at all oily, really just perfect. The selection of plump prawns with a mix of vegetables that included kabocha squash, green pepper, lotus root and more made for a delightful last dish. Thankfully, the spoonful of pink lava salt that was meant for the dish was served on the side, because there was no need for it.
So, overall, good sushi and other dishes. Not wows by any stretch, but fresh, elegant, delicate. Very, as everything about the place is, understated, with the exception of salt use, in that three out of four dishes that weren't just simple pieces of sushi or sashimi, were accompanied by a sauce, garnish or actual salt that was completely out of whack for the dishes. A surprise given the chef's reputation for everything being perfectly balanced and "just so" (including some negatives like being temperamental to the level of yelling at customers who make special requests – didn't happen while we were there). It was pricey, more so than many good sushi bars – with a bottle of sake (the excellent Urakasumi Junmai) that ran $70 (double the retail price, which means it's probably close to four times wholesale), the bill for food totaled to $165, with 8 pieces of sushi, 9 of sashimi, all rather small, and four small plated dishes, only two of which excited us.