"Laos is an enchanting land that demands that you slow your pace to match its own, and even the shortest visit might add tranquility to your travels. Sixty percent of Lao people are practicing Buddhists, and that fact colors every facet of life. Temples and stupas dominate the architecture of even the smallest village, and you're sure to spot groups of monks in colorful robes — on their early morning pintabat, or alms rounds, especially in Luang Prabang. Buddhist acceptance and compassion play an important part in Lao culture; arguments are the exception and the sangha, or monastic community, fosters a strict moral code. Even the shortest visit to Laos offers unique insight into Buddhist culture."

– travel agency website
Recently I've gotten some inquiries about our classes that basically included a "what exactly do you do in them?" type of question. And I really haven't given much column space to our class offerings over here on the blog – so, I find myself writing out longer descriptions of each class to people. Instead, I think I'll start writing up short posts to showcase the food that the students made, and a little about who comes to take them – not every class, but a few here and there to give you the flavor, so to speak. So yesterday was a part of our Asian Vegetarian series of classes, and we hit on some traditional dishes from Laos, or more officially, Sathalanalat Paxathipatai Paxaxon Lao – the Lao People's Democratic Republic.
The students who came were a trio – which is the usual number that I have in classes – I'll go up to four, but that starts to get crowded in the kitchen, more than that just doesn't work, unless I simply do a demonstration class – but I prefer the hands on approach, so that everyone gets to do something, get a little messy, and be proud of having made all or part of a dish. Sometimes there's only one or two people. It's variable. The folk who come are, for the most part, expats living here BA, from a variety of countries (yesterday's three came from Scotland, the US, and England, respectively), who want to learn to cook something that gives them some variety from the unrelenting onslaught of ham and cheese sandwiches, milanesas, pizza and steak. That's probably one of the things that has made the vegetarian classes in particular quite popular. Of the three who came to the class, only one is vegetarian, the other two just want to add something different to their cooking repertoire. Two have been regular students throughout the series of vegetarian asian classes, one was a first timer, who is planning to come back for more. We also get a few visitors to the country, though generally most of them want to learn Argentine dishes, after all, that's part of why they're here, so I'll schedule special classes for them. And, we get a few Argentines as well, who come for the same reasons listed above for the expats. In general the classes are in English, though I sometimes offer specifically Spanish language ones, and I'm always happy to switch back and forth in class.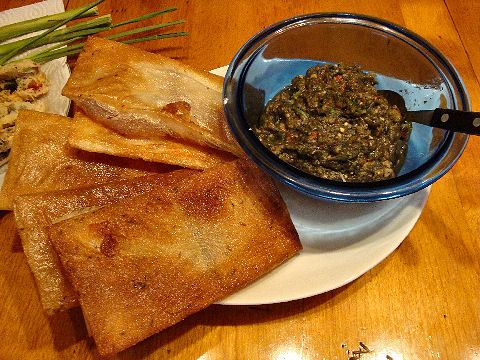 We fried up some delicate flatbread flavored with cumin and salt, and made some jeow mak keua, a dip of charred eggplant, green onion, garlic and chilies, flavored with cilantro and soy.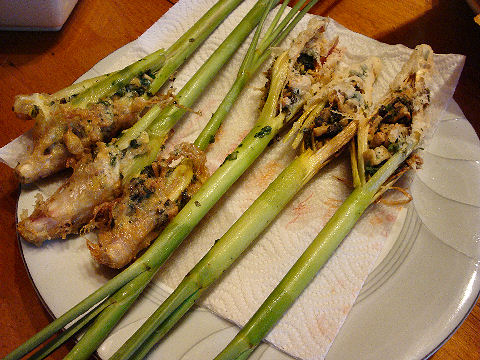 The first time we did this dish in this class, though I'd experimented with it first and thought it would be fun – ua si khai – fat stalks of lemongrass stuffed with a mixture of tofu, green onion, cilantro and kaffir lime leaf, and then deep fried – we made both a vegetarian version dipped in beaten egg on the left, and a vegan version, dipped in coconut milk and then flour – both delicious! The "cages" for the stuffing take some practice, but I think for the first time any of the three had made this dish they came out really well!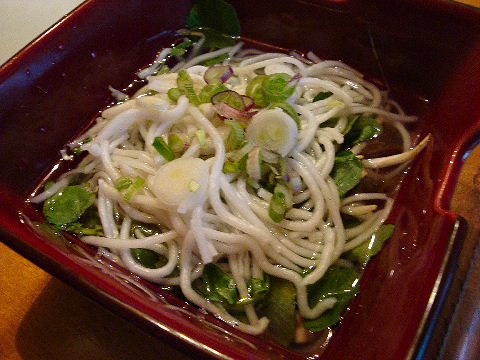 A simple noodle soup dish with rice noodles, watercress, cilantro, green onion, fried tofu and garlic chips.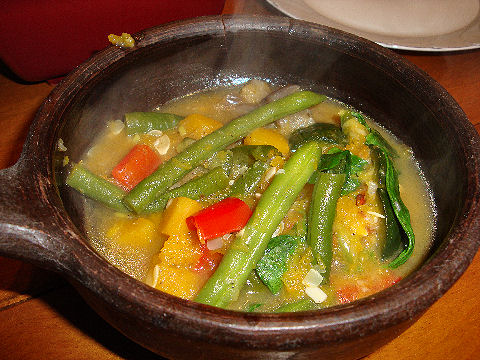 And, the centerpiece of the day, we made our own traditional curry paste of pounded together shallots, garlic, roasted garlic, ginger, lemongrass, lime rind, coriander root and fermented black beans, and then whipped some of it into a coconut vegetable curry of squash, eggplant, zucchini, peppers and green beans. A touch of basil to finish.