"FOR certain voracious readers, April 1 has become a red-letter day: It's the one time of the year when they get to eat books. They won't eat just any book, only those prepared especially for the occasion, known as the Edible Books Festival and celebrated in libraries, bookstores, galleries and private homes around the world. Judith A. Hoffberg, a California librarian, came up with the concept over Thanksgiving dinner back in 1999 and decided it would be best observed on April Fools' Day, which also turns out to be the birthday of the French gastronome Jean Anthelme Brillat-Savarin, author of "The Physiology of Taste" (1825)."

– from Books to Chew On, by Blake Eskin in the NY Times
While the true tradition of this somewhat odd holiday is to make varied and sundry foodstuffs in the form of books and then serve them up to be gobbled after a viewing period, many (like myself) who just aren't into the whole artistic element of creating things to look like books, simply go for connecting literature and food. In my case, with plays on various titles – in particular, five books that were amongst my favorites when I was an adolescent (chronologically as opposed to the lingering psychological state). It's not as easy as one would think… maybe I needed different favorite books.
It also turns out, I suppose not surprisingly, that not everyone is all that into books, or at least not the same ones. On the first night, with a crowd that was mostly in the 20-30ish range, one person knew of the first book and while everyone knew of the fourth, none had actually read it. On the second night, just that fourth book, and again, no readers, despite a more varied age on up into the 60s.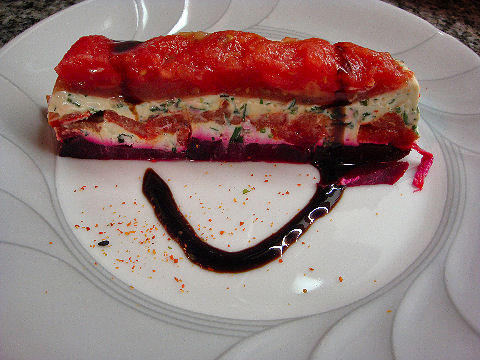 A Study in Scarlet, Sir Arthur Conan Doyle – the very first Sherlock Holmes story, and one of only four novel length Holmes stories Doyle wrote. As I said, one person recognized the title, though she hadn't read it. She was British, which probably gave her a leg up on the rest of the group. Our study in scarlet is a five layer terrine – from the bottom up: applewood smoked beets, mascarpone with minced watercress, grilled red bell peppers, goat cheese with chives, roasted tomato in tomato water gelee. A drizzle of reduced balsamic vinegar and a sprinkling of shichimi complete the plate. And the only dish of the evening that might, in some small way, resemble a book.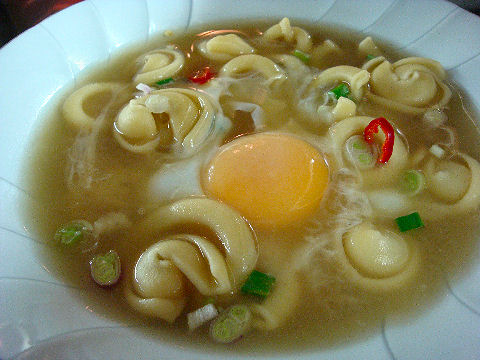 The Moon is a Harsh Mistress, Robert A. Heinlein – actually, I could have picked pretty much anything by Heinlein – from about age 12-15, he was my favorite author and I probably read everything he wrote. I went for "moon soup", at least a twist on the traditional Japanese broth. Here a concentrated chicken and miso broth with coiled pasta, green onions, fresh chilies, and an egg yolk with a bit of the white swirled about. The boiling broth is ladled over the top a minute or so before serving to just lightly cook the egg – the idea is to break it and swirl it into the soup where it will add a delightful richness to it.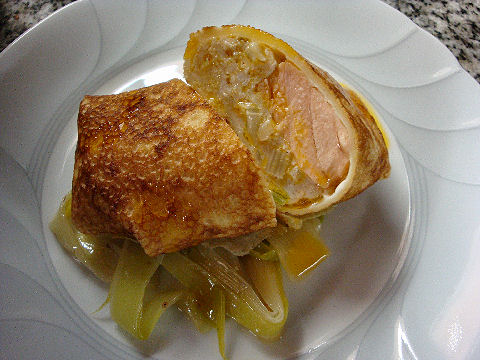 The Wizard of Earthsea, Ursula K. Le Guin – another fave, though fantasy in genre rather than sci-fi, the whole trilogy (which later went on to more than a trilogy) would have been fine, but the first book is the only one with a name that lent to this play on words – our Earth & Sea Crepes. A chicken mousse (ground chicken, sauteed shallots and celery, cream, fruit vinegar, salt and white pepper) wrapped around a piece of fresh salmon. All rolled up in a rice flour crepe and then baked. Served over "melted" leeks and garlic (slow cooked in butter and olive oil with salt, pink and szechuan peppercorns), and a drizzle of smoked paprika oil.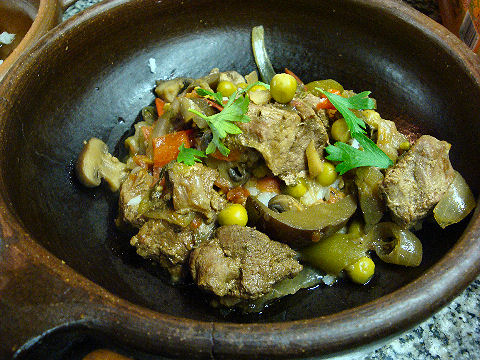 The Hobbit, J.R.R. Tolkein – the start of the whole series and soon to be a major motion picture, assuming that all the various union and other squabbles get worked out – and that's about what people knew of the book – one woman did say she'd attempted to read it once but gave up after a little while because she couldn't understand it. Fantasy is not for everyone…. So, a hobbit stew, and all jokes about finding fresh hobbits in BA, particularly at this time of year, out of the way, it was a lamb stew with ginger, onions, smoked lamb, red and green bell pepper, rocoto chilies, mushrooms, peas, eggplant, tomatoes, marsala, parsley, oregano, salt and pepper – all cooked over low heat for about 5-6 hours. Served over simple white rice.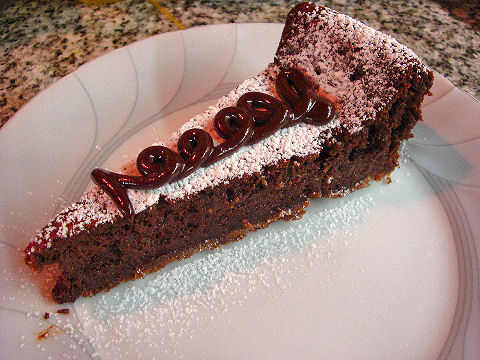 A Separate Peace, John Knowles – Okay, it wasn't surprising that people didn't know this one – I read it for an American Lit class in high school, or probably wouldn't have heard of it either – though it was made into a movie in 1972 and then again a made for TV movie in 2004. Ah well, it was a great book – still is. And so, our Separate Peace of Pie – pretty much meant I could make any kind of pie I wanted – here a chocolate cookie crust, filled with a pudding souffle of dark chocolate ganache, egg yolks, nutmeg, salt, stewed rhubarb, and rosehip jam, then mixed with stiff whipped egg whites and baked. It puffs and then collapses when removed from the oven and leaves a gooey, rich pie that's complete decadence. More or less as I wrote about here, just substituting in the two dulces for the one that I did that time. Dusted with powdered sugar and a squiggle of chocolate glaze and, that's all she wrote, as the saying goes.