"What is more mortifying than to feel that you have missed the plum for want of courage to shake the tree?"

– Logan Pearsall Smith, author
It was the weekend of the Japanese Plum Festival, but, I wasn't feeling particularly Japanese inspired. So, I took the plums from the festival and treated it like an Iron Chef sort of challenge – could I come up with a five course meal featuring the stone fruits of the family – plums, nectarines and apricots – why yes, I believe I could. And, had fun doing it!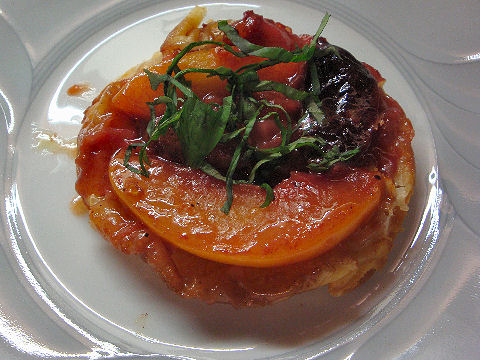 Continuing with my various offbeat tarte tatins of late, I decided on a nectarine and black plum version – savory – to start. Into a saute pan with a good dollop of butter, salt, plenty of black pepper, some red pepper flakes, a drizzle of honey, and a few chopped cloves of garlic. Got that going nice and bubbly, then added slices of slightly under-ripe nectarines and caramelized them lightly. At the very end a good scoop of mascarpone cheese, and tossed in the damson plum halves (which were very, very ripe, so didn't need to be double cooked). Then ladled into cazuelitas, topped with a round of puff pastry, and into the oven to brown. Flipped out onto plates and topped with a julienne of basil. I think this was the hit dish of the weekend – we shall see as the feedback comes in.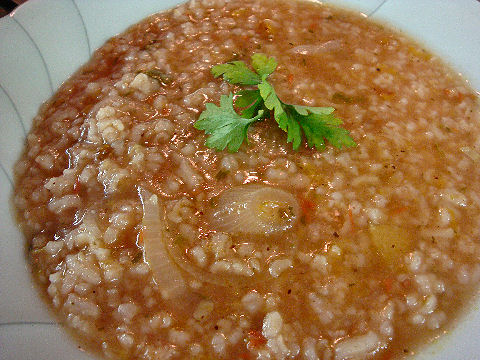 Honestly, my least favorite course, though several people told me they loved it – a tomato and plum soup. First, sauteed some white onions in a little olive oil along with chopped thyme and parsley, and a bit of cinnamon, sumac and chipotle chili powder. Cooked until the onions were soft. Then added a puree of plum tomatoes and parsley, topped it up with water and brought it to a simmer. Added some rice and some diced red plums and let it go until those were cooked. Adjusted the seasoning with salt, pepper, and just a little sugar to balance the acidity.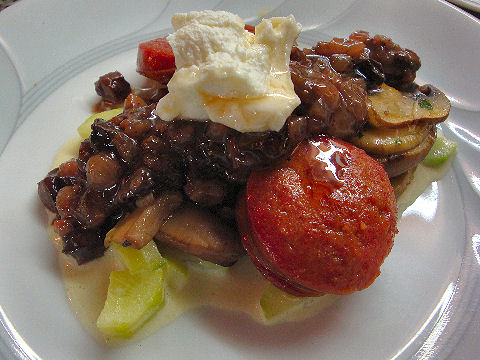 I'd decided I wanted to use pacharán in one of the courses – it's a liqueur made in Spain from sloe plums. In searching for some ideas on the 'net I came across this fascinating sounding recipe that used a reduction of the liqueur as a sauce over a mix of two types of tortetas, a sort of doughnut shaped sausage that comes in a black and a white version, the latter more or less a type of morcilla, black pudding, boudin noir or blood sausage, the latter packed with more lard than is good for anyone. Since neither is available here, and neither is borrage, the green vegetable used in the dish, I decided to make a few adjustments. At the base, diced cucumber simmered in cream with salt and white pepper. Then a layer of baby portobellos and white button mushrooms sauteed in butter and oil with garlic and parsley. Atop that sauteed slices of a local smoked sausage similar to knackwurst, and then quickly baked slices of morcilla – the local version of which more or less falls apart when out of its casing – so be it. Then, a scoop of fresh goats' milk cheese, and finally a couple of spoonfuls of pacharán reduced with some glucose and seasoned with salt. Certainly the most interesting dish of the eve, and I wondered if everyone would eat it and/or like it. To my surprise, virtually every plate came back practically licked clean. For the non-meat eaters this weekend, and they were legion (well, six between the three nights), I made some vegan eggplant bacon to fill in for the sausage – not bad, but I need to work on it.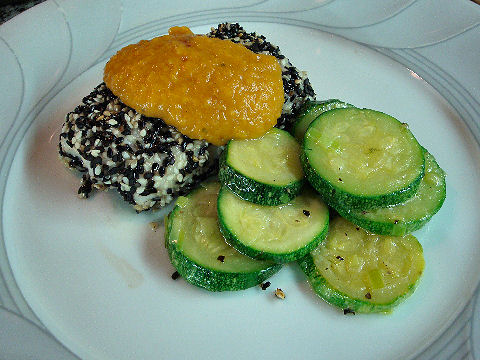 I haven't used Roosterfish before in a dinner, or Pez gallo as it's called here – a meaty white fish with a rich flavor to it. I dusted the fillets in flour and salt, then dipped in beaten egg and milk, and then into a mix of black and white sesame seeds and coarsely ground black pepper. Quickly sauteed to set and slightly toast the crust and then into the oven to finish cooking through. Some sauteed squash on the side (one night yellow pattypans, one night zucchini, and one night the globe zucchini that are so popular here – all good choices). The sauce, a puree of rehydrated dried apricots pureed with garlic, ginger, yellow bell pepper, fresh Peruvian ají amarillo, onion, hot paprika, white wine, rice vinegar, salt, pepper, and at the finish, just a squeeze of sriracha sauce. Let it all simmer together until thick and delicious.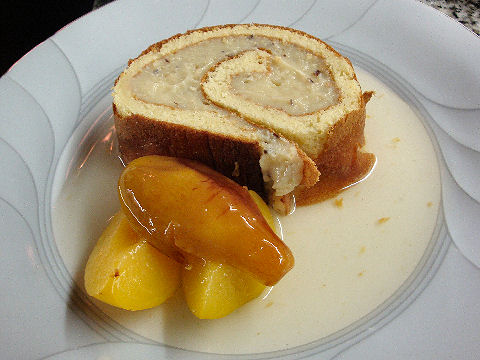 And finally, a pionono, or jelly roll, filled with pastry cream that was flavored with rooibos, the African root that is used as a delicious infusion, plus a little caramel. Surrounding it, a simple syrup flavored with plum brandy, plus yellow and honey plums that were macerated for a few hours in the syrup. A light dusting of powdered sugar. Simple and yummy.
Okay, not quite Iron Chef style – the plums weren't the key ingredient except in the first dish – but then, we don't have to follow the rules here, you know?