There's a bit of a buzz in the city as announcements pop up hither and thither on the opening of a true Italian gelateria here in Recoleta. On my local "review" page of heladerias, Argentine ice cream shops, I talk about the difference between ice cream and gelato, and note that Argentine helado doesn't quite fall into either camp. It's actually pretty variable, and sometimes seems closer to one than the other, though in general I'd say it is closer to gelato. This is the second branch of an Italian company called Kakaothé, that local press tout as coming from "the capitals of Italy" like Rome and Florence and… funny I'd never heard of it – turns out it's a local gelato and tea company in Aosta, in the far northwest of Italy, but we'll give them their hyperbole.
The place, Arkakaó, Quintana 188 in Recoleta, as I said is the second branch here in Argentina, the first being up in Rosario – Frank over at Sugar & Spice billed it as the best ice cream he'd had in his life, so I'd put it on my list to check out if I one of these days get up there – I was happy to hear the rumors – much shorter trip. It's a cute spot, very elegant in look and feel, like a high end cafe. There's food available as befits a tea house, along with the sought after gelato. The staff are a bit over attentive, but then, the place has literally just opened and they're clearly trying to gauge local reaction – still, I think every person there stopped by my table to ask what I thought. Some of them more than once.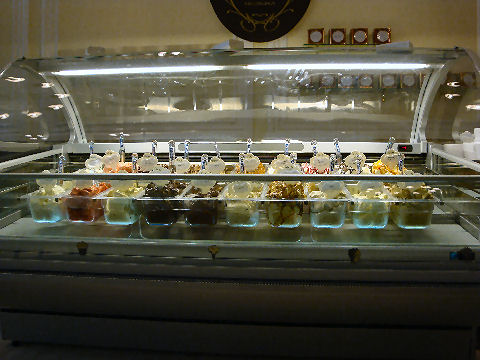 One of the things I do like in particular is that the gelatos are out on display. I've never understood the Argentine (and often American too) custom of keeping them all in closed containers where you can't see them – I mean, what better marketing than to have an array of tasty treats visible to entice customers to try them? The selection is a touch more limited than most Argentine heladerias, but then, there aren't 10 different varieties of dulce de leche on offer, in fact, only one, and presumably a nod to local culture, since the rest of the choices are classic Italian, like stracciatella, hazelnut, pistachio, a quartet of chocolate choices, amarena cherry….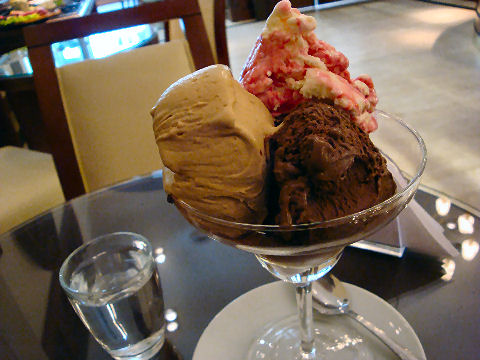 The gelato itself, delicious. Really quite good. Not the best gelato I've ever had by a long shot, but really quite good (for that, San Crispino in Rome, original store, not the one by the Fontana de Trevi). Texture is dense and creamy smooth, the temperature perfect. The flavors are intense, though more muted than typical for gelato in my view, at least those that I tried. The serving sizes are reasonable – it should be noted that unlike the usual local array of different types of cones and cups, here the choices are a small or large cucurucho, or waffle cone, and three sizes served in a dish – a real glass dish instead of the more typical plasti-cardboard takeout container (I assume they have those for takeout, though I didn't see any).
I would love this place except for two things. First, the waiters' uniforms – they're all dressed in a very strange, quasi-formal style with grey vests that have long swallowtails like an old style tux, baggy grey pants, silver ties, and white shirts – but I could deal with that. Second, however, the price. I realize that this is in the heart of the wealthy part of Recoleta, and I noted how expensive things were the other day when I gave a quick review to El Almacén de los Milagros, and this place is basically just across the side street from there. But, 22, 28 and 34 pesos for a dish of gelato is expensive. Outrageously expensive. The quite good helado place down the block from me is half the price; the one other real Italian gelato place in town, Cadore, is maybe 60% of the price – and to be honest, side by side, I'm not sure whose gelato would win between the two. Probably Arkakaó for texture and Cadore for flavor and price.