"It used to be a rule in New York that the higher up you were in the world, the higher up in the sky you ate your lunch. Tycoons and executives dined in aeries. While everyone else ate at ground-level restaurants and coffee shops, or brown-bagged a few floors up in the stockroom, the captains of industry, whisked through the streets in their limos, ascended by elevators to private redoubts at the tops of skyscrapers. There, looking down on the city spread out below them, they drank their tycoon-size martinis, smoked cigars and ordered executive comfort food: Dover sole, say, and a slice of melon trucked in from upstate."

– Charles McGrath, A Lunch Club for the Higher-Ups, NYTimes
We had to make a few things up. Completely. This last weekend was the 80th anniversary of the opening of The Chyrsler Building, which got me to thinking about it's famous Cloud Club. It seemed as good a theme as any for a Casa SaltShaker dinner – though the club itself didn't open until July of 1930, about 8-9 weeks after the building itself was up and running. And then there was the "what to serve?" question – inquiries to the NY Historical Society, the NY Public Library, and a few other sources (including my alma mater University of Michigan's reference library which includes a collection of historic menus and cookbooks – yielded not a single menu from those days gone by. A fuzzy photo found on the internet gave some ideas, though it was a menu from forty years on, some time in the 1970s, shortly before the club's closing in 1979. So, as one of my friends suggested – "make it up"….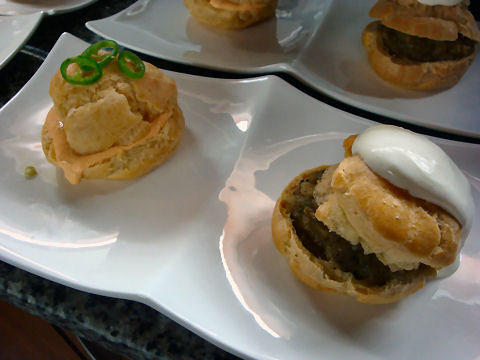 If profiteroles were served at the Cloud Club, it was likely for dessert, filled with vanilla ice cream and topped with chocolate sauce. But there's nothing about them that can't be used for savory dishes, and they often are. It also fed right into my pastry practice marathon. On the left, filled with homemade mascarpone that's blended with roasted red bell peppers, salt, and crushed pink peppercorns, and decorated with some fiery little green chilies. On the right, a puree of smoked eggplant with mint, garlic and lemon, and then topped with a sauce of fresh goat cheese smoothed out with some sour cream and packed with more garlic and a mix of parsley and oregano. Just to get our trip into the clouds going and all that….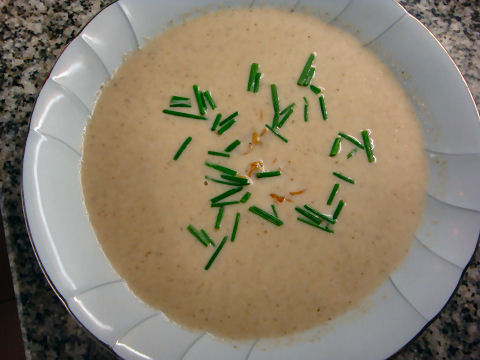 Mushroom Velouté had been on that fuzzy menu reproduction, and it's a classic sort of French soup. Here, a slow cooked brown chicken stock, a bit of whey from making the mascarpone, a mix of sauteed white button and portobello mushrooms along with shallots; then the whole thing simmered with the addition of a potato just to give a little body when pureed, which I then did, and finished it with some cream, salt and plenty of black pepper. To garnish some chives and some mushroom chips made by deep-frying thinly sliced button mushrooms.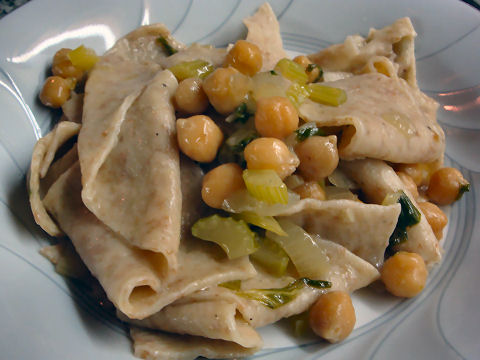 Completely a leap of judgment, but that same menu listed several items with celery, plus a salad with some sort of anchovy thingie or other. I, not surprisingly, was thinking about pastas – here, whole wheat langanelli, a saute of celery, onions and chickpeas, and then tossing the pasta with a bagna cauda – the classic Italian vegetable dip of olive oil, butter, anchovies, garlic and black truffle, before ladling a scoop of the sauteed vegetable mix atop.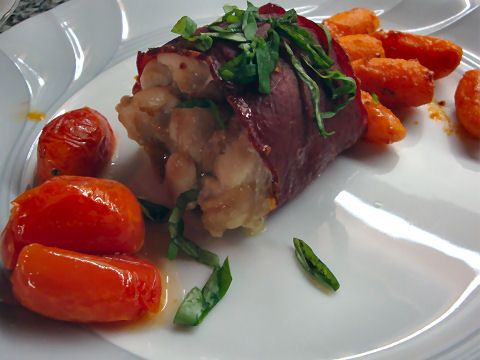 Whether or not "Philadelphia Chicken" was ever a mainstay at the Cloud Club, who knows, but I did find it on several dining club menus from the era. "Philadelphia" was a term used to denote luxury, particularly in foodstuffs, back in the late 1800s, and the brand name for the ubiquitous cream cheese was adopted because of that – the cheese itself was "invented" and produced in Brooklyn, NY. The "classic" dish was a breast of chicken, pounded thin and wrapped around a log of the cheese that had been mixed with salt, pepper and chopped basil; then the whole thing was wrapped in bacon and cooked off in a bit of butter, and then generally served alongside a simple lettuce and tomato salad. I took a cue from that and boned out some chicken thighs, packed them with a goat cheese Camembert and some basil, rolled it up in pastrón, the local version of pastrami (it's really not even close, being more of a dry cured meat that's very thinly sliced like a prosciutto, but it's what we have here), and baked it in the convection oven with a drizzle of oil. On the side, cherry tomatoes oven roasted at the same time in butter, salt and vanilla; and carrots that were "candied" – you're going to love this – in butter, ketchup, and garam masala – they turn out amazingly good.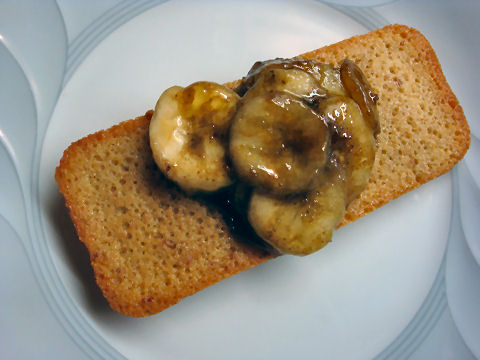 A financier just sort of sounds like the kind of dessert that ought to be served at a club for bigwigs, no? It's a light, spongy cake made from browned butter, toasted almond flour, egg whites and sugar – here topped with bananas caramelized in butter and brown sugar and a splash of rum. A nice way to round off our trip to the top of the Chrysler Building – Happy 80th!