"Sfogliatelle means many leaves or layers and this crisp pastry's texture resembles leaves stacked on each other. Sfogliatelle look like seashells when baked. Some people also call them 'lobster tails' for their resemblance to the same. The characteristic ridges form as the layers of dough separate during baking."

– mangiabenepasta.com
Continuing from where we left off…. Like any Italian dish, these amazing little pastries have more recipes than there are Italian grandmothers. First, the question – the dough – puff pastry, shortcrust pastry, or semolina discs made similar to phyllo dough. Now, one of these days I want to try making the latter of the three just to see the difference, but because we're playing with puff pastry this week, here's the way we learned to make it in class. Oh, and the filling – the classic Italian filling is a ricotta cream thickened with semolina and studded, often, with candied fruit. The Italian-American version generally uses pastry cream, which is what we used.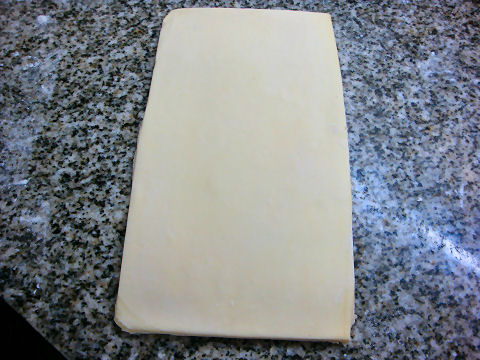 Here we start with the half order of the puff pastry that I stopped at just three simple folds, so 54 layers. Roll it out to our now standard slightly larger than an A4 sheet of paper, and then trim the edges off so you've got open layers exposed on all four sides.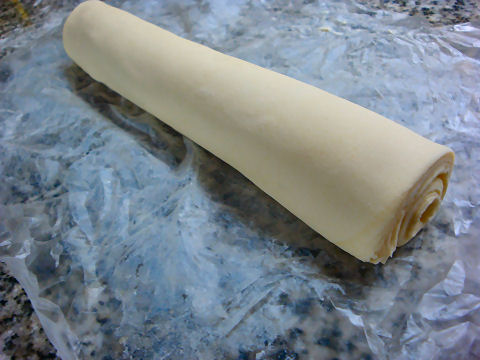 Roll it up in a tight spiral, wrap it in waxed paper and stick it in the freezer for 20 minutes to firm up and make it easier to slice.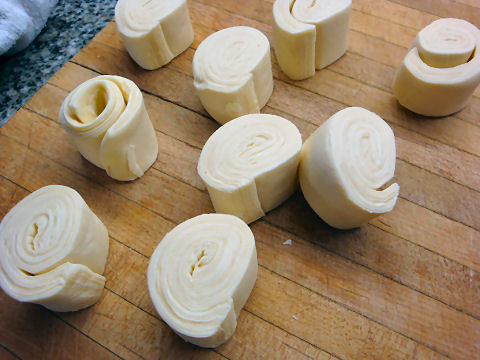 Cut into 2cm slices – make sure to use a very sharp knife as you don't want to pinch the layers together.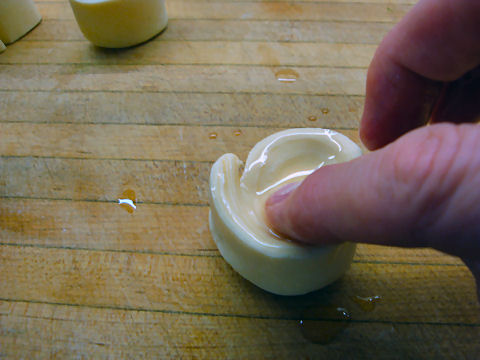 Okay, this you actually do up in the air, but I had to set it down to take the photo – oil your fingertips on one hand with neutral vegetable oil, and carefully you create a hollow depression in the center, gradually pushing the center out into the form of a cone. The reason for the oil is, once again, to prevent the layers from sticking together. This takes some practice and some pressure, just don't push too hard or you'll deform the whole thing.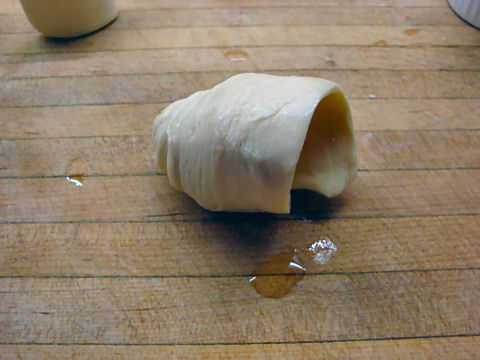 And this is what it will look like, more or less… but, we're not done – because if you bake it this way, it simply won't work, the layers are basically spread out "the wrong way" – you've been holding the outside with a dry hand as you work this and so what's on the outside will slightly stick together and not turn into what we want it to – we need that on the inside…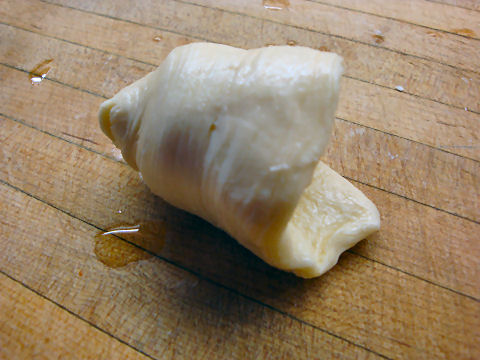 …so here's the tricky part – with your oiled fingertips, you invert the whole thing, just like you were turning your sock inside out, only more carefully. And then you extend it out into the classic seashell or lobster tail shape.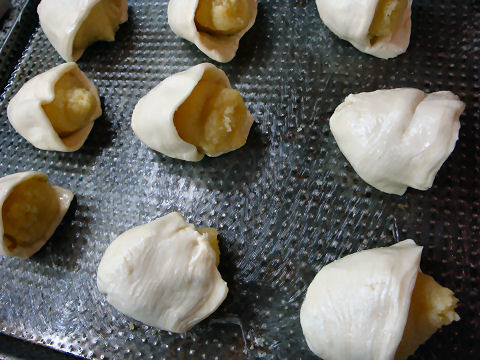 Fill with your pastry cream or ricotta cream mixture – something that will stay firm as it bakes, not run all over. Oh, and while I laid these out directly onto the sheet pan, you don't actually – put them on some sort of support – like a raised screen – because all that butter between the layers is going to run and if you have them directly on the sheet tray, they're going to be swimming in it and the bottom will fry too dark before the top cooks. Sort of like what you see in the next photo, which is after you pull them out of the oven.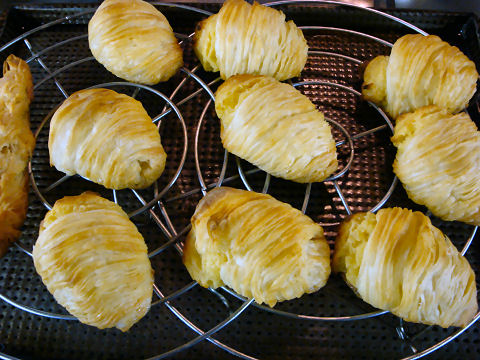 And, as they puff, this is what they turn into. A truly beautiful thing, yes?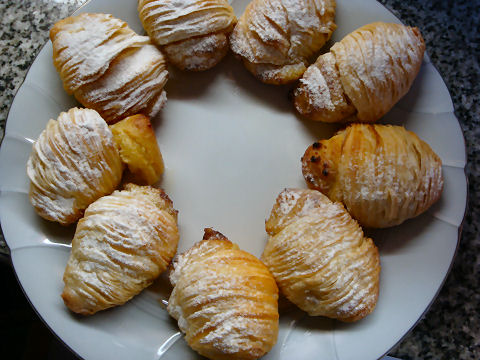 Let them cool and dust them with powdered sugar. Try to stop yourself from eating them all at one sitting. Go ahead, try.