"Before stardom beckoned in 1931, Morley had gone so far as to embark on a degree in medicine at UCLA before the acting bug bit, and its this extensive education that explains a lot about this actress. No feminine caricature or glamorous studio creation, Morley was and still is an odd presence in an era of ultra-groomed stars with over-polished accents or hardboiled dames with bleached blonde permanent waves. She was one of those women too smart, too well spoken to ever say "ain't" believably."

– The Crowd Roars blog
As many of you know, we love celebrating 100th birthdays here at Casa SaltShaker. The "theme" gives me pretty much complete license to play around with whatever I want in the kitchen, but, at the same time, I find that both for myself, and for many of the guests, it's a chance to sometimes think about someone who has often been long forgotten. Now, Karen Morley came close to actually celebrating her centennial, having died only five years ago, and from reading about her in various spots, from the above quote blog, to this interview from SF Weekly, I have the feeling that not only would she have been intrigued by the dinner, but she might have gotten herself on a plane to come down and hang with us.
Her film credits included everything from supporting roles in Mata Hari and the original Scarface to leads in politically charged ones, like Our Daily Bread, one of the films that lead to her ending up in front of the House Un-American Activities Committee. That appearance pretty much ended her Hollywood career, though she went on to have parts here and there in film and television over the years, and, at one point, having remained a political activist for the rest of her life, ran for Lieutenant Governor of New York.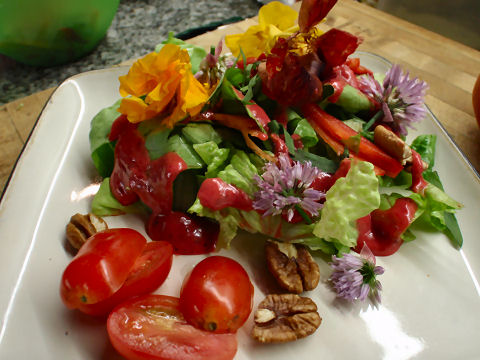 I'd already decided on using edible spring flowers in some way during the meal, and a claim that that tied to her role in Mata Hari went unchallenged. There was a lot of red in the dish… okay? The salad, a mix of romaine and oak leaf lettuces, tarragon leaves, pecans, cherry tomatoes, red bell pepper, and a mix of different flowers got itself dressed with a delicious and simple blended dressing of fresh raspberries, tarragon vinegar, shallots, honey, parsley, tarragon, olive oil, lemon juice, salt and pepper. It's vivid vermilion color really added to the overall impact of the presentation.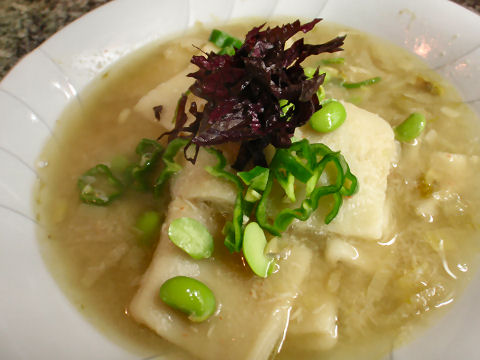 With the film The Phantom of Crestwood morphing into a bowl of The Phantom of Crab Soup, the crab needed to, more or less, disappear into the dish. I made an intense crab stock using a whole live crab along with fennel tops, garlic, orange peel, bonito flakes and konbu, then strained it, added back in the picked meat from that crab, plus a pound or so of additional fresh crabmeat. Then I pureed the whole thing with the hand blender so that the crab ended up in ethereal shreds floating about in the soup. I put in freshly made egg noodles, some sauteed fennel and leeks, and then ladled it into bowls. Then topped each with fresh edamame (soybeans), mild ají padrones (a Spanish pepper that's usually grilled or fried and eaten whole with salt), and julienned red shiso leaves.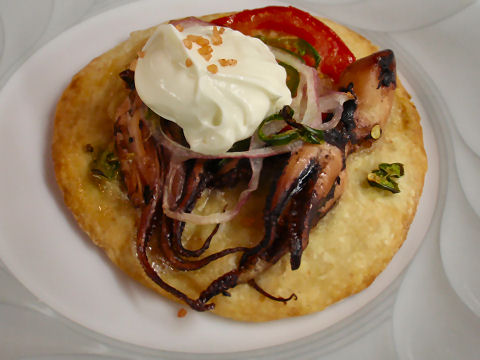 Whether or not gentleman thief Arsène Lupin would have approved of pizzettas named in his honor, I have the feeling he would have been happy to steal one or two of these for a late night cat-burgling snack. The crust, a lightly crunchy mix of bread and whole wheat flours with a little cornmeal added, topped with sliced, olive oil poached baby octopus, tomato, red onion, and jalapeño peppers, the whole thing drizzled with olive oil and then baked. When it came out of the oven I dolloped a scoop of homemade lemon-infused mascarpone cheese and a sprinkle of pink sea salt.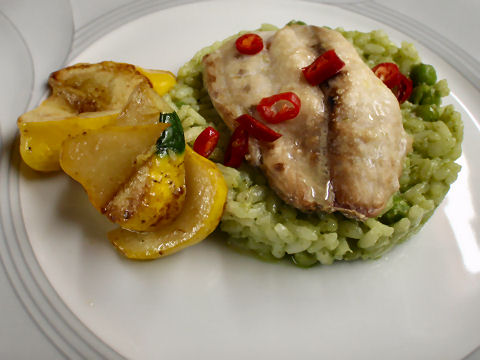 We couldn't very well ignore the original Scarface, and between alliteration and the expression on their scarred faces, some fresh snapper came into play. Simply filleted and oven roasted with a drizzle of oil and sprinkle of salt, I put the fillets atop a pesto rice – using risotto rice but cooking it as I would regular rice – I wanted a firmer texture, and mixing it with fresh peas and a pesto made from ginger, garlic, basil, cilantro, macadamia nuts, lemon, sesame and olive oils. Some pattypan squash (as I grew up calling them, here they're called zapallito OVNI, or "UFO squash") sauteed and placed on the side. A light sprinkle of parsley and medium hot red chilies and I think the dish came out well – I really loved the intense pesto flavor blended through the rice.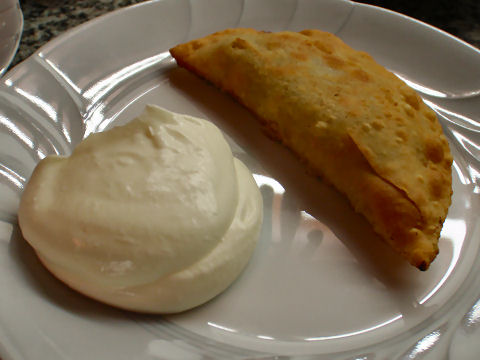 I don't know what The Sin of Madelon Claudet was in the film, but here à la table it was a fried peach pie. Crispy and light pastry dough encasing fresh peaches that had been lightly stewed in butter and brown sugar, and served up with whipped cream that was infused with peach blossom syrup. Not a bad way to end a birthday party!