"I say 20 words in English. I say money, money, money, and I say hot dog! I say yes, no and I say money, money, money and I say turkey sandwich and I say grape juice."

– Carmen Miranda, singer/actress
A couple of weeks ago, the NY Times published a photo essay on bodegones, the old-style, traditional, casual, neighborhood, hangout sort of spots that are favored here in Buenos Aires, mostly by locals who fit that same description. The NY Times being perceived, by some, as the last word in pretty much anything, that's generated a flood of business for some places that normally don't garner a whole lot of interest from the tourist set. It also put some of them that I've never got around to reviewing back on my radar. In particular, one that popped up with a couple of different friends was heading out to Boedo and gobbling up a bit of turkey at Café Margot, Av. Boedo 857.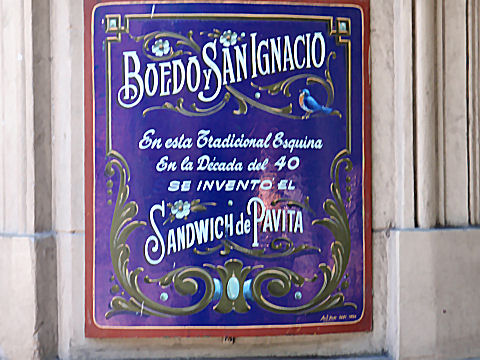 The place is, more or less, a cleaned-up hole in the wall. Rickety wooden tables, everything in need of a paint job, but, clean and well kept, and clearly hopping with local business, as well as a few noticeable, slightly mystified looking tourists (on both recent visits). The inside walls, and to a certain extent the outside, are festooned with signs and photos and quasi-artwork. We can pretty much dismiss the conceit that the place is where the turkey sandwich was invented "in the 40s", as claimed by this and two other signs in the joint – a claim disputed by next-door Trianón restaurant – both laughable claims just at face value, let alone the historical evidence that turkey sandwiches existed long before either place did. Perhaps they could compete as to who introduced the menu item to Buenos Aires folk, but that's about it.
Actually, the whole question of turkey is an interesting one. It's not a commonly found item here, and, for the most part, the turkeys available are imported, frozen, from Brazil. The fresh ones do exist, though generally as a special order from a good butcher here, so there must be some turkey raisin' places around somewhere. And, a couple of classic Argentine cookbooks I have list various recipes for the bird, so perhaps at one time it was more plentiful.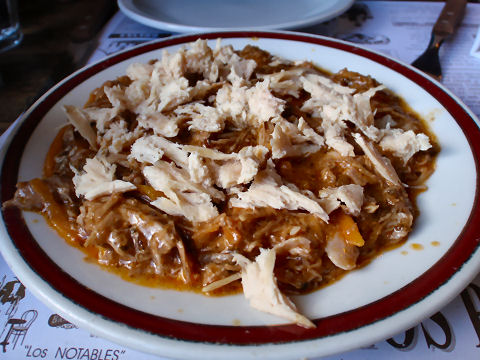 One of the things, however, that Margot is justifiably famous for, is their turkey escabeche – dark meat of turkey that's been pickled. They offer it up, as here, in a simple share plate for the table, strewn with bits of cooked white meat. On both recent visits we nearly fought over licking the plate clean. It's also offered in sandwich form, topped with any of a variety of ingredients.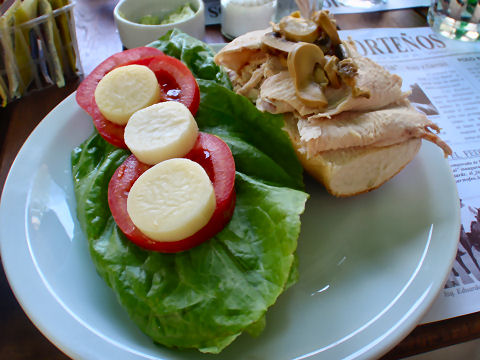 Sandwiches are also offered with blanco de pavita, white meat, sliced, cooked right (not dried out, a real plus with turkey white meat), and served on a choice of breads, and in combination with anything from just lettuce and tomato to elaborate combinations that can include other meats (including steak, ham, and various cured meats), or vegetables, as here, with hearts of palm and mushrooms.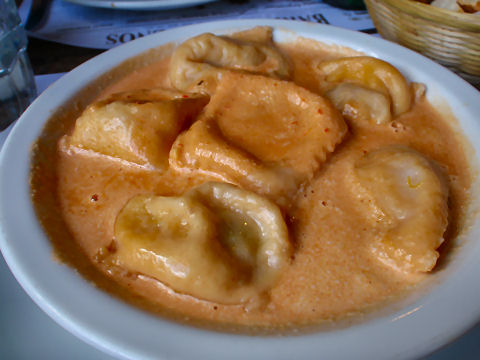 Likewise, the ravioli filled with roasted and shredded turkey meat, in your choice of the usual suspect sauces, are excellent, and, I think, the only time and place I've even thought about turkey filled pasta. In fact, I think the only turkey and pasta combo I've ever had is turkey tetrazzini… hmmm, something else to play with in the kitchen.
The menu is extensive, going on for more than twenty pages, ranging from various coffee and pastry items to a couple of pages of turkey related dishes, to the classic porteña fare – I think they miss the boat by only offering beef and chicken milanesas, why not a turkey one? After all, the larger bird is the house specialty. Service is friendly, competent, though not overly attentive – don't expect anything to happen quickly, just sit back, relax, and enjoy the day.