"I never see any home cooking. All I get is fancy stuff."

– Prince Philip, Duke of Edinburgh
So what's been gracing the table here at home the last week. Haven't been going out at dinner time, pretty much all home cooking. Some of it, a chance to play with dishes that Henry's not fond of.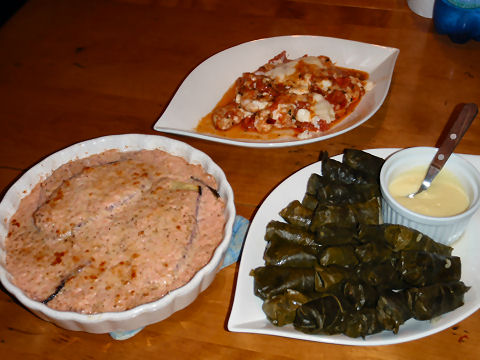 Then again, there were also cooking classes, including one of my favorites, our simple Greek dinner – vegetable and rice stuffed grape leaves with a lemon-egg sauce, eggplant grilled and then baked in a tomato-yogurt sauce, and, prawns baked with tomatoes and feta cheese.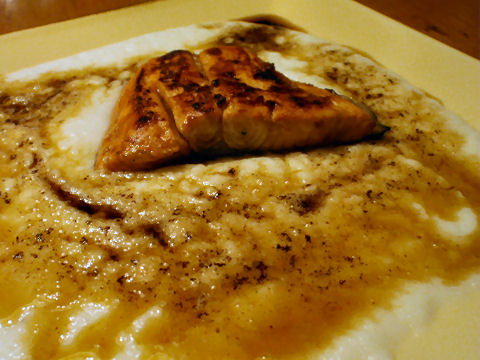 There was the leftover tail end of the salmon from making gravlax, which I pan seared and glazed with a miso, honey and mirin mixture, then served over pureed daikon with a brown butter balsamic sauce.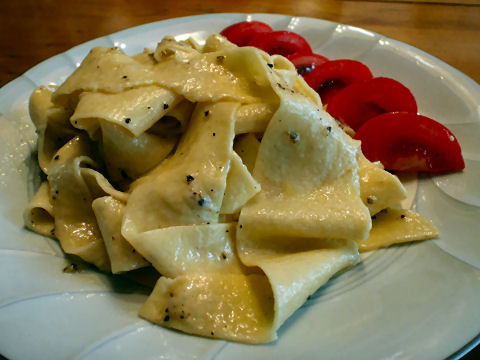 And, inspired by the not quite it pappardelle alfredo of last week's lunch at Moreno, my own semolina pappardelle, with classic alfredo and a fresh tomato on the side. Need my vegetables….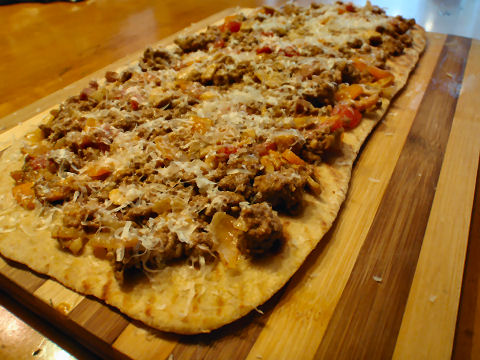 And, with a bowl of bolognese sauce leftover from one of the Italian cooking classes, I recalled the also not quite it pizza a la parrilla at Grappa, and was inspired to whip up one myself.