"This is a chance for rabbit lovers all over the world to celebrate their special bunnies and the joy they bring us on a daily basis."

– Indiana House Rabbit Society
Going back a couple of weeks to just before I left… Anything is fair game for the cookpot here at Casa SaltShaker, and just as much, anything is fair game to make a bit of fun of. While the International Day of the Rabbit may have been founded with the intention to celebrate bunnies as pets, we're not signatories to the charter. Still, other than one course, I based the menu on things that, according to several "raising your pet rabbit" sort of websites assert, the critters like to eat. It was, however, interesting how many e-mails I got from people saying that they'd wanted to come until they saw we were serving poor, defenseless bunnies for dinner – sorry, but I just don't see any difference between them and any other commonly served meat (and rabbit is a very commonly prepared dish worldwide) – and before we get into the whole "pet" thing, I grew up on the edge of farm country and plenty of my friends had pet cows, goats, chickens, etc. It also turned out to be a first for about a third of the people who came to dinner between the two nights – everyone finished what was on their plates, so I have to assume we have some converts….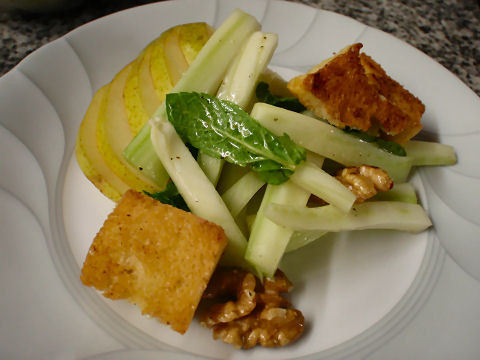 My original plan was a fennel and nectarine salad, two things that go quite well together and apparently are bunny faves. But, nectarines had just gone out of season and the only ones I could find were rotten to the core. So, a switch to fennel, cut in batons, slices of lovely sweet pears, toasted walnuts, shavings of pecorino cheese, mint leaves, butter-fried croutons and a simple dressing of green lemon olive oil, lemon juice, salt and pepper. Paired this up with the Nieto Senetiner Brut Nature, a crisp, champagne style blend of Chardonnay and Pinot Noir.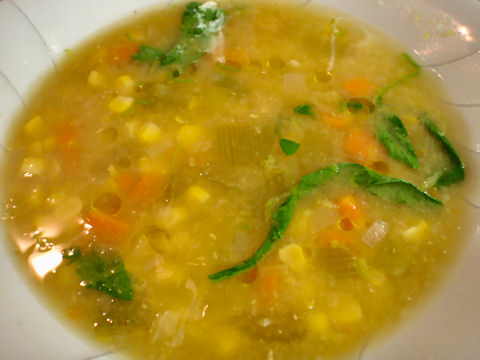 Corn was another item high on the list, along with, of course, other vegetables. I made a corn stock base from corn cobs, ginger and kaffir lime leaves, strained that and then added in diced carrot, leek, celery and shallots, the fresh corn and a good dollop of white miso. Finished it off with a last minute addition of arugular leaves, salt, pepper and finely grated lime zest. To match with the fresh vegetable flavors, and especially with the lime, I thought the Fond de Cave Sauvignon Blanc Reserva 2006 would work, and it did.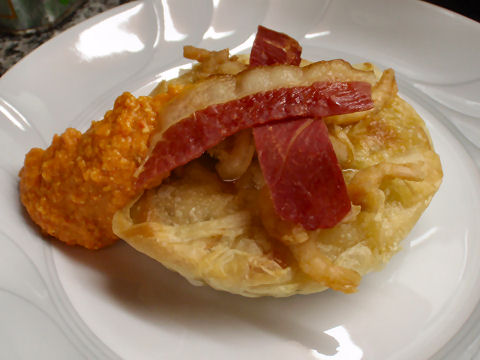 Arguably the most offbeat course… first of all, who knew that rabbits like plantains? Apparently they're wild for them, so to speak. There's a classic, and very basic, green plantain cake that's made in Colombia, and I started from that idea – it's a simple layering of mashed, boiled plantains with some onions, fresh farmer's cheese, and a little seasoning, and then baked. I decided to essentially put the cake into a tart shell – I boiled the plantains (peeled) in water with a bit of Maggi Fondor, which is a flavor enhancer/spice mixture, more or less like Accent or something similar. When soft, I mashed the plantains with a little butter, some goat's milk feta cheese, parmesan and finely diced onions. I packed that into the tart and then topped it with a slice of mozzarella, neatly tucked in, then baked those in the oven until they were golden brown. I topped those with baby shrimp that were sauteed after marinating for a couple of hours in lime juice, olive oil and jalapeños, placed a couple of slices of crispy jamón serrano on top of that, and then a good scoop of romesco sauce on the side. This one was my favorite dish of the evening. I paired it off with the Finca Flichman Rosé Malbec and Shiraz blend, 2008, which has a lot of fruit and spice to standup to this dish.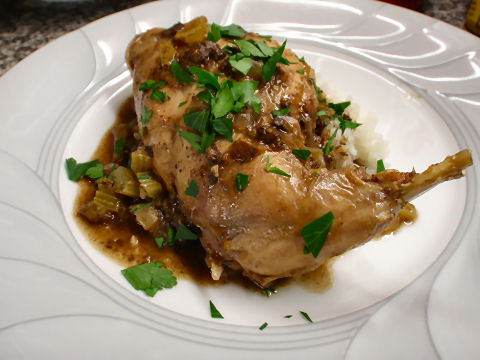 And, we got to the bunny itself – a recipe I've made before and a favorite. Not my recipe, but it's been posted online with credit to the chef, so here's a link. It not only turned out to be a first time for rabbit for many folk, but also for morcilla sausage, which more or less dissolves into the sauce, but the topic came up, so we gave them credit…. Served this with Callia Alta's Reserve Shiraz, Cabernet Franc and Bonarda blend, 2007, a big, juicy, smoky wine that was pretty much perfect with this dish.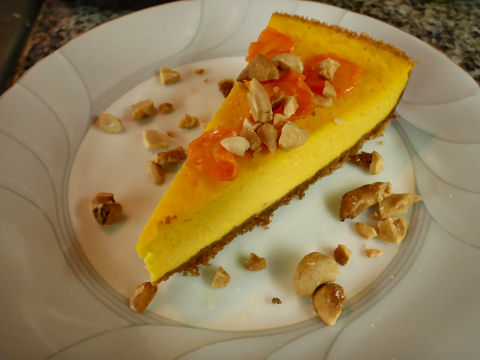 And, of course, what's a rabbit dinner without some carrots? A carrot cheesecake in fact – I peeled and boiled a couple of carrots until they were soft and then added them to the blender with the rest of the cheesecake mixture. And, to serve, candied some carrot slices in sugar and butter and added some toasted, chopped cashews to the plate. Delicious, and a perfect matchup with Las Moras Dulce de Viognier 2009, a semi-sweet wine with a peach and minerally character.