"Life itself is the proper binge."

– Julia Child
Buenos Aires – I'm getting a bit behind on my posts, but this week looks relaxed enough to catch up on quite a few waiting in the wings. Jumping back to last Wednesday and an invitation to guide a friend and writer on a bit of a whirlwind tour of various places that offer up a taste of "authentic" Buenos Aires. There were a zillion possibilities, and he wanted to get a variety of different experiences, so we whittled away at the list, figured out a program and more or less pathway to follow, and away we went. The day started off at La Biela, not so much because it is necessarily the most authentic cafe in the city, which it probably isn't, but because it has a strong, popular following, and serves up the requisite day's start of espressos and medialunas, our primary goal. From there, it was out to the Mercado del Progreso, for a look at one of the few remaining retail food markets in the city left from the days when the mercado system consisted of 21 square-block sized outlets spread across the city.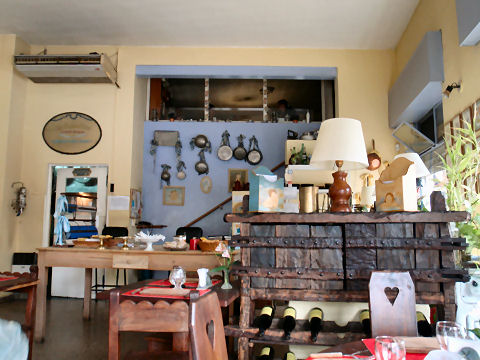 Then, of course, we had to get in some empanadas. Now, while I've tried the empanadas from the well-known and oft sought after La Cupertina, Cabrera 5296 in Palermo [Closed in September 2010.], it was always with someone dropping by with a takeout order, and I'd not actually been to the space. It's a sort of folksy, neighborhood spot decorated with old kitchenware and farmhouse sort of implements. It's got an "elaboración" room that you can peer into from the dining area and watch empanadas being made, a nice plus. The menu is short and to the point – small and large empanadas, each in a quartet of varieties, locro and some pastries. That's about it I think.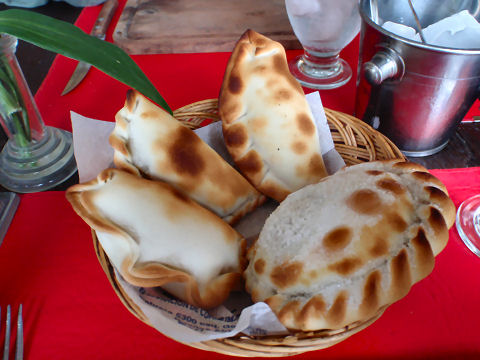 Now one thing I'd noticed in the past about the empanadas from La Cupertina is that they are, for the most part, smaller ones, with a very flaky crust and quite delicious. They are touted to be in the Tucumán style, and they'd always seemed awfully similar to those at our neighborhood spot, La Querencia, and I'd always just chalked that up to the regional style. Turns out to be a bit tighter connection – same owner, same chef… oh, same empanadas. That'd explain it. There are some differences in fillings – in that La Querencia offers up more varieties, and La Cupertina has their outstanding swiss chard and egg empanada lightly dusted with sugar that it is justly famous for. So while, no doubt those are some fine empanadas in that basket, they're just as fine here in the 'hood, and only a two block walk for me. For those of you in Palermo, La Cupertina's little folded pies are a don't miss treat.
From empanadas it was off to a parrilla lunch. Neither of us was up for going the whole parrillada, mixed grill route, so we ordered up a provoleta and a chorizo to split to start and an entraña accompanied by salad and papas a la crema – creamed potatoes – at El Trapiche, where the food is just as good as ever, and the portions are still huge. We managed about half the food on the table, packed the rest up to bring back to Henry, and headed out to….
Cadore, at Corrientes 1695, for some gelato. And this is true Italian style gelato, the family's been making it for eons and this spot here in BA has been open for some 60 years. They recently renovated and it's quite spiffy and cleaned up, and they've started adding in "artisanal" flavors, a term I think is overused in the food world, but, which here result in some amazing flavor combinations. I didn't shirk my duty as I devoured a small cup packed with a trio – dark chocolate, semi-sweet chocolate with candied orange segments and Cointreau, and "strudel", which turned out to be a vanilla cream gelato packed with apple caramelized in honey. Though not a chain with a large number of spots, so you'll have to go to the one store around, I think they've moved up into first place for me over Kavanagh around the corner from me – though it's a close call.
From gelato it was on for an afternoon coffee, and the rooftop at Momentos en el Infinito, atop the Galería Güemes on Calle San Martín seemed the perfect spot. Here, Daniel Ruffilli turns out simple and delicious Argentine food (I'll have to come back, take photos and write the place up one of these days), but more importantly, provides a great ambiance of tranquility in the heart of the busy shopping district. In some ways he's one of the progenitors of the puertas cerradas movement, having opened up some 32 years ago, running Infinito out of this apartment he rented at age 18. The apartment, too, has a history, having been home to Antoine de St. Exupéry, along, apparently, with his pet seal. More on that one day, consider it a teaser.
And from there, it was a few hours of rest back home and then we met up again to head off to Urondo Bar for Javier Urondo's take on Argentine cooking with the influence of spices from all over the world. Still one of my favorite spots to dine in the city, and a nice end to a long, belly stuffing day.