"There is only one difference between a long life and a good dinner: that, in the dinner, the sweets come last."

– Robert Louis Stevenson
Buenos Aires – Lanzarote or Tenerife? That seems to be the only real question when it comes to the Canary Islands. At least for tourists. I gather the former if you want a nice, relaxed vacation and the latter if you're in it for the nightlife. I've not been to either, quite likely never will, though, hmm, you never know – after all, Argentina was never on the list of places I simply must get to. At the very least, however, we managed to celebrate Canary Islands Day here at Casa S with a bit of reinterpretation.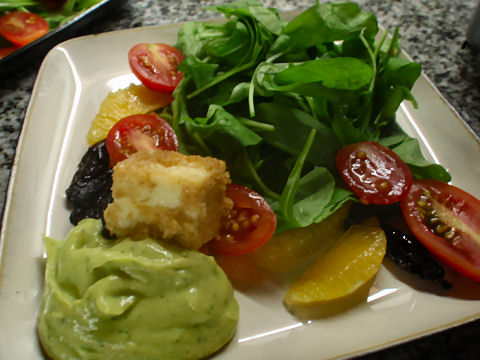 I'd be hard-pressed to explain how I got to this salad – references to a banana and avocado salad, tomatoes and greens salads, goat cheese and olive salads – let's just say it all came together, slightly inspired by an earlier in the week private dinner in which I made my favorite little banana guacamole – there's bananas and avocados for you. So this became a salad of argula, cherry tomatoes, orange supremes and Greek style cured black olives, a fried cube of goat's milk feta cheese, and a dressing that was basically the guacamole, just thinned down a little to use as a salad dressing. With all those flavors going on I picked a very aromatic and really quite interesting sparkling I just encountered, the Humberto Canale Extra Brut from Patagonia – a blend of 50% Semillon, 30% Pinot Noir, and 10% each of Merlot and Sauvignon Blanc. Excellent with spicier foods, so look to see that popping up more often.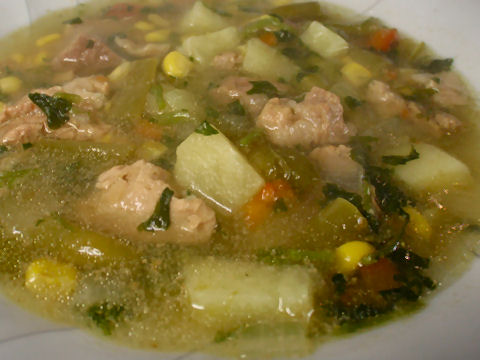 A traditional soup of the islands is a pork rib and watercress one. It's really more of a one pot dinner sort of soup, with sections of meaty pork ribs, corn on the cob, and lots of watercress in it – I wanted something more appetizer-ish. I blanched and shocked the watercress and chopped it up finely, then left it aside until the last minute. The soup, a base of onions, green pepper, garlic, cumin and salt to start, then added the meat from the rib area (here called carré de cerdo), diced up, browned that, then added water and let it all simmer for a little while to form the broth. Into that, some diced potato, fresh corn removed from the cob, and short lengths of green beans – cooked until the vegetables were done, added the watercress, salt and pepper to taste, and served. Though not spicy I thought this would stand up well to a very floral and fruity style Torrontés, and the Alta Vista 2007 from Mendoza fit the bill.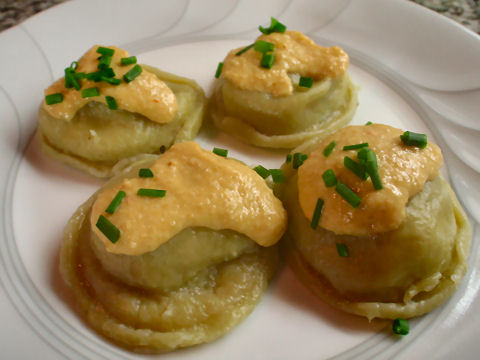 This is the most reinterpreted dish. The original a simple grilled red snapper with sweet potato mash, served up with a mojo de picón – a very garlicky hot sauce. Mojos are the thing in the Canary Islands and there are many versions – a variety of purees that include chilies of one sort or another, flavored with whatever else fits the dish. Quite good, at least the two we tried here at the dinner – I'll be making more of them, even if just for my own use! So back to the reinterpretation – the sweet potato mash became the pasta – a mix of about 2 cups of mashed sweet potato with just under 3 cups of flour (started at 2 and added until I got the texture I wanted), and an egg to help bind it, plus a pinch of salt. Rolled that out and made little pansôti stuffed with a simple filling of salt cod (after all the soaking, etc.) – yes, I know, not red snapper, that was another bit of combining of dishes – pureed with a bit of cream, chives, salt and pepper. The mojo de picón recipe I pulled from the 'net – 10 garlic cloves, 2 teaspoons cumin, 5 medium hot chilies (I used ajíes linos), 5 tablespoons breadcrumbs, 1 teaspoon smoked paprika, 5 tablespoons red wine vinegar, 10 tablespoons olive oil, a little under a cup of water (added slowly while blending the rest until getting a nice thick sauce consistency), and salt to taste. Amazing sauce! For the wine, the Alfredo Roca Merlot Rosé 2008, a very fresh, fruity style rose that I thought would both balance against the spice and be neither too heavy nor too light.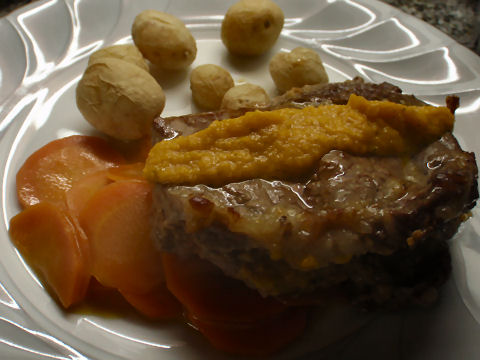 I'm guessing this isn't a day to day dish, given the name, "San Valentín", it may be a special dish for the day in question. Either way, it's really good. Back to the mojos, this one a carrot mojo – couldn't find a recipe, just a list of "usual ingredients", so I played around with it – into the blender a couple of peeled and chopped carrots, some olive oil, garlic, hot paprika, vinegar, thyme and salt. It didn't seem to have quite enough kick from just the hot paprika, which may be the intent, but I wanted more spice (thought it was really good as it was), so I added in one ají amarillo just to give it a little more kick. I cut the rib-eye into thick slices, cut pockets in them along one side and put about two tablespoons of the mojo inside of each and left them to marinate for a couple of hours. Then, pan roasted to medium and topped with some more of the sauce, which I'd simmered for about 10 minutes first. To serve I added in some candied carrots (in orange juice, mustard, honey, port, salt and pepper, and cream) and the national side dish of the islands – papas arrugadas, or wrinkled potatoes. Interesting to make – I used little Andean potatoes since new potatoes aren't available here – they go into a pot with not quite enough water to cover, no more, and a whole lot of salt – like a third of a cup in what was probably about a liter and a half of water, plus a couple of lemon slices. Then, cooked over medium heat until the water evaporates, stirring regularly to make sure that all the potatoes cook evenly. When the water's gone, the salt clings to the skins and makes them wrinkle up. They're obviously salty, but no more so than, say, popcorn, and really a great accompaniment to the meat and carrots. The wine, a Mendel Malbec 2006 from Mendoza – the wine's developed really beautifully since I wrote the tasting notes there.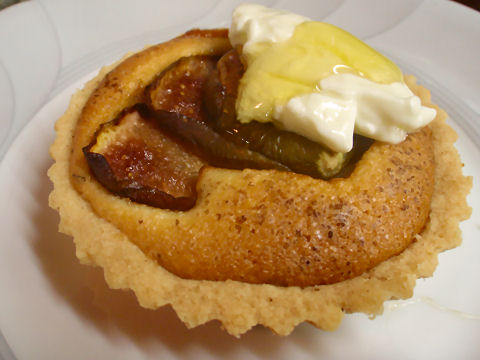 And, finally, an almond and fig dessert, typical ingredients but not presentation for the islands. A simple pate brisee crust (my usual 5:4:3 by weight flour, butter, sugar), par-baked for about 7-8 minutes, then spread a couple tablespoons of a filling made from: 85g confectioner's sugar, 55g pastry flour, 140g almonds, 2 eggs, 1 teaspoon orange blossom water, ½ teaspoon almond flavoring, 110g softened butter – all pureed together in the blender until smooth. Atop that, slices of fresh figs, sprinkled those with brown sugar and then dotted with butter. Into a hot oven (180C/350F) for about 40-45 minutes until nicely browned. Served with a spoonful of thick, unsweetened yogurt and a drizzle of good honey. For the wine, a port style Malbec from Zuccardi, in Mendoza, called Malamado – flavor-wise a great combination, though perhaps overall a bit too sweet together.
Though there were no canaries singing, I'm pretty sure everyone enjoyed dinner!