"I prefer a quartet, it makes everyone work harder."

– Adrian Belew, guitarist and singer
Buenos Aires – Having fallen a bit behind in my various postings, I realized I hadn't been keeping up on the last sessions of our Color Palate of Italy course. The first group finished up the ten session class this last week, the second group is in the home stretch with a last date of next Monday, and the third group just started this week. We have a "second level" series planned to start at the end of February, a five-session more in-depth look at the cuisine of northern Italy where we'll prepare a three course meal each of the sessions – more details on our classes page (along with some fun little one-session classes on various topics, more to come).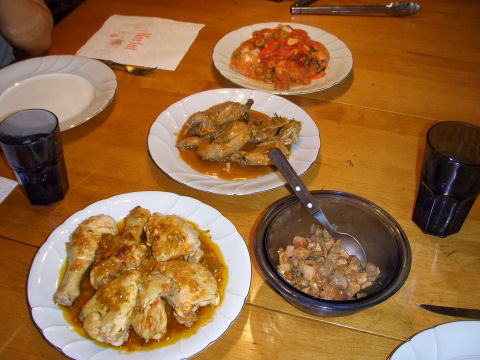 The last four sessions of the first round Italian class finished up with poultry, and two versions of chicken – a Tuscan pollo in salsa picante and my own modern twist on a southern style dish, fried chicken with green olive sauce, and from Friuli, a braised dish of quail in squazet, a classic bacon, liver and herb sauce from the region.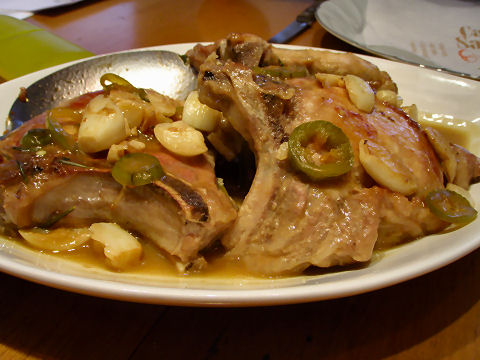 Session 8 focused on beef, pork, and lamb, and we prepared a wonderful dish of braccioline from the far south in Puglia, some spicy pork chops – costolette di miale piccanti from the northeast, and my own version of mixed lamb, pork and beef bolognese sauce.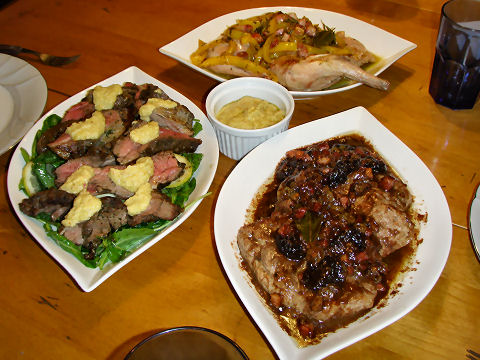 Moving on to the penultimate session and a look at wild game. Now, the problem is, it's not hunting season here, so we had to play around a little and the wildness was a bit more talk than actuality. Rabbit wasn't a problem, though it was farm raised, I couldn't find a wild hare – that's okay, I think it's more likely that people will cook rabbit than hare, and we whipped up a coniglio con la peperonata, rosemary braised rabbit with a yellow bell pepper sauce. Farmed goat for the second plate with a modern dish from Mario Batali, modified for kitchen preparation rather than a big smoking barbecue grill – capretto con pesto di mandorle – barbecued goat leg with lemon and arugula salad, and an almond pesto. For the wild boar dish that I'd hoped to do, we followed a traditional recipe for it, but used steaks cut from a bondiola, or pork shoulder, to make the sweet and sour fruit and chocolate tinged Sardinian dish of bistecchine di cinghiale.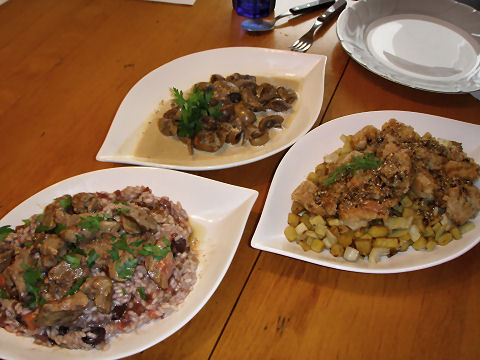 And finally, we finished off the tenth session with offal, or innards, the love 'em or hate 'em fifth quarter of the animal world. My own crispy sweetbreads with spiced honey headed up the list, an Istrian rognoncini trifolati alla senape, or veal kidneys in mustard sauce, followed right behind, and a slow cooked Roman Jewish dish of risotto con regagli – chicken giblet risotto topped with sauteed chicken livers, rounded out the meal.
More fun to follow – come join us in the kitchen!