Cooking Classes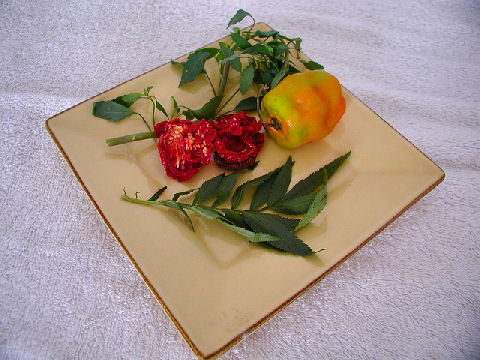 Bored? Sitting at home wishing you had something to do, something to stimulate your interest, your intellect, your skills, your tastebuds? In town for just a short time and wishing you knew more about what's going on in the kitchen behind the scenes of all the food you've been eating, or wish you were eating? Let's do something together about that…. All classes are limited in size (1-4 people), allowing for hands-on experience along with a demonstration of new techniques, plenty of discussion, and followed by a meal where we eat what we've made in class. Classes are us$50 (ar$575) per person, per session, unless otherwise noted in the description (with the exception of if you want a private class limited to one person only, the cost is $65 (ar$750)). All classes can be in English or Spanish or both. To contact me for more information or register, click on the "E-Mail" link at the top of the page.
[Puedo enseñar las clases en castellano o inglés o una combinación.]
———
Classes are all scheduled on request, based on my availability.
———
CLASS DESCRIPTIONS
[Note: For all classes, dishes may vary depending on the season and availability of ingredients, if there's a specific dish that you're eager to learn, make sure I know that in advance and if it's possible given ingredients, we'll include it.]
Argentine Fare
These are all stand alone classes, rather than a series.
A Classic Lunch – we'll make empanadas, and follow on with a stove-top grilled steak, the best chimichurri you'll ever have, and zapallitos rellenos – you've seen those green spherical vegetables on every vegetable stand in the city and wondered what they were (globe zucchini) – now find out what to do with them!
Stewing Away – One of the classic stews of Argentina, locro, is a white corn and meat extravaganza, we'll whip one up and while it's bubbling away, hey, let's make some empanadas to nibble on!
Rolling in Dough – possibly Argentina's greatest contribution to the pizza world, grilled pizzas were a staple here long before they were "discovered" in the north reaches – we'll make a variety of grilled pizzas, an also dive into the classic chickpea flatbread, faina, and you know it, we can't not make at least one kind of empanada
Lighten Up – Not all local fare is packed with beef, nor is everything about empanadas (though who can resist?) – in this class we turn out a twist on the local style caprese salad, whip up a humita en la olla, a classic corn dish of the north, and show you just what you can do with Argentina's most popular river fish, the pejerrey.
Baking it Gluten-Free
This is a three-session series – we do recommend taking all three, but if you only have time for one, we can work that out too.
Savory – the best cheesy bread around, chipas leads us off, then we turn our attention to that Andean staple super-grain, quinua, for a delicious quickbread, and finally, to a tried and true dough for making that pizza you sooooo miss (that doesn't involve chopping up cauliflower or broccoli)
Sweet – we travel the world with this one, from here in Argentina with a gluten free version of the classic alfajór and pionono, to a personal favorite from French patisserie, the financier
Special – things get a little more intricate here, which is part of why we recommend starting with the two previous classes. Did you ever think you could have brioche again? Or make your own pasta? Or savor a delicious filled crepe? Now you can!
Color Palate of Italy
Our most popular series, ten sessions which we repeat on a regular basis. As well, we're happy to schedule individual sessions selected out from the series – the most popular being the pizza, pasta, and poultry classes.
Core Ingredients – herbs, olive oils, cheeses, garlic – an intensive tasting, plus a lunch featuring these – plus knife sharpening and basic knife skills
Pasta – basics of pasta making followed by a lunch of our efforts
Pizza – from piadinas to grilled pizzas to Sicilian style to focaccia – it's a bit of a carbo-loading day, but delicious
Grains – working with risotto, polenta and farro, the classic whole grain dishes of Italy
Contorni – we'll work on four classic vegetable side dishes that will make your main courses shine
Fish & Shellfish – a trio of recipes from the sea, some of our favorite cooking, plus learning how to clean and prepare creatures of the sea
Poultry – if it flies, it's fair game for this class – learn how to clean and cut up a chicken and cook it in two ways, plus a classic quail dish
Beef & Pork – we can't pass up these staples of both Italian and local cuisine, can we? Braccioline (stuffed beef rolls, pork chops in a piquant sauce, and we bring back pasta and a to die for bolognese sauce
Game – this class always depends on the season and what game is available (we've worked with goat, venison, wild boar, rabbit/hare), and is one of the more creative classes of the series
Offal – a little nose to tail dining, with a look at some of those "parts is parts" – always a surprising class, usually because no one expects to enjoy it, and then they do!
Italy, Region by Region
We offer a series on Italian regional cooking, covering each of the 20 regions of Italy and preparing a traditional 3-course meal. Not intended to be comprehensive, these were created as a followup to our Color Palate of Italy series above – we go into the classes with an assumption that you have some decent cooking skills, and the intent is to deepen your familiarity with different styles of Italian cooking. Generally we offer these in blocks of five – Northwest, Northeast, Central, and Southern areas. Note: we don't necessarily prepare all of these dishes in each class – the menu varies depending on season – there will generally be either 3 or 4 preparations per class.
Abruzzo – Land of Gargantua and Pantagruel – famed for rich, extended feasts, lamb dishes, and unusual pastas, join us as we make Scrippelle (crepes) in broth, Agnello Cac' e Ove (lamb with cheese and eggs), and Pepatelli (pepper cookies)</li
Apulia – Italy's Secret – Bari, Brindisi and Taranto – the champion pasta eaters of the country – melanzane alla foggiana, orechiette, tielle de cozze, cartellate con vin cotto
Basilicata – The Fiery Instep – the hidden and little known rocky countryside has left the traditions of this region very different from much of the rest of the country – spaghetti all'assassino, lucanica (sausage), used in: torta salata di verdure, pizzicannelli
Calabria – The Rugged Coast – a wooded mountain range, some amazing pork dishes, rustic comfort food – fusilli alla calabrese, ciambotta, fichi ripieni
Campagna – In the Shadow of Vesuvius – the home of traditional pizza and spaghetti, Naples and surrounds is the area we most identify with global Italian cuisine – mozzarella in carrozza, spaghetti alla putanesca, acqua pazza, and mousse di limoncello
Emilia-Romagna – The Heart of Learning – home of the oldest university in the western world, and some of the world's greatest cheeses and pastas – Spuma di Mortadella, Tagliatelle Bolognesi, Lombatine alla Parmigiana, Tortino di Zucchine
Friuli-Venezia Giulia – The Istrian penninsula, where Italy meets Slovenia – Jota Istriano, Frico del Friuli, Pollo in Sguazet con la Polenta, Palacinke
Lazio – All roads lead to Rome – the classic cuisine of Rome and its surrounds – we'll prepare classic Stracciatella (Italian egg-drop soup), Gnocchi di Semolina (gnocchis made with semolina flour rather than potato) and Bracioline di Agnelo con Carciofi (lamb with artichoke hearts)
Liguria – From the high cliffs of the northwest coast and Cinqueterre to the famed cuisine of Genoa, this region produces some of our favorite dishes. Ciuppin, Pansôti di Rapallo con Salsa di Noci, and Lemon Raspberry Cake
Lombardia – The home of saffron, mustard fruits and some of Italy's best cheeses – come join us in preparing a delicious meal of classics from the area. Fitascheta, Mostarda di Cremona and working them into Involtini, Malfatti, and Crema al Mascarpone
Marche – The central coast, enjoying a common heritage and close relation to Umbria, but providing most of the fish dishes of the region – brodetto di porto recanati (fish soup), risotto alla marchigiana, vincisgrassi (mixed meat lasagna), maritozzi
Molise – This little known region is often considered a subset of Abruzzo, from which it separated less than 50 years ago, but it has its own distinctive cuisine – Stuffed Peppers, Termolese Seafood Stew, and Sweet Chestnut Pastries
Piemonte – The richness of the northwest of Italy all comes together in this region as we prepare a three-course lunch. Minestrone d'Asti, Trotta alla piemontesePollo alla Marengo, Roasted Peaches
Sardegna – The "other" island, less well known that Sicily, and home to some amazingly good, rustic cuisine – we'll make the classic flatbread Pane Carasau (also called Carta di Musica) and use it in a classic egg and tomato sauce preparation called Pane Frattau; or hand-rolled malloredus, the "Sardinian gnocchi" with a rustic meat sauce; a Calamari Salad, or a traditional holiday dish of pork shoulder stewed in a sweet and sour chocolate sauce; and Seadas, delicious cheese filled fritters
Sicilia – One of Italy's two island regions and the home of the Mediterranean Diet – pesce spada alla messinese, pasta alla norma, caponata, and struffoli
Trentino-Alto Adige – The influence of the Swiss and Germans is heavily felt in this region. Tagliatelle Verde con Mascarpone e Pangrattato, Pollo Brasate al Ginepro, Torta Fregolotta
Toscana – The most well known, and perhaps most fantasized about countryside and cuisine in Italy – La Ribollita or Aquacotta, Totani al Prezzemolo, Pollo in Salsa Piccante, Ciambelline Rustiche
Umbria – Come explore the "Green Heart of Italy" as we prepare a traditional three-course lunch featuring the cuisine of this little known culinary region. Lenticchie di Castelluccio con Salsicce, Pasta alle Olive, Veal in Lemon Sauce, Pizza Dolce
Valdosta – On the border of France, this little known region produces delicious mountain classics that we share in over lunch. Fricando Valdostano, Polenta Grassa, Val d'Aosta – pizzoccheri di teglio, Strawberries in Grappa Caramel, Caffe Valdostana
Veneto – The Serene Republic – not just Venice, but let's face it, that's what we think about… – Fagottini di Radicchio; Cape Longhe a la Capuzzina; Risotto di Pollo, Zucca e Rosmarino; Gialetti
Ring Around the Mediterranean
A series of five classes in which we zip around the Mediterranean, sampling from key points of interest…
Coastal Spain – Olla Gitana (gypsy soup), Alcachofas en Escabeche (artichoke salad, when in season), Arroz Caldero (fish and rice, similar to paella)
The South of France – Pissaladière (provencal pizza), Crespéou (omelette cake), Salade Niçoise, Bouillabaisse (fish stew)
It's all Greek to Me – Dolmadakia (stuffed grape leaves) with Avgolemono (egg-lemon sauce), Garides Giouvetsi (prawns with feta and tomato), Melitzanes Vizantiou (Byzantine eggplant)
Seriously Syrian, Flavors of Aleppo – Khubz (flatbread), Hummus, Salatit Banjan (eggplant salad), Salata Banadoura (tomato salad), Samaka Harra (whole baked fish)
'Mazin' Morocco – Salade de Févettes (fava bean salad), Cassolita (squash with caramelized onions), Quenelles de Poisson (fish dumplings in tomato sauce), Dattes Fourrées (almond stuffed dates)
Four Chinese Meals
This is a four session overview of some basic concepts in Chinese cooking. It is intended to be a simple introduction to four different styles of the vast range that exists – with a look at some classic dishes from four major regions of the country. Each class introduces a couple of specific techniques that are particularly important to Chinese cuisine. Given the building of techniques, we don't recommend taking just individual sessions of this series, though it is a possibility.
Southern – Canton & Hong Kong – Basic White Rice, Diced Chicken and Cashews, Lettuce with Oyster Sauce, Sweet & Spicy Spare Ribs, Prawns & Eggs-Hong Kong Style
Eastern – Shanghai & Taipei – Creamed Chicken with Ham, Mushrooms & Snowpeas, Sliced Fish in Walnut Crumb Batter, Eggplant Braised in Spicy Bean Sauce, Classic Fried Rice
Western – Szechuan & Hunan – Kung Pao, Szechuan Style Squid, Ma Po Tofu, Cold Sesame Noodles
Northern – Beijing – Peking Style Prawns, Beef with Orange & Chili, Potstickers (Fried Dumplings), Steamed Barbecued Pork Buns
Four Brazilian Meals
This four session class covers some basic and classic dishes of Brazilian cuisine. Focused by ingredient, there are two sessions on fish and seafood, one on chicken, and one on red meat and bean dishes. The dishes may vary depending on season and availability, but a few classics stand out – moqueca do peixe and acaraje com vatapá from the seafood sessions, xinxim do galinha from the chicken day, and a rich, hearty feijoada from the red meat class. Classes can also be scheduled individually.
Tentaculo Espectaculo
One of my personal favorites, a one-off class that I occasionally offer that focuses on our tentacled friends, octopi, squid, cuttlefish. Dishes vary with the season and availability of ingredients – past recipes have included a ceviche of tiny cuttlefish over a sweetpea mousseline, red wine braised squid with chorizo risotto, baked squid in garlic and parsley sauce, baby octopus pizzettas, grilled octopus and fusilli, calamerette bakhlava, spicy sauteed calamari rings, braised baby octopuses with potatoes and fennel, causa de pulpito.
Write-up on one session of this class from a local student.
The Asian Vegetarian
We started a series of Asian vegetarian classes in 2009, with a focus on the cuisines of Southeast Asia. For the moment, we're continuing to offer them on an individual session basis, though we may offer the series again at some point. All these classes can be strictly vegan on request.
Armenia – Nivig (chickpeas & chard), skhtorats (zesty eggplant slices), lahamjoon (mini pizzas), tahiniyor pilav (tahini bulgur pilaf), sarma (stuffed grape leaves)
Cambodia – Banh Chiao (pancakes), To hu chien kreung (crispy caramelized tofu), Poat dot (grilled corn)
China, Szechuan – Szechuan Pickles, Eggplant Yu-Xiang, Mushroom & Tofu Kung Pao
China, Taiwan – Cold sesame noodles, tofu fu yung, eggplant braised in spicy bean paste
India, Banjara – Banjara Baingun (filled eggplant rolls), Dhakshin se Shuru (potato-nut filled crepes), Dumpakht (pot-pies) (we also usually make a raita based on yogurt which is not vegan, though the three dishes themselves are, depending on the students, it's an optional extra)
India, Gujarat – Bhakri (flatbreads), Bateta nu Shaak (potato curry), Coconut Green Bean Salad, Garlic Chutney
Indonesia – Rendang (coconut curry), Gado-Gado (vegetables in peanut sauce), Mi Goreng (fried noodles)
Japan – Gyoza (mushroom-cabbage potsticker dumplings), Kinpira (vegetable saute), Piri Kara Nasu (Spicy Miso Eggplant)
Korea – Ginger-Garlic Bok Choy, Beansprout and Sweet Potato Pancakes, Bibimbap (mixed vegetable bowl with crispy rice)
Laos – Laotian Sweet Potato Curry, Jeow Mak Keua (eggplant dip), Flatbread, Noodle Soup
Malaysia – Seitan Satay, Laksa Lemak Nyonya (coconut soup), Terong Baladao (baked eggplant)
Philippines – Sinigana (tamarind soup), Vegetable Adobo, Lumpia (springrolls), Sawsawang Kamatis (tomato salad)
Thailand – Tom Kha (peanut-tomato soup), Smoked Tofu Laap (fresh salad), Pad Thai (classic noodle dish)
Vietnam 1 – Banh Mi (classic spicy sandwich), Tau Hu Kho (tofu in pineapple caramel), Ginger Braised Seitan – we'll make our own seitan as well
Vietnam 2 – Banh Tom (heart of palm & sweet potato fritters), Pho (mushroom & fried tofu version of classic soup), Che Chuoi (bananas cooked in coconut milk)
The Wandering Vegetarian
We've offered various other individual vegetarian classes that have been hits. Some of these classes are vegan, some are not, but all can generally be made so if requested.
Autumn Veggies – Fennel with Figs, Whole Wheat Pasta with Cauliflower, Brussels Sprout Soup, Swiss Chard Pastilla
Catalán Cruising – Escalivada amb Romescu (grilled vegetables with Romesco sauce), Cigrons amb Tomàquet (chickpeas with tomato), Menjarblanc (almond cream)
Cooking Vegetarian with Chilies – Szechuan Pickles, Mushroom & Tofu Kung Pao, Tom Kha (tomato-peanut soup)
From Peru with Love – Causa (layered potato vegetable stack), Ceviche, Sopa Incaica (quinoa based soup)
Holy Mole – Chili-Chocolate Mole, Guacamole, Fresh wheat tortillas, Black beans, and Mexi-Millet
It's a Green, Green World – Gujarati Green Beans, Kuku Beggar's Purses, Eggplant Yu-Xiang
Who Doesn't Like a Good Burger? – Homemade buns, ketchup, Veggie Burgers, and Oven-Baked Potato Crisps
Southeast US Regional Cooking – series of five vegetarian/vegan classes covering classic dishes from Cajun, Creole, Lowcountry, Floribbean, and Kentucky cuisines
French Sauces – vegan style, series of four classes available covering the various versions of coulis, bechamel, veloute, espagnole, hollandaise, pistou, wine sauces and dishes to use them in
Mexican Regional – series of six classes, vegetarian/vegan, covering classic dishes from Yucatan, Oaxacan, Northern, Veracruz, Central, Jalisco traditions
We have also offered classes on occasion in various other vegetarian and vegan topics including composed salads, soup making, crackers/soda breads, pasta making, desserts, Argentine classic dishes, meat-protein substitutes, cheese substitutes, Moroccan, and Syrian
— — —
If joining us for one of our scheduled classes strikes your fancy, drop me a line. If another day or time is better for your schedule – let me know that – whether you want me to setup an individual class for you, or add a group class to the public schedule – let's get cooking! To contact me for more information or register, click on the "E-Mail" link at the top of the page.
Photos from some of our classes on Flickr
Student's blog writeup of one of our classes.