"The Federal Republic of Central America, also known as the United Provinces of Central America, was a short-lived state in Central America, which consisted of the territories of the former Captaincy General of Guatemala. An experiment in republican democracy, it existed from July 1823 to 1840. It was intended to be a federal republic modeled after the United States of America…. The republic consisted of the states of Guatemala (which initially included a large part of what is now the Mexican state of Chiapas), El Salvador, Honduras, Nicaragua, and Costa Rica. (Panama was still part of Colombia at the time.)"

– Wikipedia
Buenos Aires – There was nothing in particular about the weekend that inspired a Central American themed dinner, simply whim. I've been exploring some of the cuisine from the various countries that make up "Central America" (now seven countries rather than the "original" five, Panama and Belize having been added in later on). The fact that the short-lived Federal Republic had five member states made it easy to fit into a five course tasting menu, you know?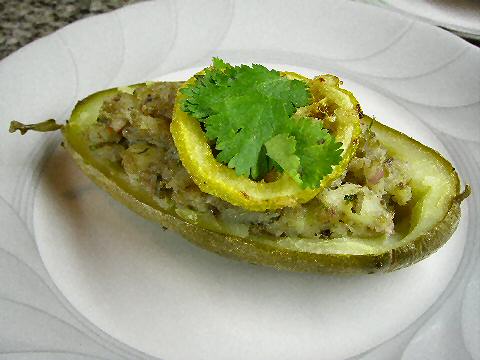 This just goes to show how far afield my "inspirations" sometimes get. I started from a Salvadorean dish of
yuca frita con pepesquitas
– fried tapioca root with fried baby sardines atop… I had in mind something like the
fritto misto
that I'd recently had in New York at
Scarpetta
. But, as it turned out, the yuca in the markets here was all dried out or rotting, so that idea quickly got dumped. I'm also, when it comes down to it, not a big fan of fried foods, especially for Casa S dinners – it's hard to manage the quantities we need to put out a dozen plates when deep-frying in a saucepan. So then I thought, potatoes. But I was already leaning away from frying, and come on, fried potato chips and sardines? A bit of thinking about it and I decided to stuff the potatoes with sardines – I simply baked the potatoes, cut them in half lengthwise, scooped them out, and mixed the potato with mashed cooked sardines, some chopped rosemary and parsely, lemon juice, chopped chilies and onions. I topped each with a fried lemon slice, so I got in a little frying in the end. Back into the oven to get them nice and hot and served.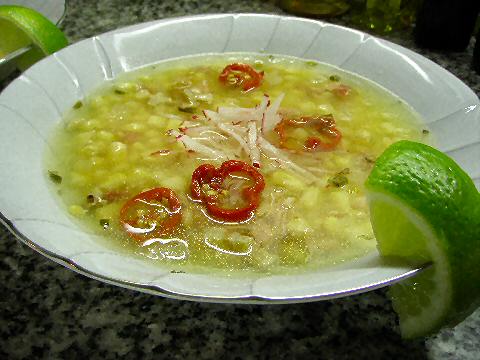 There are more versions of
pozole
or
posole
out there than I care to count – not only national and regional differences, but probably from house to neighboring house – so whether or not this one is particularly Costa Rican is, perhaps, in question. The one thing they have in common is a base of corn… after that, all bets are off. The first night I used fresh yellow corn, but it just wasn't quite the way I wanted it, the second night I used dried, hulled white corn, soaked it overnight and then used it in the soup. The stock was made with onion, garlic, diced bacon, and a couple of chicken thighs (which I later fished out, skinned and boned, and chopped up, adding the meat back into the soup). When those are all lightly browned, I added in the corn and a good amount of oregano. Then I topped it up with water and let it simmer away for a couple of hours until the corn was done and the flavor was where I wanted it. Simple salt and pepper seasoning, topped with julienned radishes and pickled baby bell peppers, with a wedge of lime for a bit of citrusy zip – traditional
tico
toppings.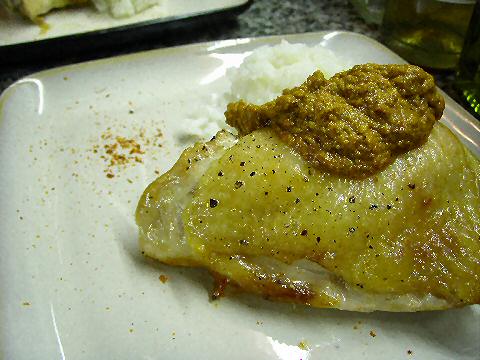 Heading to Guatemala, I decided on a
pipian de pollo
, sort of a cousin to a Mexican mole dish. The chicken is simply dusted in flour, salt and cayenne, and pan roasted until done. The sauce – I toasted green squash and sesame seeds until lightly golden, then added cinnamon, guajillo chili powder, onions, tomatoes, cayenne, cloves, salt, pepper, and a little bit of chocolate. Cooked that all together for about half an hour, then pulsed it a few times in the blender to give a coarse sauce. We served it over rice, dusted with some cayenne flakes.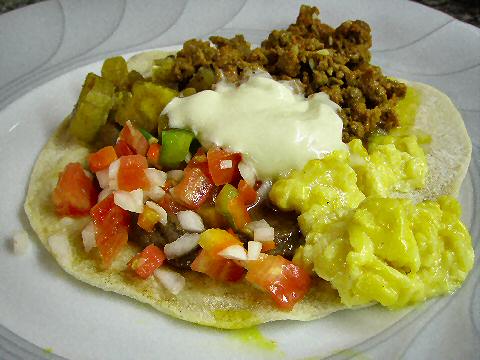 In the Honduras there's a traditional fast food snack called a
baleada
, so named for its shape, like a
bala
, or bullet – more or less, it's like what we think of as a burrito, with, as I understand it, only one closed end. There are numerous versions, though at its base there is the basic baleada, a flour tortilla filled with refried beans, then there's the "special", that adds some basic condiments and cheese, and then there's the "super special", which can add any or all of plantains, scrambled eggs, chorizos, and more. For presentation's sake, I decided to go open-faced, and divide the tortilla up sort of like a
quattro estaciones
pizza. I made the fresh tortillas, topped them with refried red beans and a bit of cheese, then in the four cuadrants put, respectively, fried plantains,
salsa criolla
(chopped bell peppers, tomatoes, onions), soft scrambled egg, and beef chorizo sausage (the beef isn't traditional, just a whim), then topped all that with a dollop of homemade sour cream. I love these – my kind of street food – though perhaps a more elegant presentation is in order… if I can figure one out.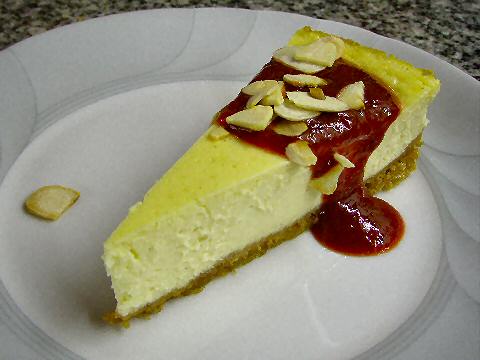 Finally, on to a simple, basic cheesecake, using part sheep's milk cheese, as this was inspired by a
requesón
, which is a sheep's milk tart. Normally made with an almond crust and topped with sliced strawberries, I went with a simpler cookie type crust, then topped it with a roasted strawberry sauce and toasted almond slices.
Overall, I'd say most folk were quite happy with dinner – I know we were.