"Roughly translated from the Italian, fare la scarpetta means to wipe your plate clean with a hunk of bread—a practice that, depending upon the culinary circles you travel in, is considered either a sign of bad breeding or a compliment to the chef."

– Robin Raisfeld & Rob Patronite, NY Magazine
New York City – While scarpetta literally means "little shoe" or "child's shoe" or even an "elegant lady's shoe", it finds its way into a couple of common phrases in Italian – one refers to the "fork pad" that brackets a wheel on a small vehicle like a scooter or motorcycle, the other, fare la scarpetta refers to mopping up the sauce on your plate with a hunk of bread. There are a couple of possible origins to the phrase – some say it is because in the act of mopping up, the hunk deforms into, more or less, the shape of a shoe; others say it relates back to a common origin to heeltap, an anachronistic English word that derives, obviously from shoe related sources, but refers to the last remains of wine in a glass or even sauce on a plate. Scott Conant, chef and friend, who rose to foodie fame at L'Impero and Alto a few years back, isn't committing to any one definition (other than probably ignoring the moto-fork pad…) and has returned to Manhattan after a Hamptons' hiatus to rethink, retool, and retrench, with Scarpetta, 355 West 14th Street, just edging into what, at the time I left New York, was plainly referred to as "the meatpacking district" – now, apparently and horribly, morphed into "MePa".
Like many other restaurants in the neighborhood, it's big. After all, many of these places were meatpacking plants, though in the case of Scarpetta, it occupies the space that, at least for the last decade, housed The Village Idiot, a dive bar famous for its cheap drinks, honky tonk style, and as the setting for various scenes in Law & Order. The space is all now fancy and elegant, pretty much what the previous owner was trying to avoid when he shut the bar down, declaring, "I think it's going to yuppie hell." And, in a sense it has, though it's a hell where you can count on a damned good meal – and let's face it, when MeatPacking becomes MePa, it's really too late to do anything else. Overall, we liked the space, especially the huge skylight that domes over the main dining area and the nice use of large mirrors to make the narrow space seem wider. If there's any criticism, it's possibly the overuse of orange – but that's personal. The placemats are a sort of burnt orange vinyl, echoed by huge straps holding the aforementioned mirrors (and, as we, both in the biz, noted, somewhat askew), and again by the shiny orange ties that the staff are wearing.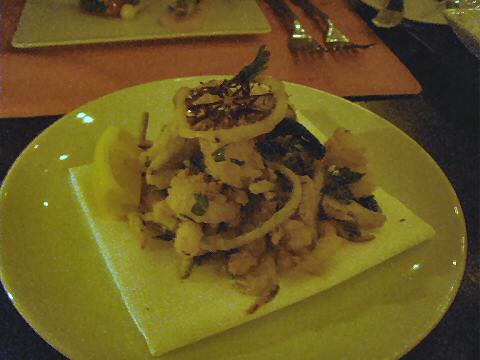 On to the food – Scott came out to chat with us, big hugs all around, then before we had a chance to even open the menus, snatched them away and announced "I'm sending you food." As he started to depart we asked "Any sense of what you're sending so we can pick wine?" He recommended starting with a glass of white each (not really glasses, they're quartinos, or quarter-liter carafes) and then picking something "big and red". We launched with one of Cecilia Vermentino from Tuscany, classic, ripe fruit, a little "prickliness", and an interesting touch of toastiness; and another which I'm drawing a blank on at the moment. Within moments a delicious plate of fritto misto was on the table, light, crispy, with calamari, small whitefish, bits of artichoke and fried lemon – excellent. A duo of plates, one for each of us, held a duo each of crudo, Italy's answer to sashimi, and, I realized, my first raw fish since being back in New York. That must be remedied immediately.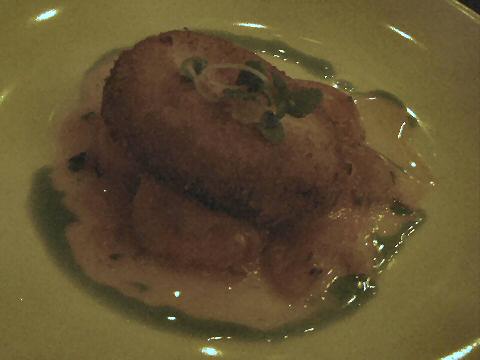 Shortly after finishing munching on our starters, a second round arrived. A favorite, mozzarella in carrozza – what's not to like about a big ball of fried cheese? Served, properly, over a simple tomato sauce. Along with that, two bowls of soup which I hate to admit, I can't recall what the soup was – I do remember it being quite good… This was added to by a plate of Scott's famous wild mushroom ragout over polenta – his polenta is loaded with cream, parmesan, and probably butter, and is whipped super smooth – definitely not the rustic dish that is more common.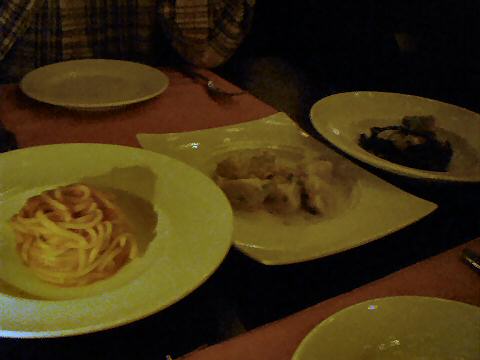 Of course, any good Italian meal has to have that "pasta break" in between the appetizers and the main courses, no? A trio of pastas were arrayed in front of us – a simple housemade spaghetti, with all that rough texture that helps it hold sauce, lightly coated with a pristinely fresh tomato and basil sauce (perhaps a touch of butter in there?); his agnolotti dal plin, plump and stuffed with pork and fontina cheese, with an elegant mushroom sauce; and squid ink spaghetti with mixed seafood – all delicious and all perfectly prepared. Our red wine had arrived, the last bottle of the "real" Soffocone di Vincigliata 2006 – I say last "real" because… how shall I put this delicately – soffocone means blowjob, and the label, in very artsy form, pictures a woman down on her knees in front of a vaguely phallic form doing just that. How that got by various regulators in either country is a mystery, but future bottles of the wine will not have that graphic, and I'm not even sure about the name. Either way, it was delicious – a blend of Sangiovese, Colorino, Canaiolo, and Malvasia Nera – absolutely wonderful wine, the first time I'd tried it – with strong plum and blackberry flavors and a touch of licorice.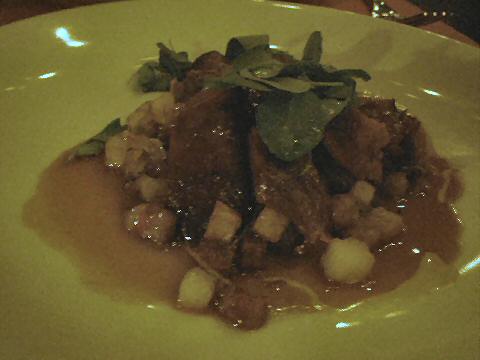 On to the main courses – and a trio again – this time his succulent roasted baby goat, or capretto, served up with a braise of fingerling potatoes and peas; a lovely pink veal shank atop parmesan and saffron orzo with a bit of bone marrow and gremolata; and just barely cooked slices… no, nearly slabs, of duck breast accompanied by… hmmm… there goes my memory… looks like polenta in the picture I have, but I'm pretty sure it wasn't. The first two dishes absolutely spectacular, the duck itself excellent, though we found whatever it was below it (I remember braised vegetables of some sort too), far too salty. Hey, one misstep, what can you do?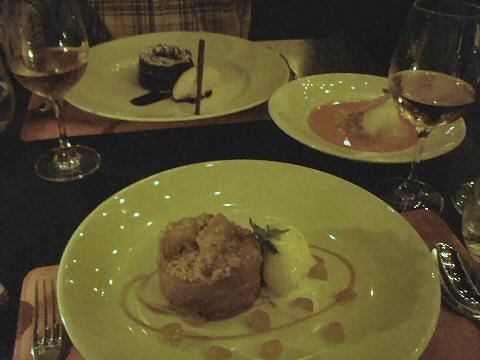 And, on to the desserts. Another trio. And, well… mixed feelings. All delicious, no question. But somehow it was like we were suddenly in a different restaurant. That high level Italian style disappeared, and these desserts seemed to be from elsewhere – a molten chocolate cake, even though using a really good Amedei Tuscan chocolate, we've seen it many places before; an apple cake/pie with ice cream, again, well made, but…; and the more Italian of the trio, a coconut pannacotta in guava soup with caramelized pineapple – well, pannacotta is Italian anyway. I hate to give the impression we didn't like the desserts, we really did, it was just sort of strange letdown to suddenly feel like we'd been whisked away from the Italian peninsula and landed… elsewhere.
Overall, really great. And the chef's tasting menu is priced at a mere $75, which for Manhattan is a steal (admittedly, I would guess, that we got a bunch of extra plates thrown on the table, but we were well and truly stuffed).