"Give us this day our daily taste. Restore to us soups that spoons will not sink in and sauces which are never the same twice. Raise up among us stews with more gravy than we have bread to blot it with. Give us pasta with a hundred fillings."

– Robert Farrar Capon, Episcopal Priest and Food Writer
Buenos Aires – It wasn't until I started to organize my thoughts on writing up this last weekend's Korean inspired dinners that I realized that, well, Korean and Italian food are basically the same thing. No, really. Sure, the spices are different, but you'll see – the Korean food was all about… pasta, meatballs, and sauce. It may just be what I picked unconsciously, but there may just be something to this… It was time to celebrate the Buddha's birthday again – and, as I pointed out last time, there's some disagreement about when it really is – May or December, and exactly what date. This weekend fell in with the date of choice in South Korea, and since we've not planned a Korean dinner, and I like Korean food… there you have it. And something completely new for me to cook – I don't believe I've ever made a Korean dish in my life prior to this week – and, of course, I'm probably not making them in traditional manner… as usual…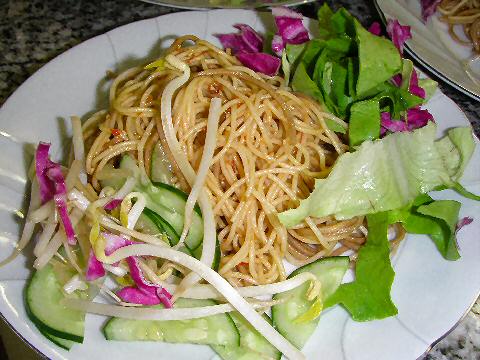 First, pasta and sauce… There seems to be a fair amount of disagreement on this dish, bibim guksu, in particular on the pasta. Wheat or buckwheat noodles. Somen or soba. The argument was too much for me, so I used both in roughly equal proportions. Boiled up in advance, then rinsed under cold water, tossed with the sauce, and chilled. After all, it's a salad. Red cabbage, cucumbers, bean sprouts, and lettuce tossed in with and garnishing the noodles. The sauce is key, of course: 2 parts each chili-broad bean paste and rice vinegar, 1 part each soy sauce, honey, black sugar, sesame oil, sesame seeds. All blended together and left to sit for a little while. I made lots of extra and we ate this next day for lunch as well – really good, and really simple to make – you can also just whip it up at room temperature and not take the time to chill it, and it makes a great simple snack.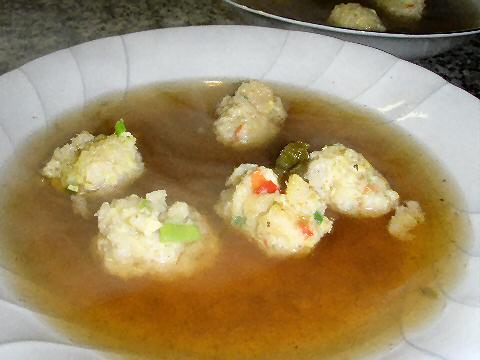 Meatballs… This is one that I kept finding various descriptions of, but wow, what a lot of variation in bugeo-guk there is out there… see, it is like the Italians… or the Jews… put any two cooks in one room and come out with three recipes for the same dish. I bring the Jews into this because, well, though the meatball thing is there, these are made of fish, and perhaps were just Korean gefilte fish… or maybe like French quenelles… my goodness, there are connections everywhere. I used pollack, since that seemed to be the key fish from the Korean perspective, and ground it through the meat grinder with its finest disk. To that I added white pepper, salt, sesame oil, fish sauce, minced chilies and green onions, and egg yolks. Meanwhile I whipped the egg whites to stiff peaks and then folded it all together. The broth was simply fish stock with chilies, garlic and green onions infused into it. The first night, I poached the fish meatballs in the soup and then let them sit in it for a bit to absorb flavor – but they also started to disintegrate, even though the soup wasn't simmering anymore – so the second night, I poached them in salted water for just a couple of minutes and then set them aside until ready to serve, at which time I warmed them up (I just put the bowl of them in a warm oven, but you could also either microwave them briefly or even dunk them once again in some hot water), put them in bowls, and ladled the broth over them – much cleaner presentation. It's a delicate dish, other than the little spike of chilies in the fish balls, but really quite good.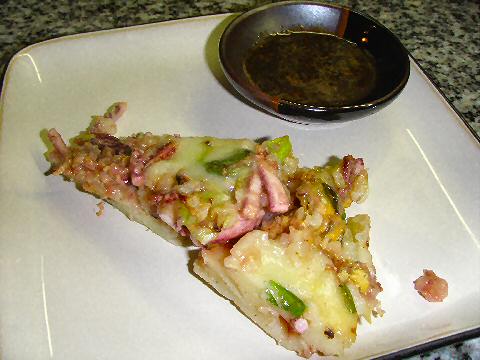 Sauce… Really, this one is about the sauce. Well, I'm claiming that only because I didn't feel like I got the dish right. The flavor was there, and combined with the sauce, but the texture seemed off. I've had had-mul pajeon, or seafood and scallion pancakes at various Korean restaurants, and they're always sort of greasy/oily, but crispy. I couldn't get this batter to crisp up. Oh, it lightly turned a golden color, but it stayed sort of spongy. I'll take suggestions on how to make this one work. On the other hand, several guests, and Henry, told me they loved it the way it was, so maybe it's just a different style than what I've tried before… The pancake was filled with green onions, squid tentacles, and mussels (all coarsely chopped), sauteed briefly in a little hot oil. The batter that I poured in was 1½ cup of flour, ½ cup rice flour, 1 egg, and 2 cups of water – very much like a pancake batter. I made it in a big cast iron pan, so one, I wasn't going to try flipping it (well, I actually did start to give it a shot and realized there was no way it was going to work), so instead, after cooking it on the stovetop for enough time that it had set, and it seemed like the bottom had started turning golden brown, I stuck it under the broiler. And there it sat… with the juices from the seafood sizzling away, and the top firming up nicely, and simply, not browning. I didn't want to completely dry it out, so I left it unbrowned atop – oh, a little bit here and there, but it just never "turned golden brown and crisped" as the recipes all claimed it would. Still, as I said, good flavors – and the sauce: soy sauce, black vinegar, red pepper flakes, green onion, garlic, and white sugar all blended together.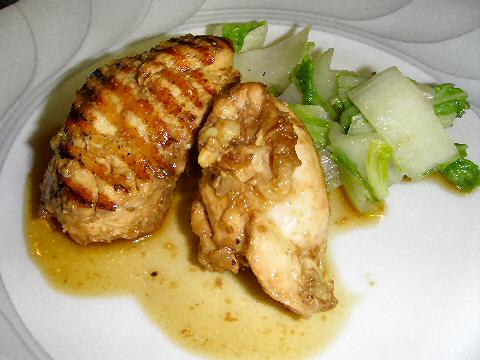 Sauce… I knew I wanted to do a barbecue, or bulgogi, but not beef, so chicken it was (and salmon for a couple of folk who didn't eat chicken). The sauce again is key: soy sauce, powdered sugar (wanted just a little cornstarch in there to help form a crust), shallots, garlic, lots of freshly ground black pepper, sesame oil, lots of ginger. The first night I cut the chicken breasts into pieces – each breast in four; the second night, I cut them in half and pounded them out thinly, as I found it tough the first night to get them cooked through without burning, the sauce, having sugar in it, was quick to brown. The chicken (and salmon, separately of course) were marinated in the sauce for about six hours, and then grilled on the stovetop grill to give them those pretty marks. Served with a little bit more of the marinade that I'd set aside and warmed up, plus some quickly sauteed napa cabbage.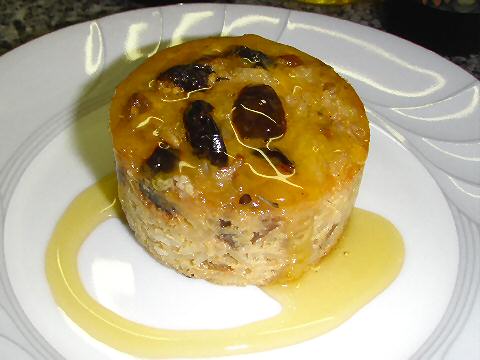 Okay, here's where I, no question, strayed a long way from tradition. I started with a dessert called yaksik, which is made with sticky glutinous rice that's mixed with various dried fruits and nuts, and then steamed for about 4-5 hours and afterwards cooled and left to sit. For my tastes, beyond being a style of cooking I didn't feel like doing (yes, of course, I could have just picked a different dish), the final result, when I've tried them, is something like a transluscent hockey puck. I decided instead to treat it as a baked rice pudding – cooked plain long grain rice, then mixed it with a bunch of chopped red dates (jujubes), chestnuts, raisins, and sunflower seeds (couldn't find any pinenuts), and a mix of milk, butter, eggs, vanilla, sugar and a pinch of salt (pull out your Joy of Cooking, the recipe is a classic). Baked in ramekins in the oven, left to cool, and then unmolded and served with a drizzle of good honey.
So you see, Pasta, Meatballs, and Sauce…