"Our brightest blazes of gladness are commonly kindled by unexpected sparks."

– Samuel Johnson, poet, writer
Buenos Aires – 'Twas a busy weekend, with both a couple of regular Casa S dinners and a private event hosted by an engaged couple (norteamericano and argentine) to let their families get to know each other. I won't comment upon the interfamilial relations, other than to say that the dinner, overall, went quite well. My only instructions were "Argentine with some sort of twist" – which was left up to me to decide. No allergies, no restrictions (one person who requested fish instead of red meat, but that's an easy substitution). Off we go…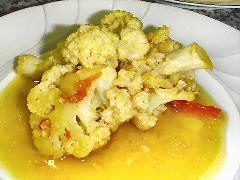 I wanted to start off with something in the cold or room temp vegetable world, for which an escabeche is a great favorite here. I went with a somewhat middle eastern flair to it, going with my now well practiced Cauliflower Escabeche with no changes – even the photo looked more or less the same… and it was received well by both hemispheres' worth of family members, including the semi-vegetarian who announced that she'd never liked cauliflower before… which led into our next course, a gazpacho, which she also declared an advance dislike for.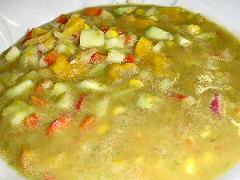 Apparently, though, we were batting two for two, since she decided that this gazpacho in particular was one she liked – the "argentine twist" on it was that I had started with the idea of making something similar to a carbonada, which is a corn and dried peach based stew from northern Argentina, usually cooked with veal and various vegetables. Since I wanted to keep this vegetarian, I dropped the veal, and looking at the various ingredients realized that most of them duplicated what I usually put in a gazpacho – so the only real additions were to cook some fresh corn kernels and the dried peaches to rehydrate them, then chill them and add them to my gazpacho, making sure that they figured in as predominate elements in the flavors. A puree of tomatoes, garlic, basil, chili pepper, olive oil, red wine vinegar, and lemon juice formed the base, into which went diced cucumber, red bell peppers, red onion, and the corn and peach mixture. Topped off with a little water to get the right consistency, chilled, and seasoned to taste with salt and black pepper.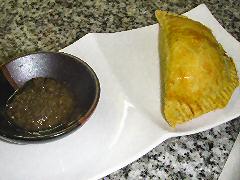 On to a delightful little mildly spiced empanada – the filling a simple mix of our homemade ricotta with sun-dried tomatoes that had been reconstituted in a mix of water and liquid smoke, then chopped, and then seasoned to taste – but most of the seasoning came in the crust, for which I started with a simple pastry crust and added a little curry powder, paprika, cayenne, and turmeric to it, giving it a lovely gold-orange color and a nice glow when egg washed and baked. We served these up with some freshly made Salsa Llajwa – with some modifications – I used fresh tomatoes which had been peeled and seeded, so just the pulp, and I cut back on the rocoto pepper since I'd been forewarned that some of the Argentine family might balk at something really spicy, and, we couldn't find any quirquiña, so I substituted a mix of cilantro with just a little rue thrown in, which as I'd mentioned in the linked post is the way the herb's flavor is sometimes described. I cooked the whole thing down to a thick sauce, and it worked quite well. I'll be trying it again with more rocotos and the quirquiña when we can find some again.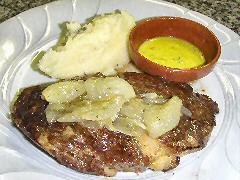 A simple steak – pan roasted – topped with small pearl onions that had been cooked down with butter, vegetable stock, and some powdered bay leaf. On the side, mashed potatoes flavored with a touch of lemon peel and thyme. And, to accompany it, a chimichurri. But not just any chimichurri, it glows, it glows yellow (and, looking at the photos of the dinner now, apparently I was in a yellow mood). It really wasn't all that out of the ordinary – simply substituting yellow bell pepper for the red, yellow tomato for the red, and white wine vinegar for the red… it comes out a great color, no?! I was just careful to only puree together the various yellow(-ish) ingredients and add the chopped herbs and such afterwards so that they didn't turn the sauce green…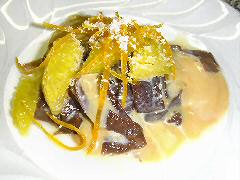 And, finally, a return visit and another shot at the chocolate noodles with dulce de leche that I'd tried a year or so ago. The noodles came out a better texture overall – instead of a chocolate semolina pasta I used a simple egg, flour, sugar, and cocoa mix. On the other hand, they were much stickier, and ended up clumping together (I'd tried to make little nests of coils of the noodles, but the kind of created their own ball of pasta in the cooking process). I topped them, warm and right out of the pot, with dulce de leche, orange supremes, and caramelized orange peel. The flavors are there, but the texture and presentation still needs some work. I'm rethinking the idea of chocolate ravioli filled with the dulce de leche and some sort of orange sauce…