"Skulls, fire, eyeballs, wings, devil signs — it's pretty much got everything you want. It's like a grab bag."

– Dave Herrera
Buenos Aires – Met up with Pete and Amy, formerly of Pete's Wicked Ale fame, who are in town for awhile to hang, eat, drink, wander, work with the local home-brew folk, learn to converse in Castellano, all the good stuff. Started off the evening with a round of beer, no surprise, that they'd brought down with them – one of the more unusual ones I've tried, 21st Amendment Watermelon Wheat. Yup, watermelon in a wheat beer, and it does have a faint pinkish tinge to it, and a fruity watermelon note to a pretty darned good light wheat beer. Frosty cold on a blazing hot summer day – I can see that.
One of my all-time favorite science fiction writers, William Gibson, pops up in an interview for Rolling Stone's 40th Anniversary issue – it's a short but fascinating piece, worth reading just for the brilliance of some of the quotes. Right from the opening paragraph I was already thinking… hmm… and we won't even touch his mid-interview slam of the Great Decider…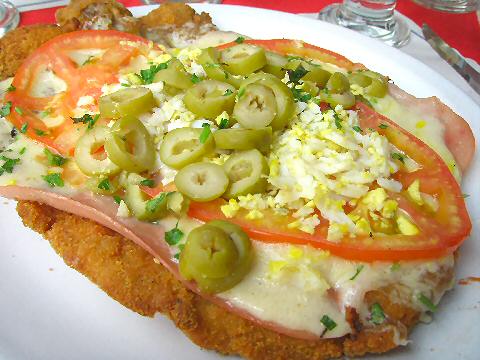 I'd say "only in Buenos Aires", but let's face it, every culture has something like this, where you just pile on one thing after another onto a basic ingredient. Remember the Dagwood sandwich? Or, for that matter, in conceptual terms, is this really, other than in the choice of items, so different from something like "Two all beef patties, special sauce, lettuce, cheese, pickles, onions, on a sesame seed bun…". I think not, and this is actually probably better for you. It's a milanesa de pollo gran manolo – a pounded thin chicken thigh, breaded and fried, then topped with ham, cheese, tomato, parsley, hard-boiled egg, and green olives. There, that's not so bad when you break it down. It's from one of the oft-deemed bastions of porteño dining, Manolo, Bolivar 1299, 4307-8743, which, despite its apparent longevity, according to their website has been in business a mere 18 years, during which time they've actually moved twice (as well as had a second location at one point) – so despite it looking like an old time saloon, festooned with futbol memorabilia and old photos, it's apparently, to a certain extent, simply staged. Nonetheless, the place was busy with locals, mostly at least a generation or two older than the two of us – I was having lunch with the guidebook author for Lonely Planet's BA edition, who wisely for her waistline didn't dig into one of these platters, but opted for a simple salmón blanco steak and salad.
Manolo had never been on my radar until a few months ago when Rachel Ray put it there. Yes, Rachel Ray, the perky Mary Lou Retton (is that a redundancy?) of the food world. Now, I have nothing at all against her… well… we'll get to that in a moment. Tony Bourdain recently slammed her in an interview because she tells people it's okay to buy pre-chopped vegetables and use them, with a quote something like "how f—ing hard is it to chop an onion?" – forgetting that he lives in a world of chefs and cooks, who really do think nothing of chopping an onion in a few seconds, and while it might be great to get everyone chopping their own onions and making everything from scratch, the reality is, they're not going to. And if RR can get someone to make a meal out of fresh ingredients by buying some things that have been pre-sliced, chopped, or pureed, and following her instructions to mix them together, rather than ordering in a Domino's extra large with everything and a 7-11 giant slurpee, she's got my support. Besides, Tony probably doesn't chop his own onions either, he's got some prep cook who spends half an hour chopping a couple dozen kilos for him.
Now, back to Ms. Ray putting Manolo on the map for me, she was in town back in May filming for her relatively new morning (?) talk show – sorry, we don't get it here, never seen it. While she was here, one of the things she and her producer wanted to do was fit in a couple of food related things that they could use for one of her food network shows. Casa S made the list, or at least some sort of interview, hanging out, chatting kind of thing. Only she cancelled, at last moment, someone who pulls the strings apparently having decided that a visit to an "old line porteño" restaurant was more appropriate – even if the place chosen hasn't been around long enough to earn the designation – but I guess they didn't know that. So they trooped off to Manolo to interview, via translator, the owners there. That's the first time I'd heard of the place, but I put it on my list, figuring there must be something special about it.
And, it's just fine as a local neighborhood hangout – nothing particularly standout about it. The food was just about what you'd expect, pretty much what it seems to be in the photo. Service was fine – laid back, friendly, paying occasional attention. The prices were easy on the wallet. Some days that's all you want or need, and there's probably a place within a block of wherever you are that does the same job.
One of these days, remind me to tell you how I was almost Ted Allen…