The crab that walks too far falls into the pot."

– Haitian proverb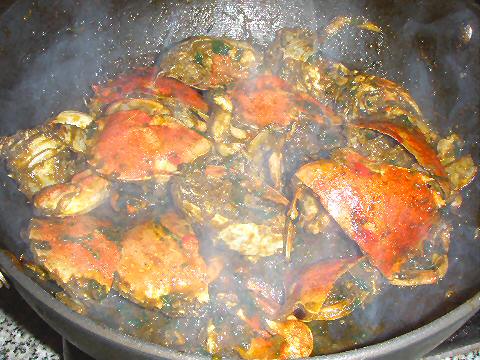 Buenos Aires – Maryland may have its crab bashes, but northern Peru has its crab bursts. Cangrejo reventado, much as it sounds like taxonomic nomenclature, simply means "burst crab". I got to taste this dish once on the beach in Trujillo and loved it, so when I spotted a big pile of fresh crabs in a Barrio Chino market the other day, it popped into my mind that it'd be fun, and hopefully delicious, to try to make it at home. Now, I know the crabs are a different variety here then there, Atlantic versus Pacific, different latitudes, etc., in fact, I haven't the foggiest idea what sort of crabs these are, or what sort they use there. I know that these turned out to be tasty, though far less "meaty". And I now know that there aren't that many recipes for the dish online, and I couldn't find one in any of my cookbooks that were likely to have one – most Peruvian cookbooks and websites are focused on the food of Lima and surrounds, none of that pesky "native" cuisine you know. Top that off with not having all the right ingredients, and, well, this, while not a far cry from the dish we had on the beach, is a pale imitation. That said, we plowed through half a dozen crabs in one sitting…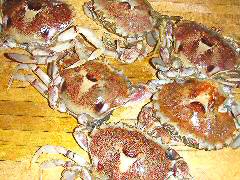 Half a dozen crabs lined up and ready to go. Clean them well, rip off their legs (they'll go in the pot too, don't throw them out), cut off the "apron" on the underside, and cut the crabs in half.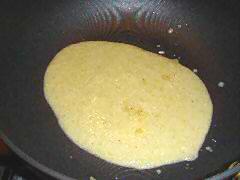 I'm not sure why I decided to puree the onions, garlic, and oregano together before sauteeing them, but so be it, I did. You could just as easily chop them all finely. Saute in a little bit of oil for about 4-5 minutes, until just starting to turn golden.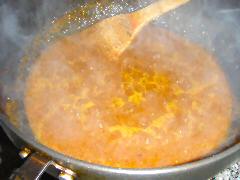 Now, if we had fresh ají amarillo and mirasol, we'd have pureed them together, ready to add to the pot, however, they're both only available here in dried form. I reconstituted three of each in hot water, then removed the stems and seeds and most of the skin. The pulp gets pureed along with the liquid in which they were reconstituted, and, for good measure, some chicha de jora – don't have any handy? Use a cup of beer. Pour it into the onion and garlic mixture and bring it to a boil, it will look a bit like molten lava… is that redundant? Isn't lava, more or less by definition, molten?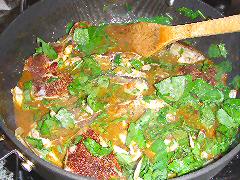 Add the crab bodies and legs, along with a large bunch of chopped yuyo… which, of course, we all have in our local supermarkets… it's a type of wild arugula, what the English call "wall rocket"… I have no idea how its flavor compares directly to standard farmed arugula, which is what I ended up using. Bring back to a boil, cover and let it cook for 15 minutes, bubbling away.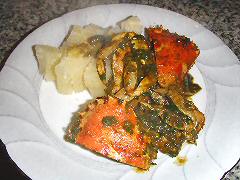 Remove the cover, turn the heat up to very high, and cook off all the liquid until it essentially becomes a paste coating the crabs. Serve with freshly boiled up yuca root, which, or course, you prepared and had ready to go…
This turned out, as I said, really tasty, mildly spicy. It's a bit of a pain to eat, picking out meat from the shells, sucking it out of the legs, all that sort of thing. Henry said that he really likes just the claw meat for this dish, he doesn't like all those innards and such that are in the crab, the roe, etc., and it got me to thinking about doing this more elegantly with something like cracked king crab legs… not something I'm likely to find here… or maybe making the dish using just some crab shells, remove them, leaving behind just the paste, and then using it somehow with lump crab meat…