Trujillo, Peru – It's not that Trujillo doesn't have supermarkets, though it doesn't have many of them, it's just that most of the populace a) wouldn't trust a supermarket, and b) can't afford to shop in one. And the city is blessed, if that is the right word, with various major food markets – the Mercado Central, the Mercado Mayorista (wholesale), and others, of which I know of Palermo and La Union, though we didn't visit… in addition, on the outskirts of town there's a fish market, though most folks wouldn't bother to go there separately, since that market supplies the other three, the customers at the fish market are more restaurants and anyone who needs large quantities. I'd mentioned that we'd shopped for food stuffs at the wholesale market to make lunch one day, as well as stock up the "pantry" of Violeta's kitchen – dried herbs and spices, some grains – anything that she can store long term without refrigeration – you may have noted there was no refrigerator in the kitchen. In fact, refrigeration isn't overly common in a lot of the barrios, neither in homes nor restaurants – a point which restaurants that have it make clear with signs proclaiming that they actually have a refrigerator… No, in many, if not most, places, things are simply chilled when need be by using small bags of ice bought from a neighboring store – where a ball of ice about the size of an ostrich egg goes for 50 centimos. Unfortunately, this lack of refrigeration holds true in places like the mercados, where fish and meat are displayed out on tile counters, at open air temperature. I didn't note any sign of behind the counter refrigeration or even ice… it's best to shop early.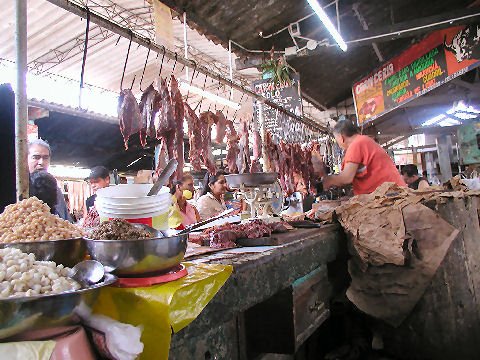 Butcher shop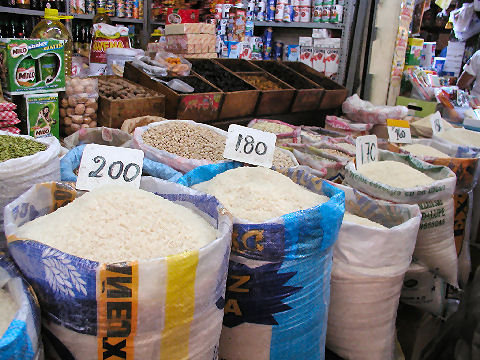 Grains, beans, canned goods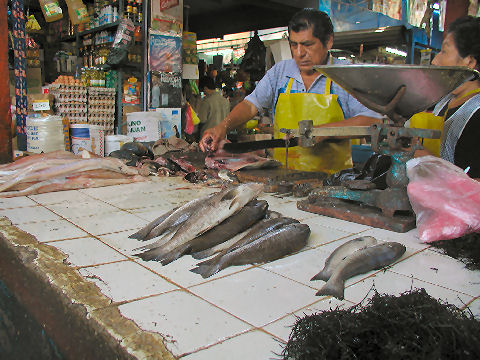 Fish, and yes, this is where we bought our three lovely bonito tuna for the stew…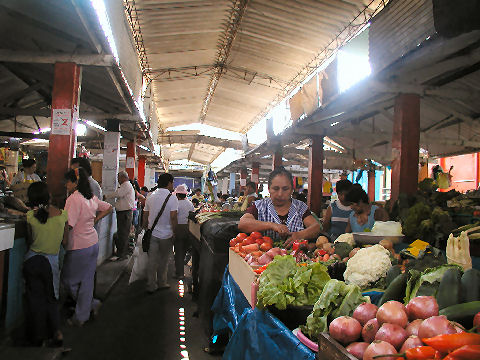 Vegetables and fruits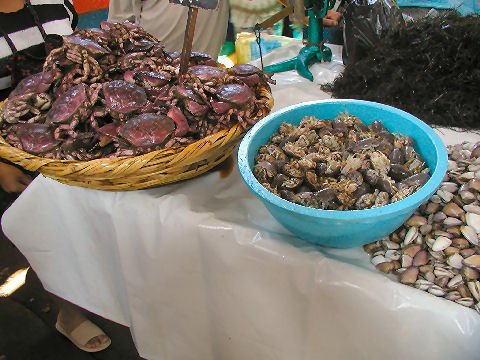 Crabs, mui-mui, and a mix of concha blanca and concha negra, or white and black oblong clams
Okay, before someone asks, the bowl of mui-mui, aka mui mui chino, aka cochito del pacifico, is an anomuran sand crab – they're little things about the size of hmmm… a "shooter"… remember playing marbles as a kid? They're used, supposedly, in ceviche, though we never found a cevicheria that offered them, so I never got to try them – though we did find some at the beach… (sorry about the off-focus – was too close to them…)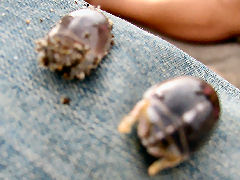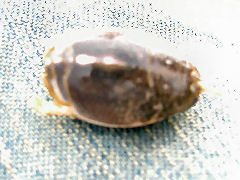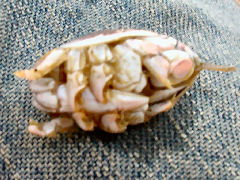 The Mercado Central is a bit cleaner and nicer, and not so sprawling out onto the streets, though that's mostly because it's located in the middle of downtown where they simply couldn't sprawl onto the streets, though I'm sure they'd like to. It also has one end devoted to eateries, where you can sample things made with the produce available at the market – including quite possibly the best tamal I've ever eaten (and the way people flock to her stand, I gather I'm not alone in my appreciation).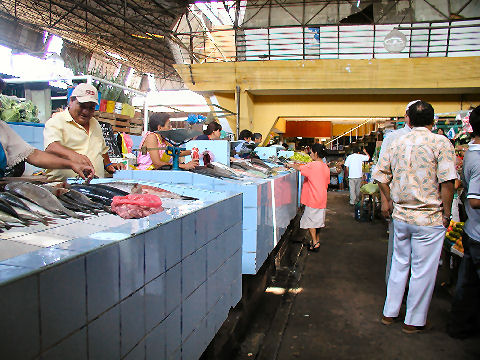 Fish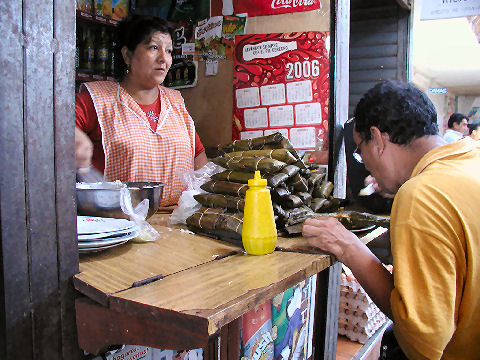 The tamal lady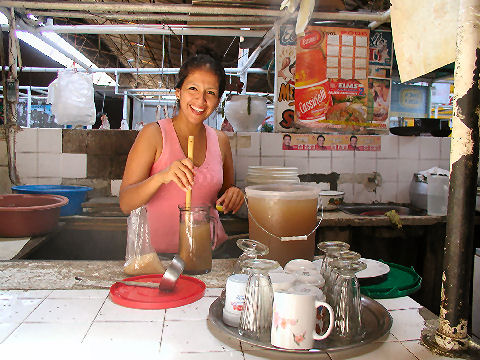 Fresh cebada, or barley drink – delicious!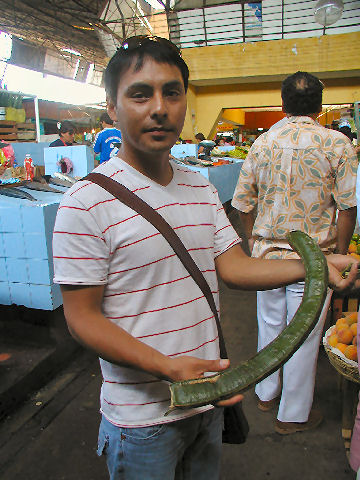 This is a huaba or pacay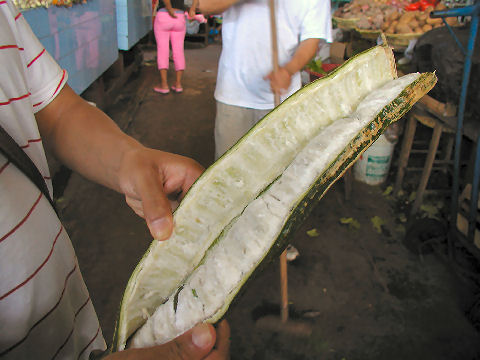 …you eat the white flesh that surrounds the seeds… tastes sort of like warm vanilla ice cream, and hence one of it's monikers – the ice cream bean