"It is told that Buddha, going out to look on life, was greatly daunted by death. "They all eat one another!" he cried, and called it evil. This process I examined, changed the verb, said, "They all feed one another," and called it good."

– Charlotte Perkins Gilman, Writer, Lecturer, Social Reformer
Buenos Aires – This weekend was, more or less, the birthday of Gautama Buddha, the historical founder of Buddhism. I say more or less, because no one knows exactly when he was born – though the "official" date is December 8, 563 B.C.E. Some folks say it was in May, some in December, some say that's the birthday, some say it's the day of his Enlightenment. That's enough for me to be off and running. After a bit of mucking about trying to figure out how I would tie that to a menu, it happened that I got an e-mail from Susanna over at La Otra Dimensión – Cocina asking if I would be offering an Asian themed menu of any sort in the near future. That dovetailed nicely with my intended theme, and after a bit of net surfing I encountered a site that listed the top ten countries for Buddhism by population – so, given my five-course format, I grabbed the top five, and planned the menu around one dish from each of those cuisines. Though I thought about it, I decided not to approach this as a vegetarian meal – Gautama Buddha himself was not a vegetarian (his last meal is believed to have been a pork delicacy, though some say not, that it was mushrooms), and it's a source of much discussion and debate within Buddhist communities worldwide over whether vegetarianism is the correct interpretation of one of the core precepts of the religion – not to kill or harm another living being. Regardless, there's enough tradition of meat based dishes within the various cuisines that although I decided to keep things on the light side, I was going to incorporate meat.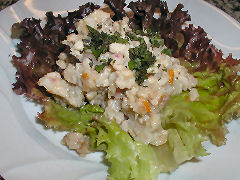 Many years ago, when I first moved to New York, I met someone online through a BBS – or bulletin board system – for those who haven't been trolling the internet since the late 70s/early 80s, those were privately run, dial-in versions of the forums that so many of us participate in these days. That particular one, The Backroom, was more or less a dating service for gay men, and Bob and I hit it off online and arranged to meet at a new Thai restaurant, The King and I. We both entered around the same moment, took one look at each other, and more or less said, "nah", and sat down and had a delightful meal. We've been friends ever since. I also tried my first plate of laap gai, a dish which I've had dozens and dozens of times since in various versions. It's probably my favorite Thai dish – I've even asked for it at Thai restaurants that didn't have it on the menu – interestingly, I've had chefs come out of the kitchen, delighted, to ask how I knew about the dish and then end up making their own version for me. This is more or less the version that was taught to me by the owners of that first restaurant, Nancy & Jackson. Henry took one taste and declared it the Thai version of ceviche de pollo, a dish I tried once but had a bit of trouble getting past that whole raw chicken thing – the Thai version isn't raw.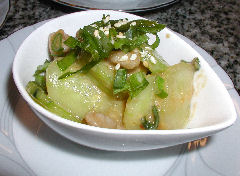 I've mentioned this Japanese dish, piri kara, before, and given a recipe for the eggplant version of it. The dish is also made with other vegetables, cucumbers being one of the most common. One of our guests the first night of this dinner was allergic to eggplant and asked if I could make a substitution to my original plan – no problem, I switched to cucumbers, a vegetable that most of us don't think about cooking, but is actually quite delicious after sauteing. I used the thin, nearly seedless Asian cucumbers, which work better, though you could use "regular" cukes and just seed them and maybe cut them in half rounds. This version was also made using just a small amount of solomillo de cerdo, or loin of pork, lightly coated in cornstarch and ginger to give it a bit of a crust – other than that, the recipe is the same as the one linked above. Though I really like the eggplant version, it has more of a winter dish feel to it – I think I like the cucumber version better for hot weather like we're having now.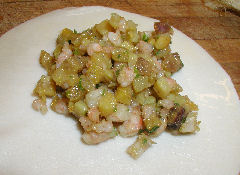 My friend Simpson Wong, who is the chef/owner of Cafe Asean and also Jefferson, in New York, introduced me to the dish banh tom when he first opened. Traditionally, it's a deep fried fritter of shrimp and sweet potato – what's not to like about that? I'm not really setup to deep fry anything, though I could have made little fritter patties or something. However, in order to lighten it up a little, I decided to not fry it, but to use the same filling ingredients. Not exactly traditional, but it gives a nice Argentine twist to the dish…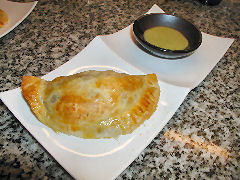 For the fililing, saute finely diced sweet potato (batata), chopped garlic chives, fresh ginger, salt and black pepper until nearly cooked through, then add coarsely chopped shrimp and cook until done, adjust the seasoning, and add chopped cilantro. Let it cool and then put it in an empanada skin. And besides, this fulfills my promise to make some non-pork empanadas for a change. I served the empanadas with a dipping sauce made from apple cider vinegar, sunflower oil, mirin, salt, and lightly roasted whole shishito peppers all blended together until smooth. Now, I have some filling left over – I think a shrimp and batata frittata is in the offing for Sunday brunch.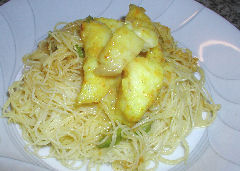 The national dish of Myanmar is a fish and rice vermicelli stew called mohinga. This isn't it, though it's inspired by it. I decided that a stew or soup just didn't fit the menu I wanted to do, but I liked the sound of the flavors. I ended up making two different versions the two nights – but first, the basics are that I coated the fish pieces (abadejo, or pollack in this case, though traditionally it would be catfish, not available here) in a mix of cornstarch, salt, and turmeric. It's served atop rice vermicelli, which are cooked by simply soaking them for five minutes in hot water with the heat turned off. The vermicelli were tossed with the sauce mixture and I added some slivered asparagus – the traditional dish uses green beans, but asparagus is in season here…
The first night I made the sauce by blending all the ingredients together until they were a smooth puree and then cooking them over low heat. The flavors took on an odd bitter note initially as the spices caramelized, and then smoothed out nicely, leaving a rich, dark sauce. The second night I decided just to try pre-cooking the onion and garlic to take the edge off their flavors and then blended them with the rest of the ingredients and left the sauce uncooked – just warming it when it was added to the vermicelli. I liked both versions – the former perhaps slightly more complex and deep in flavor, the latter brighter and sort of fresh and zippy – tough choice. The mixture was: 1 large white onion, 4 cloves of garlic, a 1″ knob of fresh ginger, 1 stalk of lemongrass, trimmed, 1 teaspoon Ancho chili powder, 1 teaspoon turmeric, 2 tablespoons of fish sauce, 2 tablespoons vegetable oil, and just enough water added as it blended to smooth it out. Great sauce on fish!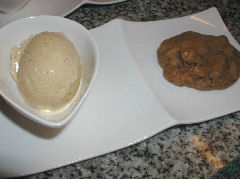 Off to China and a classic dessert combination of peanuts and five spice powder. The presentation obviously isn't traditional – a scoop of gelato and a good old norteamericano drop cookie. The gelato was made by heating 5 cups of milk and 2/3 cup of heavy cream with 2 cups of finely chopped peanuts, ½ cup of sugar, and 1 teaspoon of five spice powder until just simmering, then removing from the heat, covering, and letting it sit for an hour or so. I then mixed it with the eight beaten egg yolks and 4 tablespoons more of sugar, and cooked it over low heat until just before the egg begins to solidify – 175°F – or when it "coats the back of a spoon" without dripping off. After cooling and chilling, I ran it through the ice cream maker and there you have it. The cookies are an old southern recipe with just the addition of the five spice powder – beat 1 egg and 3/4 cup of dark brown sugar together until smooth, add ½ teaspoon baking soda, ¼ teaspoon salt, ½ teaspoon five spice powder, ¼ cup of peanut oil, 2 teaspoons vanilla extract, 1¼ cups of all purpose flower, and mix together well. Add 1 cup of roasted peanuts (without salt please…), and drop by the tablespoonful onto a greased baking sheet or silpat. Bake at 375°F for 10 minutes until done.
And there you have it, a meal fit for a Buddha…