"If it was pretty weather, Grandma fixed fried chicken for Sunday lunch. If it was rainy, with a little nip in the air, her family would more likely sit down after church to a plate of chicken fricassée over rice.

While Grandma wasn't French, she preferred using the fancy French name to describe this rustic chicken stew she often made for her extended family. It was a dish she knew that young and old alike enjoyed eating."

– Tommy C. Simmons, Associated Press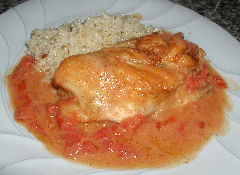 Buenos Aires – Fricassée refers both to a dish as well as a cooking method. A chicken fricassée is made by sauteeing the chicken in butter then stewing the meat along with vegetables until the liquid around it becomes a thick sauce. Maybe it's that spring is in the air here. I find myself delving more and more into the Paris Bistro Cookery book I mentioned a couple of weeks ago, and making my own adaptations. Who makes a fricasée? Who even knows what one is? Has anyone besides a character in a Bugs Bunny cartoon even used the word in the last half century? I can tell you, around these parts, it's going to start getting used a whole lot more!
Poulet en Fricasée à la Lyonnaise

Adapted from the recipe of bistro A l'Alliance, Paris

1 large frying chicken
3 plum tomatoes, seeded and chopped (you could also peel them if you like, I didn't)
2 tablespoons of olive oil
3 tablespoons butter
½ cup dry white wine
¼ cup heavy cream
1 tablespoon red wine vinegar
2 tablespoons of flour
salt and pepper

Cut the chicken into serving pieces and shake in a bag with the flour and a little salt and pepper until lightly coated. Heat the butter and oil (traditionally, a fricassee would be only butter, but I wanted to lighten it slightly – probably didn't make enough of a difference, but it makes me feel better about it) in a pan big enough to accommodate the pieces all in one layer. When hot, put the chicken in and fry to a golden brown on all sides. Then lower the heat to minimum, cover the pan, and let the chicken cook through – about 20 minutes.

Put the chopped tomatoes in a small saucepan and cook with just a pinch of salt to help them release their juices. Cook for 7-8 minutes. Remove from heat but keep them warm.

Back to chicken – remove the lid, add the vinegar around the edge of the pan to help deglaze the sides, add the wine, the tomatoes, and the cream. Mix the sauce ingredients together, leaving the chicken in the pan. Cover again, and simmer for about 9-10 minutes. The bit of flour from the chicken, along with the cream, will thicken the sauce nicely. Serve the chicken along with rice (I used brown rice here, the light nuttiness worked really well – and I'd flavored it with garlic and basil). Adjust the seasoning in the sauce and spoon around and/or over the chicken and rice.

I'd say that this serves 4, but it's so good that it probably only serves 2…