"Take a lesson from this old Parisian
And the finest entertainment she/he has known.
Folies Bergères
What a showing of color, costume, and dancing!
Not a moment in life could be more entrancing
Than an evening you spend aux Folies Bergères."

– lyrics from Folies Bergères
Buenos Aires – Being the 140th anniversary of the opening the Folies Bergères in Paris, how could we resist a little French bistro dinner here at Casa S? Not having been the site of any dining, there were no menus to look back at – it was a place to drink and watch. New York, briefly, had a Folies Bergères of its own that for an even briefer time was a supper club, but it was a bit of a disaster, and besides, based on the menus I found, not particularly interesting food. I decided instead to base the dinner on ideas from my last trip to Paris and dining at some of the more interesting and creative modern bistros.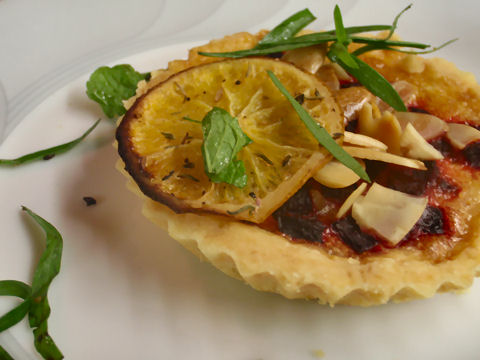 We began the evening with a beet, almond and orange tartlet – roasted the beets wrapped in foil with a couple of cloves of garlic, let them cool and diced them. Toasted the almond slivers. Made a custard of 1½ cups of heavy cream, warmed, infused with a teaspoon of thyme leaves and the grated peel of an orange. Let it cool, strained it, added the juice of the orange, then whisked it well with five whole eggs, ¼ cup of grated parmigiano, some salt and pepper. Made a tart crust – 400 grams cake flour, 360 grams cold butter, ½ teaspoon vinegar, 1 teaspoon each of sugar and salt. Lined tartlet pans, docked the dough, pre-baked them for about 7-8 minutes. Filled each with a mix of the beets and almonds, then poured the custard mixture in to just fill. Baked in the oven until set. Topped each with a thin slice of orange that had been dehydrated in the oven, drizzled with olive oil and sprinkled with salt, pepper, and thyme. Served warm with a little mixed herb salad scattered about (tarragon, parsley, mint).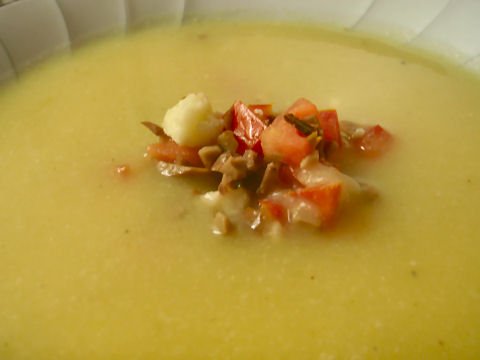 Inspired by a recipe from Country Living magazine, this turned out to be one of the best soups I think we've served in a long time – though I made a number of changes to the original recipe. I made a brown chicken stock first, then strained that over a coarsely chopped head of cauliflower, a couple of small fennel bulbs, a potato and a white onion. Added a couple of bay leaves and a half dozen threads of saffron. Simmered all that together until the vegetables were soft, pureed it and adjusted the seasoning with salt and white pepper. Made a small "salad" of chopped vine-ripened tomatoes, black olives, and crumbled goat cheese, which I piled in the center of the dish and then ladled the soup around.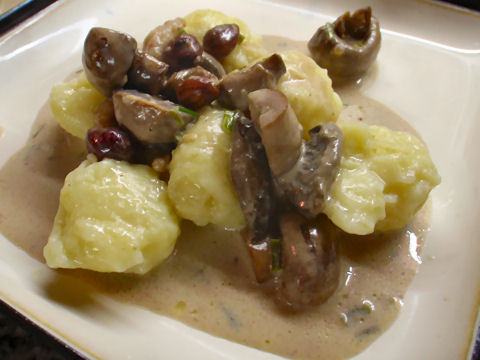 The surprising, and runaway hit of the evening – especially as, for the first time in our history of being open, I had half a dozen requests that more or less started with "ewwwww" and to have their gnocchi without the prime sauce ingredient, sweetbreads. By the time both nights of the dinners had rolled around, four of the six had been in BA long enough to have tried sweetbreads somewhere, and fallen in love with them, so they rescinded their requests, and the remaining two simply told me they'd give 'em a shot. Much easier on me than keeping two sauces going. The gnocchi, a simple recipe of three potatoes, boiled (skin on) until soft, then cooled enough to handle, the skins removed, and beaten together lightly with two cups of bread flour, two eggs, salt, pepper, and a whole head of soft, creamy, roasted garlic. Left to sit for a little while, then using a small melon ball scooper, scooped into boiling salted water and left to boil until they floated. Into a warm oven in a pan with a little olive oil to help prevent sticking (didn't use enought the first night and some of them clumped together) and kept hot.
The sauce – sauteed half a cup of hazelnuts and two tablespoons of grated horseradish in olive oil until lightly toasted, added half a pound each of halved white button mushrooms and small porcini, cooked until they were soft and starting to brown, added a cup of cream and a handful of chopped chives. Meanwhile… I'd poached sweetbreads in lightly vinegared vegetable water (in the next recipe I had to blanch and shock a bunch of vegetables, so I had this nicely vegetable flavored water… a light stock would work too), left them to cool, then broken them into pieces about the same size as the mushroom halves, coated them in cornstarch, salt and pepper, and fried them until golden brown. At the last minute before serving I mixed them into the cream sauce and ladled it over the gnocchi.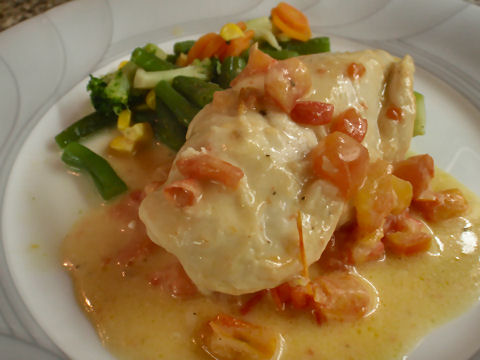 Originally I was going to make a classic blanquette de veau, veal stewed in a white sauce – the problem is, that veal here isn't a "white meat" – it's more like what we'd call baby beef, and in experimenting with it, it more or less screws up the dish – turning the sauce more of a soft brown color. Plus, the main vegetable in a blanquette is generally turnips, which simply aren't available here. So I decided on one of my favorite chicken dishes (which also handled three requests for a substitution for "red meat" – interestingly, all of them ate the sweetbreads…), a Fricasée. Served it alongside a panaché of vegetables – seperately blanched and shocked carrot slices, corn right off the cob, green beans, broccoli, and fresh peas out of the pod (then used the water to poach the sweetbreads, as noted above). About 10-15 minutes before serving, I took the cold vegetables and sauteed them in a pot with lots of butter and some salt and pepper.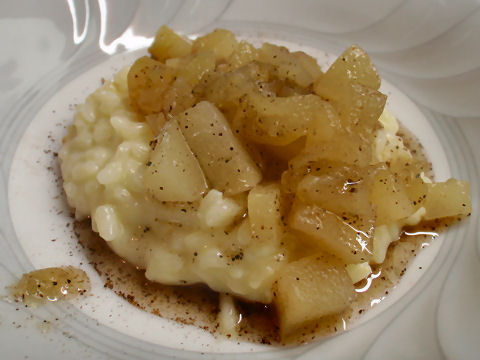 This was inspired by online co-food blogger Stephen at Stephencooks, though, I didn't follow his recipe too closely. I dissolved a half cup of sugar in a liter of milk and half a liter of water, warmed it up, and then proceeded to make a classic risotto using about a pound of carnaroli rice, after first lightly toasting the grains in butter. When the risotto reached the right creamy al dente stage, I stirred in two egg yolks. I made a simple compote of three diced pears and two diced green apples, cooked with half a cup of sugar, a teaspoon of cinnamon and a half teaspoon of cardamom – covered pot, low heat, cooked until soft, stirring occasionally. I dusted the bowls with a little cinnamon, then ladled a scoop of the finished risotto into the bottom and topped it with the warm compote (first night I reversed that, but didn't like the presentation as well).