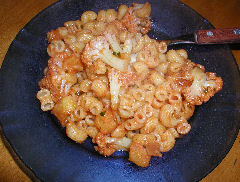 Buenos Aires – With most of the weekend pouring and/or drizzling rain, we spent a fair amount of it indoors. It's clearly moving into the type of weather for nice hearty pastas, stews, and soups, so I'll be experimenting more with those. With half a head of cauliflower left from the other day's Kuku, I decided to whip up a little pasta. Sticking with inspiration from the same new cookbook, Silk Road Cooking, which, by the way, I highly recommend, I started with their recipe for a cauliflower and potato curry and turned it into a pasta sauce. Henry "doesn't like" curry – he's quite sure. He's never eaten it, but he knows he wouldn't. Somehow, whenever I cook something with curry he loves it, but I don't press the point. He assures me this is one of the best pasta sauces I've ever made.
Cauliflower Curry Pasta

2 cups of cauliflower florets, broken up
1 large potato, peeled and diced
2 tablespoons of olive oil
2 tablespoons of butter
1 onion, sliced thin
2 cloves of garlic, chopped
¼ teaspoon of ground cumin
¼ teaspoon of ground coriander
¼ teaspoon of crushed mustard seeds
¼ teaspoon of cayenne pepper
¼ teaspoon of mild curry powder
½ teaspoon of black pepper
1 teaspoon of salt
1½ cups of tomato puree or crushed tomatoes

Saute the potatoes in the butter and oil for 5 minutes. Add the cauliflower, onions, and garlic and continue sauteeing for another five minutes, until the onions are translucent. Mix all the spices together and add to the pan, saute for 1-2 minutes to toast them and coat the vegetables well. You can substitute ½ teaspoon of spicy curry powder for the mild mixed with the cayenne. Add the tomato puree, bring just to a simmer, turn the heat to low, cover, and let simmer for 10-15 minutes to incoporate the flavors and cook the vegetables through. Add more salt if needed. Serve over pasta or rice.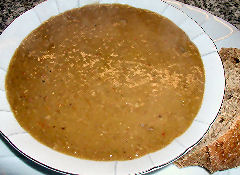 Last night just seemed like split pea soup night. I had a bag of split peas, and then I spotted a bag of lentils, there was some nice slab bacon in the refrigerator. Truthfully, that's enough, though there are a zillion additives one can come up with. In the end, the mix of split pea and lentil comes up with a strange greenish brown color, but it was delicious, so who cares? You can leave the legumes more or less "whole", or at least however they end up naturally, or you can partially or fully puree the soup – I use a hand blender and just do it partially, which helps thicken it nicely, but still leaves some substance to it. You could also make this recipe with all split peas or all lentils if you prefer.
Split Pea and Lentil Soup

2 thick slices of smoked slab bacon, ¼" dice
1 onion, chopped
4 garlic cloves, chopped
½ red bell pepper, chopped
1 teaspoon of mustard seeds, crushed
1 tablespoon of olive oil
1 tablespoon of butter

Saute the bacon over low heat until it just starts to turn golden and the fat is melting. Add the other ingredients and continue to saute until the onions have turned translucent. I don't add any salt at this point, there's enough in the bacon to help the vegetables render their liquid, and I'd rather adjust the salt at the end.

1½ cups of split peas
1½ cup of lentils
1 quart of beef stock
1 quart of vegetable stock
1 tablespoon of red wine vinegar

Assuming that you've got nice flavorful stocks, and you can change the combination as you prefer – all beef, all vegetable, chicken, whatever – you don't really need to add any other herbs or spices to this. I like the flavor of the crushed mustard seeds in this, so it's the only spice I add other than salt at the end. When the onion and bacon mixture is ready, add the peas and lentils, and stir to coat well with the oil. Saute for a few minutes. Then add the stock, if you need a little more, top it off with water. Bring to a boil, then reduce the heat to very low, cover and simmer for 2½-3 hours, stirring every 20 minutes or so. Add water if you need it. When the peas and lentils are soft and more or less falling apart, you can puree part or all of the soup, as I said, I just use a hand blender and do part of it. Add the vinegar, and adjust salt to taste. If your bacon isn't particularly smoky, you could use smoked salt, which I did, I ended up adding about a teaspoon of it to the final pot. Serve with good, hearty bread.