Buenos Aires – This is what would happen if you somehow managed to combine Dinah Shore and Rosemary Clooney. Then give the resulting being a small, bookstore-ish venue on The Love Boat. Voila! Donna Caroll. Does that sound like a horrible scenario? It wasn't. In fact, it was a delightful evening, something completely different from what I might normally do "culturally", yet somehow, that was the picture I came away with in my mind. Last night found my friend Michael and I at La Biblioteca Café, Marcelo T. de Alvear 1155, in the Centro area. Dinner and a show, a mere 45 pesos, and a promise from the reservationist that the food alone was worth the trip! "Riquisimo!" she informed Michael.
The venue – a small, coffeeshop-ish spot in a basement. Elegantly appointed, with lots of wood and glass bookcases and curio cabinets – filled with mostly paperback books (many in English) and arrays of antique liqueur glasses and teapots. Like many venues of this sort, the tables are lined up way too close – pack 'em in! A small stage at one end, and a teeny balcony above for the light/sound person to work. We were told to get there before 9, to get dinner started, and the show would begin at 9:30. We did, it didn't, beginning instead at about 10:15. However, since the kitchen and waitstaff completely stop working during the show, that was a good thing, as we would have probably not gotten to eat until after the show had it started on time. After all, it took 20 minutes after we arrived just to get a copy of the winelist and some water. There's no menu – the waitresses, 3 of them for a mere 40 people, a bit inefficient, though friendly, recite the day's offerings – a three course menu. Apologies for the photos – given that we were going to a show, I just took the phone for a camera rather than my digital.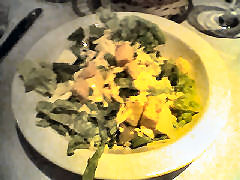 The only option for the first course was a Caesar Salad. I've certainly had far worse examples of the genre. This was, at least, a decent salad in its own right, even if it had little to do with what a caesar is. Chopped lettuce, green olives, hard boiled eggs, croutons, and shredded cheese that was definitely not parmesan – coming in a little closer to something like what I grew up on as "brick cheese", the whole thing tossed with a yellowish mayonnaise-y dressing. It wasn't overdressed, as many of them are here, and it was perfectly edible as a salad. Just not a Caesar.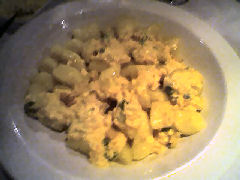 There were four offerings to be had for the main course. The goulash didn't sound like a great bet, and our waitress made a funny face about it when asked, even though insisting it was good. A vegetarian option of sauteed vegetables, too, didn't seem like a winner. I opted for the fish/pasta choice, which last night was gnocchi with salmon. I have to admit, the gnocchi were far better than I was expecting – light and delicate, cooked perfectly. The sauce, while simple, was tasty – it was basically a creamed puree of salmon, but it was spiced nicely. Possibly it could have used some herbs to perk it up slighlty, but it was really pretty good. A bit more of the same shredded cheese gave it a little more umph.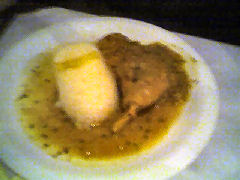 The clear star of the evening was the roast quarter chicken. It was flavorful and juicy, with tender meat, and an herb sauce that was loaded with tarragon. The accompanying rice timbale was fluffy and lightly flavored with chicken stock. All around, a really quite good version of roast chicken, especially given what some restaurants offer in that vein. We accompanied dinner with a nice bottle of Bodegas Lopez' Chateau Vieux 1998, a "field blend" of grapes that varies from year to year, but makes an easy drinking, lighter choice – especially since we wanted a red with chicken and fish…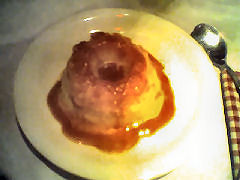 I've commented before on the bizarreness of what are called souffles here. I don't know how they became what they became here, but I have yet to see one that is anything like a French style classic souffle. The souffle de manzana that was one of the four dessert offerings (chocolate marquise, fruit and cheese, or ice cream being the others) seemed the most interesting nonetheless, though in retrospect it might have been good to try two different ones. But, two souffles it was. You can see from the photo that it looks like a mini-bundt cake. It's really more of, well, an applesauce jello mold (more or less like what the French might call a bavaroise), with probably some cream and/or eggs in the mix, and drizzled with a light apple flavored caramel. It was flavorful – very appley. But a souffle?
The show – enjoyable and amusing at the same time. A series of primarily Broadway showtunes, with a few older pop standards, belted out with much emotion. A couple of light tango songs – one of which she turned over to the audience, clearly an Argentine standard, as at least ¾ of the room was singing at the top of their lungs. Not pretty. Her accompanist on piano and guitar, Oscar Lopéz Ruiz (who is also her husband or longtime companion – 40 years), joined in on a few, including doing a passable Rex Harrison imitation for the My Fair Lady hit of I've Grown Accustomed to Your Face. Strangely, he seemed to take a break every few songs and the sound/light guy put on a tape of the music – I'm not sure why, none of them were songs that couldn't be played on piano or guitar. In the end, a fun show, as I said, something quite different. At the very least, this is a venue that I'll watch the schedule for, it's a nice way to relax.