New York – It's pretty amazing when a "restaurant" that has been open only a short time, and is only open for part of the year, becomes the standard against which things are judged. It's not really me who's doing it – every food pundit out there seems to want to find proof that a burger better than the one served at Shake Shack exists in Manhattan. It's not really that hard, there are probably dozens of burgers out there that are of higher quality, bigger, and more interesting than the Great Shaken One… I did like it, but wasn't wowed by it. And the eternal waiting in line is not my idea of a quick lunch. Nor even a leisurely one.
But I've been watching the various media and the recommendations for alternatives. Two seemed highly touted by various folk, so I put them on my list to check out at some point while I was here this time. I do, after all, like a good burger.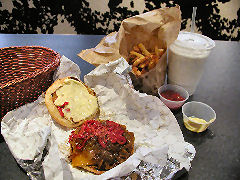 This, is the Zip Burger. It comes from Zip Burger at 300½ East 52nd Street. At Zip, according to their website, their supporters, and their signboards, it's all about the fresh ingredients. Personally, I think it's all about paying the real estate bills for their location. They don't have the sweetheart deal that Danny Meyer got in exchange for fixing up the park. They do have a burger of equal size – a mere four ounces – lost beneath the cheddar, piquillos, and vidalia onions here in my photo. They have lots of interesting toppings – gouda cheese? guacamole? anyone? They get expensive fast – some of the toppings are free, but many have an "up charge" as we call it in the restaurant biz. Want a different bun? A special cheese or sauce? A topping? That'll cost ya. Those twice cooked, hand-cut Belgian style fries would have benefited from a little less time in the fryer – many of them dark brown and rock hard, all of them salty enough to attract deer in from the woods. The milkshake, in Tahitian Vanilla or Belgian Chocolate, possibly the smallest milkshake I've ever seen. Was the burger good? Yes. But it costs more, and the accompaniments do too, than Shake Shack. Or possibly any other lunch counter in Manhattan. [Closed]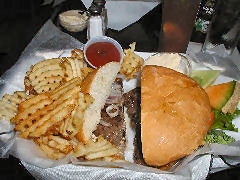 In a totally different vein, the sleek SoHo space of Bar 89, 89 Mercer, offers up a variety of sandwichy fare for the Sex and the City set. A strange, kayak-shaped motif runs through the room, from the bar to the skylight above, to the bannisters on the mezzanine staircase and the hovering chandelier in the dining room. Service was friendly and efficient. A selection of burgers is offered. We wanted to sample two, and our waitress without a blink offered to have the kitchen cut them in two and split them between our plates. The au poivre burger was the one that I'd heard much said about – it's a simply delicious burger, packed with flavor, lots of peppery red wine sauce, yum. The greek maiden was an odd sounding combo that we just had to try – feta cheese, black olives, and chopped mint – a damned fine combo as it turned out. The burgers are big, we nearly couldn't finish them, but gamely pushed our limits. The waffle cut fries are tasty, ketchup and mayo are served with them, no extra charges. A nice fruit and vegetable salad comes in the basket to act as counterpoint to the burger. It may not be the best burger in the city, but it's certainly up there, and I didn't feel ripped off when I left.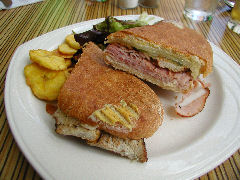 Yes, I know that's not a burger. It's a Cuban sandwich. Touted by some as Manhattan's new, best Cuban sandwich. It's delicious. Packed with roast pork, slices of ham, pickles, mustard, and swiss cheese. Is it the best in the city? No idea. There are other places to check out. But this one, a worthy contender, is available at the newly renovated and reopened (it needed a facelift, well, a whole makeover, after 75 years of continuous operation), Green Kitchen, 1477 First Avenue, at 77th Street. The kitchen is no longer green, though the uniforms and menus are, and this is certainly an UES coffee shop worth dropping in on.