New York City – The name Danny Meyer is probably familiar to most foodies, for those who don't know him, he's the owner and moving force behind numerous popular restaurants in NYC, notably places like Union Square Cafe, Gramercy Park, Tabla and 11 Madison Park. A year or two ago his team came up with the concept for a somewhat fancy hot dog stand in Madison Square Park, near the latter two restaurants. The idea was, as I understood it, to serve hot dogs different from the ubiquitous New York Sabret's dog – things like a Chicago style, or with offbeat condiments. I was never quite clear on the concept, and hot dogs not being one of my favorite foods, never ventured that way.
Well, times being what they were, hot dog vendors who had operated carts around the perimeter of the park objected to the Parks' Department allowing this "upstart" to come in and take away their livelihood. Danny being a pretty cool guy and all that, decided to go a different route. Sort of. First off, his restaurant group donated a huge amount of money for the restoration and beautification of Madison Square Park (which, for those who don't know, is roughly Broadway to Madison, and East 23rd Street to 26th Street).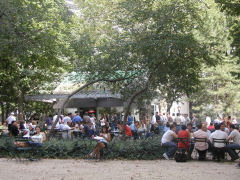 The little catch was, that some portion of that money had to be used to build a small restaurant (actually a kitchen with service counters) in the center of the park for his use. He altered the concept somewhat, featuring primarily burgers and milkshakes, but didn't elminate the hot dogs, and called the place Shake Shack. I have to admit, I didn't see any hot dog vendors around the perimeter of the park today.
My friend John thought it'd be fun to check the place out, several foodies and chefs we know had sworn to him various things that seemed to indicate some sort of life changing experience. It's definitely an experience.
It was 2 p.m., and there was a line. Not a short line, a real one. We waited a bit over 15 minutes just to get to the ordering window. We placed our orders and were handed tickets and told to go to the other side of the building and wait until our names were called. Numerous people were milling about, some of them patiently waiting and chatting with friends, others darting up to the window now and again and asking if there was some chance that their food was ready. Twenty minutes went by before we were called… well actually, John was, I had another five minute wait for mine. Orders seemed to be called out somewhat at random… but then again, there was that big notice that said something like "orders that don't involve cooking a burger will come out much faster." Okay, yes, I suppose if all I wanted was a milkshake, that might make sense, and this is the Shake Shack… The intent of the statement was further clarified by assuring us that this was "not fast food" and therefore was, umm, not fast. Off we went to find ourselves a table in the park, many of which were occupied by folks who were just using them as places to sit, or to read, even though they're supposedly for customer use only.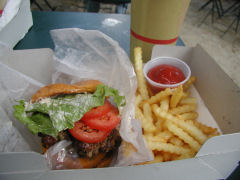 Now, as to the burger, wrapped loosely in waxed paper… I'd ordered one of the specialties – the "Shack Stack." This is a triple "burger" – actually just taking three of their smaller burgers (standard burger size at the Shake Shack, a mere 4 ounces of beef, pre-cooked weight), and stacking them. So I got, on one bun, a plain hamburger, a "Shack Burger" (hamburger with "special sauce"), and a "Shroom Burger" (a portabello cap stuffed with cheese, dipped in breadcrumbs, and deep-fried), all topped with a slice of lettuce and a half dozen small slices of tomato. Despite the $8 and change cost, fries are extra ($2 and change for a small cup of crinkle cuts). A chocolate milkshake, which someone had assured me contained seven different specialty chocolates… "including Valrhona!"
I will say that the burger was quite good. John felt the same way about his double cheeseburger. The fries were decent, though not great. The milkshakes were really, really good. I won't swear to seven different kinds of chocolate, nor to whether they used top quality production like Valrhona, but it was a damned good shake. Next time, maybe I can skip through the process faster and oh yeah, not involve cooking a burger….