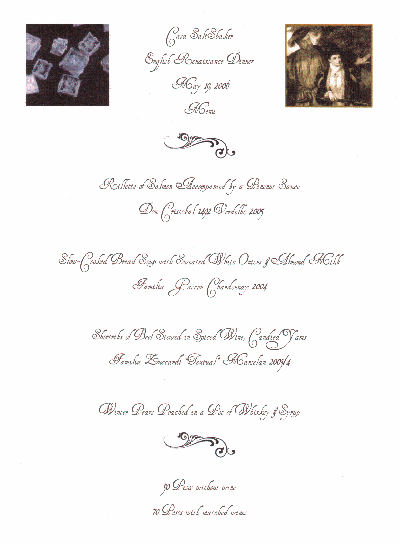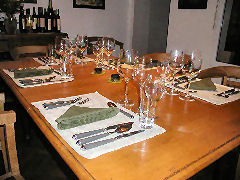 Buenos Aires – It was bound to happen sooner or later. In fact, I'm sure that at some point, we'll have one of these dinners and no one will reserve. As I mentioned a day or two ago, we thought we were nearly "sold out" for this last Friday, but then, on Wednesday afternoon, a group of six cancelled, as well as another couple. That left us with three people coming, one of whom was a food writer for the LA Times who happened to be in town and whom I'd met at a wine tasting last week. Two friends of friends of Henry's had called him wanting to come and we hadn't had room for them, and luckily they were still available last minute to join the dinner. Small but intimate!
The theme this time was the English Renaissance – it was the 470th anniversary of the decapitation of Anne Boleyn, and she was such a peach, you know? I just felt I had to come up with some sort of tribute to her, especially since she was quite famous in her time for the lavish dinner parties that she organized for she and King Henry VIII. So I did a bit of research into some classic dishes from the period, and decided to use them purely as inspiration for my own dishes. I also wasn't about to do a dozen or more courses that lasted for hours and took days to cook.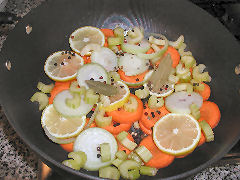 First up, our "demo" for the week, Salmon Rillette Accompanied by a Pinenut Sauce. I'd found several references and recipes to salmon and pinenut tarts, which apparently were quite popular. I have the feeling that these were sort of large fish pies of some sort or another, and initially I thought about doing this as the second course, after the soup, and doing small individual tarts. Then, inspiration struck – I used to make a great salmon rillette, many moons ago, when I worked at Mondrian in New York. We served it as an hors d'oeuvre, and I decided to make it a cold, or room temperature, first course. Traditionally, a rillette is pork, rabbit, or some sort of poultry, cooked in lard at low temperature until it is soft, but cooked through – almost like a confit, then it's pounded into a smooth paste along with the lard, put into small dishes, chilled, and served.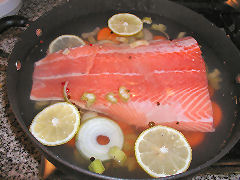 For the salmon version, I poach the salmon in a court bouillon, which is a classic method of poaching fish that gives a smooth, silky texture, and infuses the meat with lots of aromatic flavors. It's an easy thing to make – slices of carrot, onions, and a lemon, chopped celery, a tablespoon of peppercorns, two tablespoons of salt, a couple of bay leaves go into a pot. Top it off some white wine and water – I had half a bottle of a wine I'd opened the night before, so used that, and essentially enough water to cover the various veggies and herbs, and the fillet of salmon. I like to start it off cold, with the salmon in the court bouillon, and bring it to a simmer over very low heat –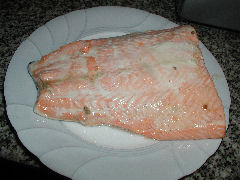 essentially as low as the flame will go. It takes a couple of hours that way, but I think the result is superior to slipping the fish into simmering poaching liquid (which is the traditional method) – much smoother and silkier, and the flavors are infused better. I let the salmon cook through – once the temperature reaches a bare simmer I let it cook for about twenty minutes more. Then, removed from the heat and let it all cool together, the fish will absorb even more flavor. Then, I mash it with a fork, and add the other ingredients to get the texture and flavor I want. For a bit under two pounds of salmon I used roughly four ounces of butter (two sticks), softened, probably ¾ cup of cream, the juice of one lemon,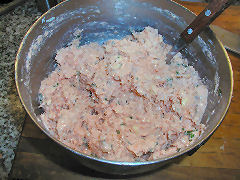 a tablespoon each of chopped chives and tarragon, ½ teaspoon of white pepper, and salt to taste.
I wanted to stay with the pinenut combination, but decided to make it a sauce to drizzle over the rillette. This was a bit of playing with the texture and flavor as well, but basically was a puree of ¾ cup of pinenuts, dry toasted in a frying pan until lightly browned, a bunch of pieces of the local equivalent of zwieback toast – you know, those little whole grain crackers – so any good whole grain toast cracker will do – I think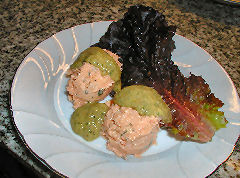 I ended up adding eight of them to the mixture to get the texture I wanted, 1 garlic clove, ¼ cup of chopped fresh parsley, a tablespoon of melted butter, and the peel of half a lemon. I gradually added to the mixture as it pureed a bit over a cup of vegetable stock – I should have used the leftover court bouillon, but I didn't think of it before I tossed it – I think that would have added to the flavor – essentially until I had a thick sauce. The rillette was served in scoops on a nice leaf of red oak lettuce, at room temperature, and topped with the sauce, which I warmed slightly.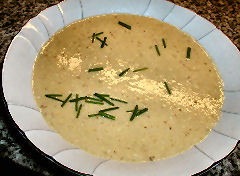 Next up was a traditional onion soup, in the Renaissance period, apparently very popular made with almond milk. It seemed a nice segue on last week's use of almond milk as well, an ingredient I don't use often, but normally made by pureeing raw almonds in water, then letting them sit for an hour or two to infuse the flavor into the water, and then typically straining the liquid. Now, I can't claim credit for this recipe. At least not in its basics. It happened purely by chance that Pim, over at Chez Pim, just posted a recipe for a bread soup that she made more or less following Paul Bocuse's recipe for panade, a classic French bread and onion soup. That sounded perfect as the basis for my soup. So, she made minor modifications to his recipe, and I made really just one minor one to hers – the almonds. And I did it simply, I pureed the almonds into the milk that gets added to the soup, and I decided not to strain it. Other than that, the soup is pretty much a classic panade. To quote Pim, since I can't say it any better myself, "There you have it, a heavenly bowl of smooth and ever so creamy bread soup. The flavors are pure, yet far from simplistic. And they don't get there by accident. This soup begins with great ingredients that are cooked slowly and with care to let the flavors develop to the fullest."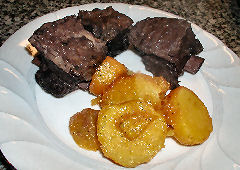 For the main course, one of the Anne Boleyn faves was racks of shortribs stewed in "spiced wine". That left so many possibilities I didn't know where to begin. But, in the end, I went simple, with the flavors that I like to work with. I stewed individual pieces of ribs cut from an asado rack, so they're about 2½-3″ long, in a mixture of a couple of liters of red wine, along with four of the five spices used in Chinese five-spice mixture – a couple of cinnamon sticks, about two teaspoons of cloves, a tablespoon of szechuan peppercorns, and a tablespoon of fennel seed. I stewed them over low heat for about 6-7 hours, to let the flavors infuse and the meat tenderize. I think the only thing I'd do differently is in the presentation. Here I just scooped the ribs out onto a plate. I think I'd trim them, maybe even remove the meat from the bone, and cut it into neat rectangles. Not fancy, but a little less blah in the look. I accompanied the ribs with the candied yam recipe that I sort of, more or less, got from a chef in Uruguay – in this case I reduced a bottle of unoaked semillon that I had at hand until it was about one cup of liquid, added half a cup each of white sugar, brown sugar, and honey, which I continued cooking until it began to caramelize, then I added a half cup of orange juice and a tablespoon of dijon mustard, salt and black pepper to taste (careful, caramel is very hot to taste!). I continued cooking it for just a minute or two to let the flavors blend in. Then I set it aside until later. The yams, or batatas, were cooked in their skins until cooked through but still firm. They were immediately cooled to stop the cooking process, then peeled and sliced into half-inch thick slices. I then cooked them in the caramel mixture until it had thickened and coated them and lightly crisped on the edges.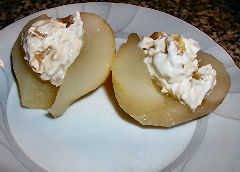 The dessert was inspired by the various poached fruits that king and queen liked to serve. This is a recipe I've been making for years, just inspired by flavors that I personally like with pears. Peel and core the pears, and put them in a pot with half a bottle of bourbon (I had the local imitation of Jack Daniels to work with, not quite the depth of flavor I'd have liked, but it worked), and an equivalent amount of maple syrup (also a local imitation, such is life here), two tablespoons of vanilla extract, and water to cover. Poach slowly until the pears are tender but not falling apart. Let them cool in the liquid, then later cut them in half and fill with a mixture of a creamy cheese, in this case ricotta, though usually I use mascarpone, sweetened with brown sugar and some finely chopped dried pears (they'll absorb liquid from the cheese as the mixture sits for a couple of hours in the refrigerator).
All in all, a lot of slow cooking – poached salmon, sweated onions, stewed ribs, and poached pears. But very easy to make all around – and since things are cooking slowly on their own once you start them, you can get all sorts of other things done during the day! Food-wise, this was one of my personal favorite dinners so far – all the components seemed to come together well. Also, following on several suggestions from various guests, I offered the option of paired wines rather than the "wine list", though, I think that I'll probably offer both options in the future.
Don Cristobal 1492 Verdelho 2005 – a bright, vibrant Verdelho, that I've been enjoying since first trying it almost a year ago. I thought it would match quite well with the salmon rillette. A couple of guests thought it seemed a touch sweet with the salmon, but I think maybe it was just such a different flavor than they were expecting – as it has no residual sugar in it.
Familia Gascon Chardonnay 2004 – I was looking for a good weight, lightly oaked Chardonnay to go with this dish. I thought it would play up well against the depth of flavor in the soup, and it did. For my personal tastes, perhaps a touch oakier than I like to drink on its own, but balanced against the soup it worked quite well.
Familia Zuccardi Textual Marselan 2003/4 – Marselan is a crossbred grape from Grenache Noir and Cabernet Sauvignon that Zuccardi is experimenting with in their Textual line of "innovations". It's also a wine that is blended from two vintages, which gives the advantage of some freshness from one year and more depth from one year with some age on it. I thought it worked excellently with the shortribs.