"A great step towards independence is a good humored stomach."

– Seneca, Roman philosopher
Buenos Aires – Growing up, 4th of July was always one of my favorite holidays. It was the evening picnic in the park followed by a fireworks show at dusk. It was just something magical, and to this day I love watching fireworks. Amazingly, most of my friends seem not to – you'd think I'd have included this among the criteria, no? Still, as I look back over my four years here, I haven't exactly gone out of my way to participate in Independence Day activities – not that they're numerous, but they do exist here within the expat community… last year, 2008, I spend the morning and early afternoon on a wine tasting panel, then I think Henry and I went out to dinner; 2007 I had lunch with my friend Jerry, who was visiting from Canada, at Teatriz, spending way too much, and then I think Henry and I headed off to the movies in the evening; 2006 I had lunch at Mítico Sur, checking out little Patagonian tapeos, and though I noted on the blog I was trying to decide which expat event to go to, I know I never went to one; and 2005 I'd literally arrived 48 hours earlier and Henry and I were still really getting to re-know each other after quite a few months apart… we likely didn't leave the apartment.
So this year, what to do? The 4th fell on a Saturday, part of our weekly dinner schedule, and Thursday and Friday we were planning on our Palio dinners that I just wrote up, keeping Saturday as a possible third night. Some friends who lived here for a couple of years and have now moved back to the States were down for a couple of weeks, and wanted to have a big dinner, asking if they could have it here. Why not? Only they wanted a French dinner – classic brasserie sort of fare – dishes that I haven't cooked since I went to cooking school to refine my cooking skills, 18 years ago. Why? Well, the male half of the couple had gotten into cooking while down here, and it turns out, partially due to something I wrote up back in September of 2006 in a review of the French brasserie, Rabelais:
And that's what he wanted – those three dishes. We had a bit of back and forth discussion – the latter two dishes being ones that in general I'm neither fond of nor, as noted, have I cooked them in a very long time. But then, I experiment with cooking every week, so why not treat this as an experiment? I relented, and added in a couple of other dishes to round out the menu.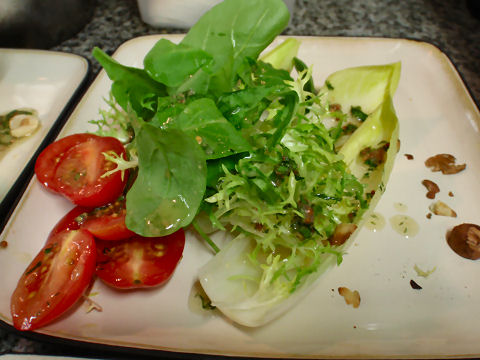 First up, the salad and vinaigrette – the salad a "composed" one, of endive, frisee and arugula, garnished with some toasted hazelnuts and cherry tomatoes, and a solid, basic vinaigrette – half olive oil and half neutral oil, good red wine vinegar, a dab of dijon mustard, salt and pepper, and some finely chopped parsley, tarragon and dill added at the last moment.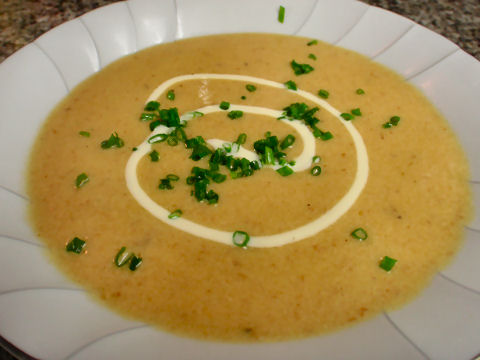 From there, moving on to a soup – I'd considered going with a classic "French Onion Soup", that ubiquitous brasserie dish with slow cooked onions, good veal broth, and topped with gruyere – but was simply in the mood to revive the panade that I'm a fan of. I've refined it a bit over the last couple of years to give it my own touches, but it basically remains pretty true to the original recipe.
Next up, caramelized sweetbreads with honey and spices, a dish I've made quite a few times and which the hosts had tried and really liked – the photo didn't come out well, but you've seen it before. The biggest difference is that, having gone back to the restaurant where I got the idea, I've added in some cracked coriander and fennel seed along with the black pepper.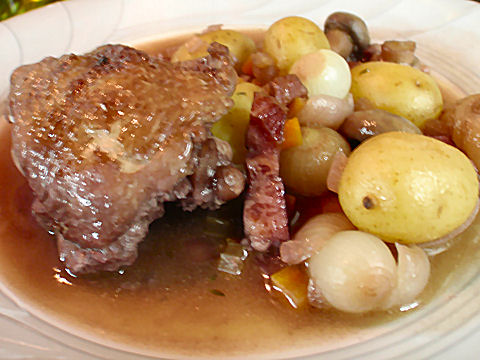 Sorry about the photo, this was the best of several – I must have been shaking with anticipation. Or something. As I said, I haven't made coq au vin in about 18 years, and this required a trip back through my cooking school notes, along with some ideas I'd jotted down at the time – as I said, it's not a favorite dish, so even then I felt like it needed something to boost the flavors – then again, I doubt that anything I did hasn't been done before….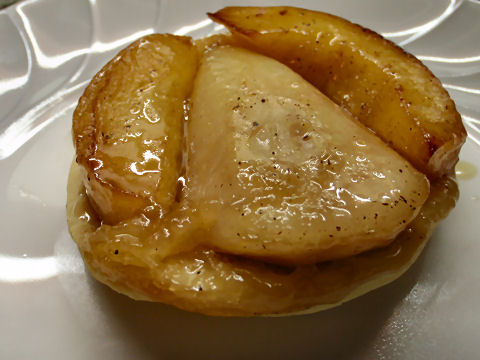 I do like puff pastry and working with it, and it's one of the things not available here that I miss having easy access to. I'm also not overly fond of making my own, but, if I was going to do a tarte tatin right, I may as well make it. I went with the "express" version as it tends to be called, which comes out a bit more like a very flaky shortcrust than a full puff crust, but I tend to like that version better anyway (and, the original tarte tatins were actually made with shortcrust, not puff pastry, by the Tatin sisters). I decided on a mixed fruit version – quince, apple and pear. I peeled and cored all the fruit and cut it into sections of roughly equal size. I cooked them separately, they take different lengths of time to cook, in a bit of butter, cinnamon, cloves and vanilla, until they were lightly golden and cooked through but not falling apart. I made a straightforward caramel with sugar and a splash of water to help it dissolve, and then when it reached the light to medium caramel stage, whisked in some cold butter. I ladled that into individual cazeulita dishes, or ramekins, placed one piece of each type of fruit in, fitting them in to cover the bottom. Rolled out the pastry dough, cut it in rounds that just barely fit inside the dishes and tucked it in slightly around the edges of the fruit. Into a hot oven for about 15 minutes, flipped them out onto plates, and served.
Next year, fireworks and maybe a hamburger cookout!