Buenos Aires – One would think that the "go-to" folk for Indian food in India would be the Indians (or, Hindus, as they're referred to inaccurately here). After all, who better to open up restaurants serving cuisine of that region, knowing what's what, and all the who, where, why, when, and how information you might need. Apparently, based on my friend from India's interactions with the local community, there are about 75 of them in all of Buenos Aires, if that, and while the two main Indian restaurants here serve decent food, they're both quite pricey for what you get. But of course, I'd forgotten about the British Empire. They ran India for many years, and brought back a taste for many things Indian. Plus a great thirst for gin and tonics. So when Brit friend Matt recommended a new Indian place that had just opened (January 15, 2006 according to our waitress), it immediately went on my list.
A quick internet search for Bangalore, Humboldt 1416, right at the intersection of barrios Palermo Viejo, Villa Crespo, and Chacarita), reveals, well, not much. Gridskipper posted a paragraph about it being a bit of welcome nostalgia for expat Londoners, referring to it as an English-pub-style Indian curry house. Argybargy, soon to be new friends Ollie and Emma's blog (they're coming to our opening dinner tonight), talked about Brick Lane regular classics and the kind of dark, water-front pub you'd expect to find in Wapping thirty years ago. I have no firsthand idea what Brick Lane or Wapping are, other than apparently places or states of being in or around London, so I'm just going to have to forge ahead from a non-Brit-expat's point of view. When you enter the ground level you are greeted by a big wraparound bar, a couple of dozen seats, all in very dark wood, dimly lit, TV playing soccer mounted on the wall, and, lo-and-behold, a lineup of beer taps! Hey, pretty much just what I think of as an English Pub. Probably from Wapping thirty years ago, though to me it reminded me of the one my friend Christopher took me to in Greenwich a mere twenty ago. We had ale and steak and kidney pie.
Brick Lane is so named because in the Middle Ages it was a centre of brick and tile manufacturing. It became a popular destination for Huguenot immigrants to set up their silk weaving businesses, and in 1724 Ben Truman opened the Black Eagle Brewery. Unfortunately, by the 19th century the area was massively over-populated and squalid. Jack the Ripper roamed the adjacent streets, and many of his victims lived in the area. In the 20th century the area became home to Bangladeshi immigrants, who arrived as seamen in the 20s, 30s and 40s. Their cooking skills were immediately put to use, and the first wave of curry shops hit the UK.

—

Perhaps Wapping's greatest attraction is the Thames foreshore itself, and the venerable public houses that face onto it. A number of the old 'stairs', such as Wapping Old Stairs and Pelican Stairs give public access to a littoral zone (for the Thames is tidal at this point) littered with flotsam, jetsam and fragments of old dock installations. Understandably it is popular with amateur archaeologists and treasure hunters – it is surprisingly easy for even a casual visitor to pick up a centuries-old shard of pottery here. Three venerable public houses offer much-needed refreshment after these expeditions, both conveniently located by stairs. By Pelican Stairs is the Prospect of Whitby, which makes the much-disputed claim to be the oldest Thames-side pub still in existence. Be that as it may, there has been an inn on the site since the reign of Henry VIII, and this is certainly one of the most famous pubs in London.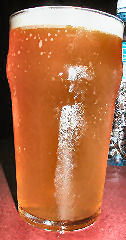 The taps, by the way, offer a selection of the usual beers found here, plus, and of great importance for those who want something less water-like than Budweiser or Quilmes, locally made cider and three kinds of ale (English Bitter (pictured), Cask Ale, and Stout), courtesy of Pilar based brewing company Stones. In the bar, there are two menus offered. The first, a basic bar menu – burgers, wraps, sandwiches, fries – all the sorts of things one needs for an afternoon out with the hooligans soccer buddies watching Tottenham play West Ham or Birmingham (note how artfully I included "ham" references for my food blog), and no doubt all being beaten by Wigan (I just liked the name). The second menu is the "Indian curry house" portion, available both in the bar, or, as we chose to do, proceeding upstairs to the low-ceilinged, low-tabled, and even lower-seated dining area. This area is done up in various reddish and gold-ish fabrics and clearly meant to evoke something Indian. The seats, particularly the banquettes, are quite low (that doesn't include the one table in the corner where you sit on pillows around a coffee table), even for someone like myself at 5'6″. Michael's over 6′, he clearly wasn't comfortable. It's also a little oddly designed, because at tables that have folding wooden chairs facing them, the reverse problem occurs, those chairs are normal height, but the tables are low, so people's knees weren't quite fitting under them, plus they were sitting a couple of inches higher than their dining companions.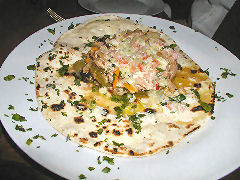 Bangalore doesn't offer a huge menu – four appetizers, four vegetarian entees, and six meat entrees, but all I guess what would fit the definition of those Brick Lane regular classics. Our waitress, who spoke fluent Spanish and English, asserted strongly that for two people, we didn't want two appetizers and two main courses. Maximum of three in combination, and recommended two appetizers and one main course. We were hungry, so we flipped it around, and she turned out to be right, we couldn't quite finish one appetizer and two main courses. But then, we also ordered a pile of extra bread. This dish sounded the most interesting, and was the star of the evening, atún jalfrezzi, or Tuna Jalfrezi, a style of dish that variously seems attributed to either Pakistan or the Goa part of India (west coast, beach resort) – for the purposes of Bangalore, I'll go with the latter, since a couple of the other dishes on the menu claim Goan derivation. First off, the dish had some spice. It was a nicely grilled chapati bread, topped with a diced mixture of tuna, peppers, and onions, and seasoned with coriander, cumin, citrus, and chilies, at the very least. Really delicious!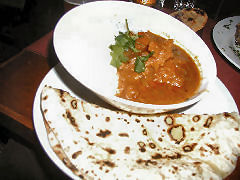 Matt had strongly recommended the pumpkin curry, one of the vegetarian dishes. What arrived was another huge chapati, once again nicely smoky from the grill, with a large bowl filled half and half with rice and a nicely stewed dish of squash (we U.S. types think of pumpkin as those jack-o-latern type round orange thingies, not as a general moniker for any member of the family). Interestingly, the tuna dish had only one "chili pepper" symbol next to its name but was quite spicy, while this had two, and was not. It was sweet, mildly curry-ish, with just a hint of heat in the background. Still, it was quite good. And later, our waitress said that the only really spicy main courses were the beef vindaloo and chicken masala, both of which have three chilies next to them.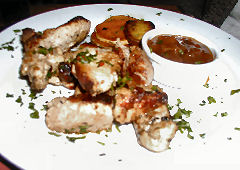 He'd also recommended the Goan Grilled Pork. A large platter of juicy pork, smoky and grilled with a touch of ginger would be my guess, served with a bit overly sweet tamarind and onion sauce arrived at the table. Delicious, though I might have liked the sauce with either a little fire in it or at least something a touch sour to balance it. There was definitely plenty of food to go around. We also ordered a stack of nan bread and raita which turned out to be the only real disappointment of the evening. I think of nan as something cooked on a very hot grill which crisps it on the outside and gives it a little bit of puffiness – kind of like a pita. These were flavorful, but doughy and dense, kind of like a latke left sitting in the oil. In fact, they were pretty greasy too – it was almost as if they'd been cooked in oil rather than on a grill, and oil that was too low in temperature. The raita, too, was a thin, watery mix of diced cucumber and onion with a vaguely yogurt flavor. Ah well, everything else was great, and though it may not get as fancy as the other mainstays of Indian cooking in Buenos Aires, the food is clearly better, more interesting, and fairly priced. Next time, we'll sit in the bar.