How lush, how loose, the uninhibited squash is.
If ever hearts (and these immoderate leaves
Are vegetable hearts) were worn on sleeves,
The squash's are. In green the squash vine gushes.

The flowers are cornucopias of summer,
Briefly exuberant and cheaply golden.
And if they make a show of being hidden,
Are open promiscuously to every comer.

Let the squash be what it was doomed to be
By the old Gardener with the shrewd green thumb.
Let it expand and sprawl, defenceless, dumb.
But let me be the fiber-disciplined tree

Whose leaf (with something to say in wind) is small,
Reduced to the ingenuity of a green splinter
Sharp to defy or fraternize with winter,
Or if not that, prepared in fall to fall.

Robert Francis, Squash in Blossom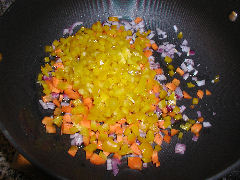 Buenos Aires – I get regular e-mails from a website called Care2 that's all about various little things like making a difference on the planet through your actions. Some of it I can get into, some of it I can't, but it's always an interesting read. They also regularly include recipes, generally vegetarian. I have to admit I rarely find their choices to be intriguing, though now and again they at least inspire me to try something, or use a part of a recipe (my roasted strawberry cheesecake was inspired by one of their missives). A few days ago they include a recipe for Acorn Squash and Red Lentils with Toasted Walnuts that had been "adapted" from a vegetarian cookbook.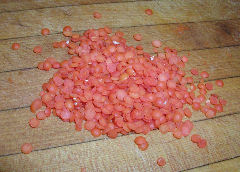 As it happened, I had a bag of beautiful red lentils that I'd picked up on a recent trip out to Casa Polti, a great source of various spices, herbs, grains, and the like. They'd just been so pretty I couldn't resist getting some. So when I saw "red lentils" in the title… I thought… well… a shame there's no acorn squash in the house. But the corner market had some nice ripe butternut squash (here called zapallo coreano, or Korean squash), and that makes a decent substitute. I pretty much followed the recipe as presented, other than the squash substitution and I had yellow bell peppers rather than red.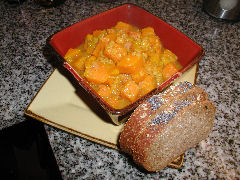 So, in the end, the dish is very much in the yelllow-orange color spectrum. Red lentils lose their color almost immediately when you cook them, a shame, in my view. And no red peppers to give a dark contrast to the dish. Henry's not a fan of nuts on dishes so I left the walnuts off. This comes out as a rather good squash curry – definitely topping the one we tried not all that long ago at Bangalore. On the other hand, the one there takes minimal effort, just order and eat. Not that this one is difficult, other than the cooking time, left unattended in a covered saucepan, this only took about 10-15 minutes to throw together.
Butternut Squash and Red Lentil Curry

1 tablespoon olive oil
1 yellow bell pepper, diced
1 carrot, diced
1 large red onion, chopped
1 tablespoon curry powder
2½ cups vegetable stock
¾ cup Torrontés or other aromatic white wine
1 butternut squash, peeled, seeded, and diced
¾ cup red lentils
salt and black pepper to taste

Saute the pepper, carrot, and onion in the oil until soft, about 10 minutes. Add the curry powder and stir to coat and lightly toast the spices. Add the wine, stock, squash, and lentils and turn up the heat to high until it comes to a boil, then cover and reduce the heat to low. Let the stew simmer 20-25 minutes until the squash is soft, but not falling apart. You may need slightly more or less liquid – you only want enough to cover the vegetables – it really just depends on how big the squash was. Salt and pepper to taste. Serves 4.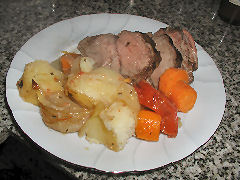 I've gotten a couple of e-mails asking why I'm putting so much time into vegetarian things… have I gone over to the dark side? No, the restaurant reviews are because I'm working on an article about vegetarian dining options in the city. I've also been trying to lose a little weight. So it all comes together. But, no… and the following night, after spotting an on-sale roast beef in the grocery store, saw some good ole all American, so to speak, cooking – a big platter of roast beef with all the good roasted vegetables – potatoes, carrots, tomatoes, and onions – tucked in at its side and slow cooked until it was just juicy and pink on the inside and all nice and caramelized on the outside…