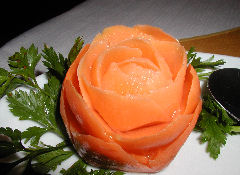 Buenos Aires – As anyone who eats a lot of Chinese food knows, there's a big difference in the "plating style" between most Chinese (and many other Asian cuisines) food, and most Western food. Chinese dishes tend towards food that's already cut into bite-sized pieces, saving the need of a knife, making the use of chopsticks easier (discounting those of you who think chopsticks are the devil's work and just can't get the hang of them), and, often meaning presentations that are essentially heaps of jumbled food. The "pretty" comes from the mix of colors, and also from the touches of decoration that often surround the food, but aren't necessarily meant to be eaten. Western food often goes to the opposite extreme – food is served in large portions, requiring surgical portioning on your own plate using knife and fork, and is, especially these days, often presented so that the main component of the dish is the part made to look pretty. There's an old rule in Western style cooking of not putting anything on the plate that isn't meant to be eaten. My experience with Chinese restaurants here has been the lesser of both worlds – food cut up and ready to eat, heaped on the plate, and nothing to pretty it up. I was quite happy to have this carrot rose on my plate yesterday. It brought a smile to my face.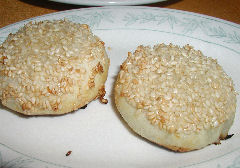 Victor and I were eating at Shi Yuan, Tagle 2531, here in Barrio Norte [This place closed in late 2014. The owners/chef reopened a new place called Beijing, in Palermo.], a place he's been telling me about for months and somehow we never got to. He eats there on a regular basis, enough so that they welcome him by name when he walks in. No mean feat in a Chinese restaurant, where a large percentage of the customers are Chinese, and which looks like it could be in the heart of Chinatown, Anywhere. Brightly lit, tables divided into sections by low wooden rails (I see that in many Chinese restaurants around the world and think… hmm… does it really make the sections feel more private? Isn't it just a waste of space? Who knows, but it's common enough that I think of it as a classic Chinese restaurant design). There's a small rock waterfall near the entrance, various colorful knickknacks hanging here and there, a fan of peacock feathers filling a large part of one wall, and Chinese Opera music playing in the background.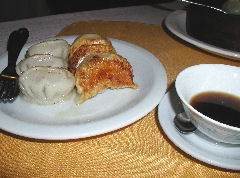 We started off with a selection of appetizers. A couple of Tarta de Nabo or turnip cakes – sesame crusted buns filled with a mix of tender turnip mixed with turnip greens, and spiced with an elusive mix of sesame oil, soy, and something else that I couldn't quite get. Really quite good, and I've mentioned before that I like turnips and have been steadily disappointed by the tasteless, watery presentations of them here. I could go back for a plate of these – and at 1 peso, they're hard to beat! Victor asserted that the Empanadas Chinas a la Plancha, or potstickers, at Shi Yuan are the best in the city, and I'd be hard pressed to disagree with him. Not that I have any reason I'd want to. Filled with pork, ginger, and scallions, and cooked perfectly so that they weren't greasy at all, and served up with an excellent soy and vinegar dipping sauce.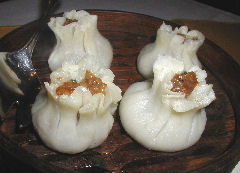 After potstickers, shui mai are probably my favorite Chinese appetizer. These, unfortunately, were a trifle disappointing. The flavor is there – backed with a mix of ground meat, vegetables, and spices, but the texture was off. The dough was slightly too thick, and had a chewy quality to it as a result, and the filling, despite having just been steamed, was dried out and a little cakey. I can't imagine that they'd be like that freshly made, and can only assume that these were leftover from a day or two before. What a shame in an otherwise delightful lunch!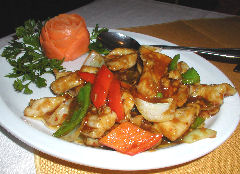 Ahh, a rose is a rose is a… and we get to my lovely plate with the carrot rose. I'd wanted to order a plate of one of the half-dozen eel dishes, something one doesn't see often here. In fact, Shi Yuan offers a lot of stuff one doesn't see often here – including a half or whole Peking Duck, at a very reasonable 30 or 58 pesos respectively (order in advance or prepare to wait 50 minutes), a wide range of seafood, and a selection of dishes from various regions of China as opposed to the usual concentration on Taiwanese and Cantonese fare. Victor's not a fan of eel, so I went with fish, and took our waiter's excellent selection for the pescado picante, a lightly spicy saute of filleted fish tossed with, I think, oyster sauce, a touch of hot pepper, and ginger.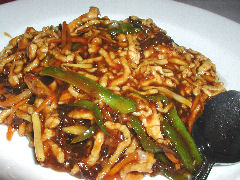 We also shared a delicious plate of the sweet and sour pork, or cerdo agridulce, with finely shredded pork and vegetables in a rich brown sauce that was both piquant and mildly sweet. So much nicer than the usual syrupy fruit based sweet and sour sauces that seem common, not just here, but in many lesser quality Chinese restaurants. All in all, an excellent meal, I'm sorry it took me so long to check this place out, especially as it's a mere ten minute walk from home, and I'll be going back!