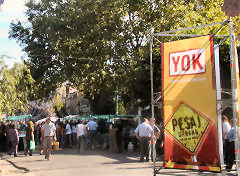 Buenos Aires – If you're not gastronomically Jewish, either by birth or influence, you probably won't understand the devasatation it is to have missed out on the Great Gefilte Fish Festival. I didn't miss out on the entire day's festivities – sponsored by an organization called Yok (pronounced somewhere between shock and jock) – a sort of Urban Jewish social organization; as best I can tell. The 1° Concurso de Comida de Pesaj, or 1st Competition of Passover Food, was held at a street fair in Palermo Viejo yesterday. The hours were simply lists as from 1 to 6 p.m. – who knew that the Güefilte Fish Festival was going to be judged by the attendees who got there starting at 1:00 and sampled their way through a dozen entries for best gefilte fish? By the time I arrived at 2:30, nothing was left but a little horseradish.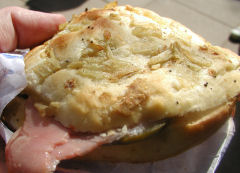 Along the block of the festival, there were, however, numerous booths setup with various objets d'art, mostly though not all Passover related. Booksellers were scattered throughout, again mostly selling Passover related items – hagadahs, histories, etc., along with scattered other books, including one seller who strangely was selling copies of the New Testament alongside biographies of Israeli political figures such as Golda Meir and David Ben Gurion.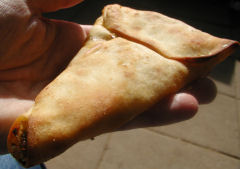 There were indeed food booths remaining – and I sampled through a selection of various cheese and meat empanadas, a strange sandwich of two thin strips of corned beef, pickles, and mayo on an onion roll, honey soaked pastries and apple tarts. Even local gelato chain Freddo got into the act, with a small stand offering up cones and dishes of a few flavors… at double their normal store prices. Strangely, despite the mix of meat and milk related food stuffs – they were being served side by side, from the same stands, and most were marked as or being touted as, kosher – not in my book. Liquid refreshment was a real missing, but luckily the festival was held along one side of the Plaza Costa Rica, which had it's normal weekend flea market going, so sodas and water were available in the middle of the plaza.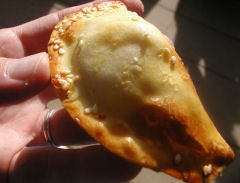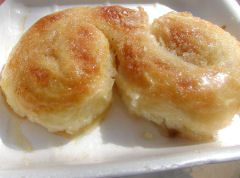 I got the sense that a large number of folk had merely wandered into the festival from the neighboring flea market, and weren't entirely clear what it was all about. On the other hand, there was a strong presence of the more "urban", or perhaps "secular" Jewish community, who are largely invisible in this city, where the Jewish quarter is populated by a fairly insular orthodox community. There was a large stage setup in the middle of the festival from which various prize drawings (and the winning gefilte fish entry) were announced regularly, dj'd music for most of the festival, though a live performance later in the afternoon. The music was a fun mix of various styles from Jewish communities throughout the world, from middle eastern to klezmer, contemporary to traditional. Overall, great fun! Next year, I'm first in line for a gefilte fish.