Buenos Aires – Barrio Norte already has the reputation of being an in, trendy spot for ex-pats, bordering on the yuppie style at times. In fact, that's how it ended up with a separate moniker from the rest of Recoleta – in, trendy spots need their own names. It's the same thing behind parts of Palermo Viejo now being called Palermo SoHo and Palermo Hollywood. So I wasn't all that surprised, though a trifle dismayed, when the local mariscería, or seafood shop, closed down and was replaced by a Chinese restaurant. I like Long Feng, but now I have to walk an extra five blocks to buy good, and pricier, seafood. I guess it should come as no surprise that a second new Chinese restaurant has opened up in the neighborhood. We're rife with expats who like good "ethnic" food. The nicest thing is that neither of these are the standard Buenos Aires Taiwanese (which is the major population here) joints, they actually offer some variety in their menus.
Casa Roja, French 2316, is not red. Well, the door is. The rest of the restaurant is painted the unfortunate shade of Century 21 mustard yellow. It's small, 36 seats, but feels bigger with a high ceiling and big windows both in front looking onto the street and in back looking into a small courtyard. The tables are simple, black painted, square block wood, topped with brown leather placemats. Large candles, unlit at lunch, are scattered about as decoration. Their menu asserts that they are as demanding of themselves as the local clientele will be and therefore they are a cut above the rest. For the moment, the menu is offered in two parts – a leather bound book of the house specialties ("very elaborate" quipped our waiter, who informed us he was on his first day as a waiter, anywhere); and a copy of the takeout menu, all of which is also available in-house. Beyond just being a bit of a silly way to present the menus, it's a little difficult because they ask you to order by number – and the numbering system starts with "1" in both menus and continues on into the 40s on the specials and to 106 on the takeout menu. If you order from the lower numbers, which includes all the appetizers, you have to be sure your waiter, especially on his first day as a waiter, anywhere, knows which menu you're ordering from. [Closed in 2015]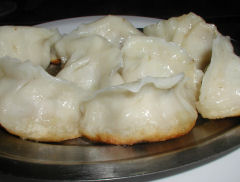 Still, there are some offbeat sounding things on the specials menu – several offerings made with snails, a variety of different sounding preparations of chicken, beef, and pork, quite a few vegetarian dishes that sound interesting, and a mix of different Chinese styles. I decided to start off with the queso de soja con huevo de pato, or soy-cheese and duck egg. Unfortunately, being one of their first days open, not everything is apparently in place, and they had neither duck eggs nor soy cheese in the kitchen. Instead we started off with a delicious plate of empanaditas a la plancha, or potstickers as I know them.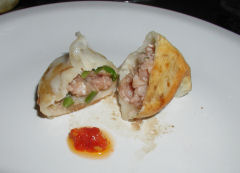 I must admit, these are easily the best potstickers I've had in Buenos Aires, and being a favorite starter of mine, that's a big plus. They were cooked perfectly, browned on the bottom, glistening and steamed just right on top. The soy sauce was served in a lovely little pot rather than in the bottle as is often the custom here. My request for some hot sauce yielded a small dish of chopped fiery chilies in oil. All around good stuff. The filling was tender, just cooked pork, not the usual slightly dried out over-cooked style, and lightly spiced with garlic chives.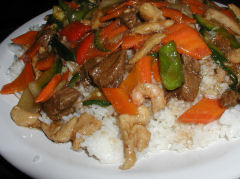 We made a cardinal mistake in dealing with our truly novice waiter. We confused him. We ordered a plate of chau fan mixto, mixed fried rice, both by name and by number. We should have stuck with the number system, but we were afraid that we'd get #19 from the other menu, ending us up with a platter of grilled snails' feet in oyster sauce, or some other such house specialty. Not that I wouldn't want to try grilled snails' feet, but Henry wanted his fried rice. Our waiter, apparently not being confident in his scribbled "19" vaguely remembered the fan and mixto part, but swapped chau for hue, and we ended up with this plate of hue fan mixto, sort of a saucy stir fry of mixed meats and vegetables atop rice. Luckily, it was delicious, as we didn't feel like sending it back and waiting for another plate.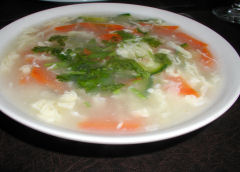 We had actually planned on our soups to start, and had ordered two bowls of the house special sopa de mariscos mixto, or mixed seafood soup. The kitchen, or our waiter, decided to bring them as our final course, which turned out fine, as it made a light ending to the meal. Very delicate broth was filled with slices of carrots and zucchini, delicate shreds of egg, and packed with a whole lot of cilantro. Lurking beneath the floating vegetables turned out to be a slightly skimpy helping of small and medium sized shrimp, and a few pieces of squid. They were tender and cooked right, but just lacking in quantity. Also, while technically correct, I'm not sure I consider two sizes of shrimp and some squid to be "mixed seafood," although admittedly the menu only offers dishes made with squid, snails, shrimp, and langostinos – we were really only missing the snails.
Overall, quite good, though like many restaurants they need some time to hit their stride. It's quite convenient for us, and so along with our other new Chinese restaurant in the 'hood, we have some good new options.
—————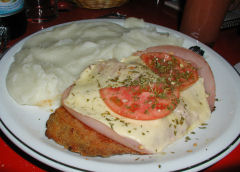 I include a second restaurant today only to show you that all is not wonderful in the world of food here in BsAs. We zipped back to San Telmo last night to have dinner with our friends from Finland who are also in town – it was their last night here. Due to a miscommunication, they'd already eaten and were just planning on going out for a drink. So, we headed down the block to Plaza Dorrego, the open air multi-restaurant dining area that is the heart of San Telmo's vibrant nightlife. I don't expect much from the restaurants surrounding the plaza – most of them are little more than bars that happen to serve food. Half a dozen of them maintain their own sections of tables on the plaza – it can reach the point of comical at times to see tourists frantically trying to attract the attention of a nearby waiter who is responding, not with "You're not in my section" but "You're not in my restaurant." In fact, the first spot we sat down at,
Nefertiti
, we waited ten minutes for someone to come outside and bring menus and then gave up and moved one table over where we were promptly attended to by a young waitress from
Café del Arbol
, Humberto Primo 424. We ordered a couple of ordinary
milanesas a la napolitana
, as it seemed a better bet than going for pastas, which were the other options.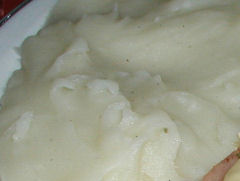 The milanesas themselves were fine, not bad, not special. I call your attention, however, to the color of the potatoes. I haven't done the closeup on them just to get artsy, with fancy whorls and peaks, looking like a bit of ocean. Note the grey cast. It's not the lighting. Think of boiling potatoes until they have absorbed as much water as they possibly could have and then mashing them and serving them. We waved the waitress over and asked for butter and salt. She said, "Taste them. They already have plenty of butter and salt." I assured her they had neither – only potatoes and lots of water – and offered her a taste. She declined but began muttering deprecations about the cook as she zoomed off to the kitchen, returning momentarily with salt and a dish containing a large slab of butter. Balance was restored to the universe.