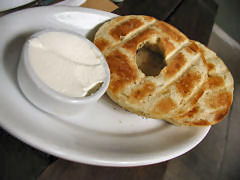 Buenos Aires – Note the elegant structure. The form of a ring. A small, slightly deformed hole in the center. A hint of a sheen from the crust, just barely visible on the side. Lovely toasty grill marks. To one side, a small cup, brimming with a creamy, paste-like substance. The plate is placed carefully in front of me. I look. I stare. I touch. Carefully, I lift one of the rings, noting it's heft. This is not ordinary bread formed to resemble an annulus. I dip a knife into the substance – it's soft, perhaps whipped, but it lifts, glistening, and allows me to form… a schmear. I carefully move it towards myself and I towards it. A bite. Wait. There's texture. There's… chew!
Has the Second Avenue Deli returned to this planet, as I whimsied, in Buenos Aires? No. This still is no New York bagel. But it's a bagel. It's as good as, or better than some, and not as good as others I might find in any of a zillion places west of the Hudson (I grew up out there, I can say that). The texture reminds me of the way a Lender's bagel comes out of the toaster after having come from the freezer. But the flavor is that of a fresh bagel. The cream cheese is a slight disappointment – it is more of a whipped, slightly sour cheese – approaching closer to sour cream if it had thickness. Strange, as cream cheese is readily available here, even Philadelphia brand. This is more like the CasanCrem that I buy to thicken and enrich pasta sauces.
Thanks to bagel-search prompting from a regular reader, I'm sitting at Big Mamma, Benjamin Matienzo 1599, in Las Cañitas, one of a four-shop chain that I'd heard about in vaguely dismissive terms. [All locations of this group except the one in Belgrano on Juramento are now closed.] I should have realized that the people dismissing it were locals, not expats – what do they know from delis? No, Big Mamma doesn't have milanesas and french fries, overcooked pasta in flecks of dry basil, big bowls of salad that you can select from a list of ingredients and have delivered to your table, or sandwiches made from soft hamburger buns with a single slice of cheese and single slice of ham, no dressings. It has bagels, rye bread, sliced turkey breast, pickles, lox (okay, smoked salmon, but they're in the ballpark), borscht, potato salad, coleslaw, pastrami…
Traditionally, Lox refers to salmon which has been cured in a very salty brine. Sometimes called belly lox, it is not smoked at all. Nova or Nova Lox on the other hand gets a milder cure and light smoking. Part of its milder taste comes from the addition of brown sugar to the brine. Properly made, only King Salmon from the Pacific or farmed salmon from the Atlantic are used. The fish are hand split, filleted and trimmed. These fish are cured for five days and then cold smoked for 10-12 hours. The resulting flavor is less salty and more subtle than Lox. However, these days the term Lox has become generic, and most people will ask for Lox when what they want is Nova (not me, I like the non-smoked!). What is usually referred to as smoked salmon, such as Scottish Smoked Salmon, is generally hot smoked rather than cold.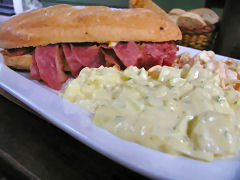 Ahh, the Big Fresser's Hot Pastrami on Rye. Shall I wax poetic again? No, I think not. First, they were out of rye bread. In a New York deli that would be enough to have someone strung up, drawn and quartered, boiled in oil (not butter, it wouldn't be kosher), and then probably tarred and feathered. At Big Mamma they offered me a choice of replacement breads, all baked on-premise, I went for the quite delicious country style bread as a baguette just sounded all wrong. The sandwich was stocked up with half a pound (and specified as such on the menu, no quarter kilos here) of beautifully pink, juicy meat, delicately smoked, and falling somewhere between corned beef and pastrami. Yes, it was smoked, the first of two distinguishing factors from corned beef. But it wasn't edged in salt and spices, the second. Still, the meat was as good as that that you'd find in many deli counters in New York, so I was happy. The sandwich was slathered with mayonnaise on one side and mustard on the other – okay, not my first choice, I would have left the mayo off, and the mustard was bottled yellow, not spicy deli brown, but it worked. I carefully pulled the thin slices of pickle out of the sandwich – first, they were somewhat sweet pickles, second, they'd been cooked and were limp as cooked pickle slices. That was easy, there were only 3 slices. The coleslaw is in the right direction, a bit heavy on paprika, and the mayo-vinegar dressing a little runny for my tastes, but I've seen far worse at many a deli. Mounded onto the sandwich it worked perfectly. The potato salad likewise – not typical NY-deli style, a bit much on the mustard in the mayo, seasoned with onion and parsley – but perfectly acceptable.
Decor? Big Mamma will never win any awards. At least not for this branch, I have yet to see the other three. Kelly green walls and golden yellow awnings outside, white and black inside with primary blue and red tables and chairs – a bit like walking into a Mondrian painting. Sitting outside if the weather is nice is easier on the eyes, and it's a pleasant, tranquil street corner. Service – friendly, smiling, helpful, efficient… and, oh wait, my waiter has actually tried everything on the menu and has an informed opinion? Am I still in Buenos Aires?